Got tagged by

It took me so long because I couldn't think of a character of mine to use. So finally I narrowed it down to 15 and used a random number generator to FINALLY pick a character.
1 OC name : Sidra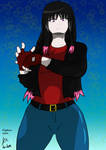 2 Fill in the questions/statements as if you were your oc
3. Tag people to do tis
1.What is your name?
Sidra
2.Do you know why you were named that?
It literally means "order" in Hebrew. I am order. Also apparently means "like a star" in Urdu.

3. Are you single or taken ?
Why would I care? I'm essentially a goddess.
4. Any Abilities or powers ?
If you were paying attention I said I am order and essentially a goddess. I would take all day with talking of my abilities. The easier question is what I CAN'T do.
5. What is your eye color ?
Pink. A purplish pink.
6. How about your hair colour ?

Black with pink tips and silver streaks.
7. Have you got any family members ?
I guess I have one, xaos. As the name would seem to suggest he's chaos. He usually talks down about me, but I won't trash him. I'm better than that. As for his exact relation, I'm not sure. Whether I'm closer to being his sister... or his mother. Pretty weird stuff.


8. Oh, I'm very sorry to hear that. How about pets ?
Nope

9. Tell me something you don't like?
Bumbling idiots. Violent people, having to ironically use violence to stop them. Pretentious fools, hipsters, Nintendo scalpers on eBay...


10. Who can blame you? Do you have any hobbies or activities you like to do?
I like to keep my eye on people I believe have great potential to do a lot of good.


11. Have you hurt anyone in anyway before ?
Oh yeah. Comes with the job.


12. On that note, ever killed anyone before?
Also comes with the job.


13. What kind of animal are you?
I'm a being beyond your comprehension.


14. Sorry, sorry justreading the questions verbatim. Any bad habits?

Well, since I am order itself, I guess... I have been known to being too strict and demanding. I do it out of genuine concern but I take it too far sometimes.


15. Do you look up to anyone at all?
Up? No.


16. Are you Gay, Straight, or Bisexual?
I'm nothing...


17. Do you go to school?
No, I do not need to. As a matter of fact you humans would do well to listen to me.


18. Indeed, wise words. Now do you ever want to get married and have kids?
Want to get married? I don't know. Can I even HAVE kids another one of the few things I don't know.


19. Do you have any fangirls / fanboys?

I'm pretty sure I have a few.


20. What are you most afraid of?
....Nothing.


21. What do you usually wear?
Black jacket, red t-shirt, jeans and sneakers.


22. What's one food that tempts you?
None.


23. Am I annoying you?

Ha ha, I have a lot of patience, don't worry about it.

24. Well it's not over yet!
'Salright


25. What class are you? Low class, Middle class, or High class?
A goddess would have to be high class wouldn't she?


26. How many friends do you have?
Not many. Most aren't even aware I exist.


27. How nice for you. What's your thoughts on pie?
It's ok


28. Favorite drink?
Whatever


29. What's your favourite place?
Greece


30. Are you interested in anyone?
...Not at all... Didn't I uh.. say... that um... NO! Alright.


31. What's your cup size? (Females only)
C cup.


32. I apologize for the awkward question. Would you rather swim in an ocean or lake?
'Salright. The ocean. Much more to see.


33. What's your type
Er... No types.


34. Any fetishes?
I don't think it's a fetish on my end but I've been called a tease before.


35. Seme or Uke?
You'd have to ask this Swedish woman, Kelly about that. I heard she's into that stuff.


36. Don't worry about it. Camping or indoors.
Doesn't matter to me.


37. Are you still waiting for this quiz to end?
We done? Cool.
Since it's in character I had Sidra lie about some things. I bet it's PRETTY OBVIOUS which questions she's lying on.