The pre-HALLOWEEN bash begins !!
Welcome to Part One of big Halloween Bash, which will be happening in few parts for sure in my journal.
Hope this is a sweet & ghoulish treat for all of you, who enjoy this holiday - and still even after outgrowing your costumes from childhood, still try to scare some kids to grab the candy

(j/k or am I)

This is a journal of Halloween past - from last year and years before that

there will be some more ghosts visiting here soon....

Let see what our dA artists cooked-up for us, before the flying black bats suck our blood

:thumb257062423:
:thumb259617537::thumb11891508:
:thumb257126911: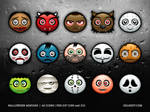 :thumb259616272:
:thumb259678350:
:thumb141727653:
:thumb260773577::thumb261098834:
:thumb205923349:
:thumb257892467: