Greetings, my name is Fido Artz, the cartoon fanatic underdog freelance cartoonist, and animator. I Also like to Help out Troubled Artists with their Situations, give my thoughts and analysis on topics of DeviantArt, and review media
Fido Tyler Artz
age: 19
build: lanky and slender
birthdate: sept. 29th 1994
race: Anthro Toon Dog, Jack Russell Terrier
personality: easy going, calm collective, playful, clever, understanding, helpful, listening, spiritual Christian,
Hobbies: watching TV, browsing the web, hanging out with friends, helping others, playing video games, making movies and video games, drawing cartoons and comics, animating, writing, sleeping
likes: God, his friends, and family, listening and helping, staying positive, lemonade, cartoons, gas humor, his skunk partner, fedora hats, videogames, Equality, action comedy movies, Open minded people, Lucha Libre wrestling, Old school roller derby/rollergames,
dislikes: negativity, hate, harsh or rude people, heavy swearing, internet drama,
STYLE/
cartoon,parody
INFLUENCES
John k,mike judge,Christopher McCulloch,doc hammer,Danny Antonucci,Tim Clark,Herge,Francisco ibanez,Mel brooks,The Umbilical brothers,Robert Benfer,the aquabats!, Steven Spielberg, Monty python,Cyriak Harris,JG Quintel,Butch Hartman,Larry Hama,Dav Pilkey,Mel Roach,Pendleton Ward,
TALENT:
drawing,animation, writing
---
deviant Friends,fans,acquaintance,and associates




































:










































---
Programs i use

---
Stamps:

,
,
,
,
,

,:thumb292262239:,
,
,:thumb146710265:,
,

,
,

,
,:thumb261939111:,

,
,

,:thumb269133628:,
,

,
,

,

,
,

,
,
,
,
,
,

,
,

,

,
,

,
,

,

,

,
,

,
,

,:thumb85336878:,
,

,

,

,
,
,

,
,

,
---
FAQ:
what is your name?
you can just call me Fido or Mr.Artz
when did you first become a cartoonist?
4 years ago, when I'd used to be in high school during my sophomore year
and I started to develop my cartoonist art skills around that and my senior year
when did you first hear of the Deviantart?
since I was a kid around 2005 and I liked looking at flash cartoons,Knox's claymations,stickmen battle arenas,and fanart based on my favorite cartoon shows just a typical browsing around the web since Newgrounds.
what are your favorite cartoons?
my list of favorite cartoons goes on forever so there are far too many to list
what are your favorite animes?
Lupin the third,bobobo-bo bo-bobo,cyborg 009,dragon ball z(all sagas),one piece,gundam,sgt.frog,golgo 13,and Hetalia
what is your favorite bands?
1.the Aquabats!
2.GWAR
3.the Phenomenauts
4.The Ghastly Ones
5.The phantom surfers
6.Dick dale
7.the Penetrators
8.ac/dc
9.Metallica
10.darude
11.Rammstein
12.Man or Astroman?
13.reverend Horton heat
favorite musician performer?
Andrew w.k and weird al Yankovic
favorite music genres?
I'm more of a rock ska
techno/trance/house
surf movie soundtrack instrumentals
video game music lover
what are your favorite artist's that inspires your artwork?
a lot of famous cartoons, graphic novel, and comic artist's including ones here on DA and FA. overall, there are a lot of things that inspires me
who are your favorite comedians?
The umbilical brothers, The three stooges, Abbott and Costello, Dane cook, larry the cable guy, Rodney Carrington, Mel brooks, Robin Williams and Monty python
Were you an animator?
yes, i used to make stop-motion movies and stick figure cartoons back then. unfortunately, not very many survived the fires of time so I moved on to 2d animation
what are your favorite video games?
1.Team Fortress 2
2.battlefield heroes
3.Freedom force/Freedom force vs The Third Reich
4.Champions Online
5.The Respawnables
6.Garry's mod
7.Spore
8.Worms
9.Mario kart Wii
which fandom do you like most?
I don't discriminate, I like a lot of fandoms and their creative content minus the adult content that goes too far of course
are you straight, gay, or bi?
I'm straight and I have friends and watchers who have different relationship and I respect that
do you have a Fetish?(its okay if you do)
yeah..I have a fart fascination. although I'm rather casual and tend to be subtle about the subject matter than most people. and basically, I find it funny and the concepts of flatulence being used as a,biological martial art, unconventional weapon and power had me interested when I played games like Oddworld and Tekken 3 and watch cartoons and animes that get away with this sort of thing. another example I was interested in mainly because of skunks and the thing they always do with their gas/musk in cartoons and video games.i think skunks are a crowning glory for this type of humorous power. but overall, I like to think everyone has a tame fetish and likes to express them in their artwork and literature, but that does not make them bad people.
what was your first favorite anthro skunk character on DA?
Taffy the blue skunk, to those of you who didn't know Taffy was a skunk girl who uses's her gas as for both defense and humor she was created by an artist by name of 4kt, she was going to be part of a webcomic series he was working on. she was a very popular character since 2009 until 2011 he deleted all the taffy art because he did not like all the attention she gets out of all his characters and he noticed why. so 4kt wanted to stop drawing her and tell his watchers to stop commissioning or requesting art on the character and he did it in a not so bright way(he wrote a stern journal) so this kind of exploded taffy's Pandora box of crazy fans that never respect his decision, never left him alone about it to the extent that he can't not even draw the character or mention her name anymore. (he has an another account but I'm not telling you if gonna flame him on it, okay?)
what got you into military and spy stuff?
G.I joe, the man from UNCLE, Archer, T.U.F.F. puppy, Get smart, and 007
what other art project did you do?
Fender racing: world grand Prix (a homemade comic series inspired by Wacky Races) short lived and old finished comics gone missing
Neighborhood sports league (inspired by humongous entertainment Backyard sports games) unknown
The coffin boys (inspired by the Ghastly ones,Beavis, and butthead, science mystery theater 3000) unknown
COMEDO wrestling(a fictional fire pro wrestling project inspired by Kaiju big battel, CHIKARA pro, and some Luchador superhero movies) unknown
The K9 unit( a project inspired by the spy dogs cartoon and the SWAT video game) scrapped
The K-9 unit!(inspired by the Aquabats, the venture bros, johnny quest, G.I joe, and Kamen rider) scrapped
Paramilitary Pets: not your average suburban commandos (inspired by the short-lived Barnyard commandos toyline and cartoon and the cats vs dogs theme) scrapped
MUTTS and CLAWZ(formerly known as Paramilitary Pet) (inspired by previous concept,spy films,G.I joe,Lupin the third,the venture bros,and sheep in the big city) developing ongoing
what are your favorite movie genres?
action, comedy, B-movies, and animated movies I'm not much of a buff on horror flicks
what's your favorite animals?
dogs and puppy's (because they are cute and brave)
cats and kitty's(same reason as the one above)
Skunks (I think you know the reason why lol)
Fox and vixens(they are beautiful and clever)
wolfs(they are beautiful wild dogs)
what's your favorite book you read when you were a kid that you still read today?
Captain Underpants
what are your favorite cartoon/anime characters?
ed,edd,eddy,mort,phil,dudley,kitty,fifi la fume,jigen,lupin,goemon,zentigata,inspector gadget,brain,lucky luke,the daltons,rintindumb,
as I said about cartoons far too many to list that goes for anime too
so you're born in the 90s?
yes I was born in 1994 but I'm a little bit of both old school and new school
what inspired your developing series MUTTS & CLAWZ
it started out as a "cats vs dog" concept between 2012-2013, alas when I watch cartoons and movies new inspiration come to me every day developing my project even more. its meant to be a "military adventure and spy capers meets the cartoony madcap slapstick and crude humor world of anthros"
what inspired your characters?
my inspiration for my characters usually come from both my imagination and various sources from cartoons, videogames,movies,famous artists, DA artists, etc but the inspiration for Fido (my fursona) came from the fact i think i look like a Jack Russel terrier everything in my real life apply's to my character
what religion are you?
I'm a Christian, but not religiously. spiritually. Being a Christian is not about being a perfect person. Its all about being a flawed person and regardless of our flaws we can have a relationship with our perfect creator It's a relationship with god the true creator of all of us.
do you do requests?
yes i do, but there are certain themes i don't do. so read the term and condition before requesting
where can will we see your animated content?
fidoartz.deviantart.com/galler…
what animation software do you use?
I'm experimenting with different animation software's so if it renders very well then its OK and approved
what type of animation method that you find annoying?
hand drawn, because when I try to animate a pose by drawing. some lines appear different and don't match up!
what are you fears in irl?
heights, silence,darkness(as in afraid of the dark), and Death
define "breaking the fourth wall"
Breaking the fourth wall is when a character acknowledges their fictionality, by either indirectly or directly addressing the audience. alternatively, they may interact with their creator this usually plays out for humor to poke fun at the writers, characters, plot, standards and practices, script, narrator or lampshade hangings.
what browser do you use?
Google chrome
what art program do you use?
GIMP 2
besides being a cartoonist,and film maker what else do you want to do?
basically alot of things expanding from becoming a game creator,voice actor,animator, kind like a jack of media trades overall
who are your top 14 favorite DA artists that you look up as good role models?
1.

2.

3.

4

5.

6.

7.

8.

9

10.

11.

12.

13.

14.

do you smoke,drink,or do drugs?
neither, and never will be doing such things in my lifetime.
whats your astronomy zodiac sign?
Libra
whats your Chinese zodiac sign?
year of the Dog
so you like to do voice acting? and do you hold voice audition?
yeah pretty much,only if i can pull off a voice the way i think the character's voice and accent sounds like in my head
as for voice auditions, i would plan to hold them and i will make a journal about it soon.
---
CLUBS I AM IN:
,,,,
,,,,,,,,,,,,,,,,,,,,,,
---
my otaku tests:fandom list:
---
RULES for my account:1.
if you don't like certain content of my work. please ignore them and don't comment. i know the said certain amount of my content is not gonna be for you and thats okay.
2.
hate or troll comments on the artwork will be addressed by me.
3.
spamming will not be tolerated.
4.
fair constructive criticism is welcome and greatly appreciated.
5.
Don't stoop to the hater or trolls level and insulting them back all the time as a way of defending me. just ignore it or address it maturely or properly.
---
COOL game
tailsandtactics.com/game/
---
my speeches


Hiatus

No, I don't plan to go on these for a while. However, if I did I'd let you guys know. The fact is let's face it hiatus sucks, but it's still a good strategy to get some R&R from drawing, animating, writing literatures, and such. Hiatus occurs when a creator like you or me decide to take a break from their artwork. Due to art or writers block, vacations, day jobs or night shifts, IRL events, etc. these can last for a long time or short time or indefinitely. I'm sure there some of you that wants to become full-time artists. Unfortunately, welcome to a grayscale area called RealityCheck. We all can't expect to create the next big masterpiece if it takes a lot of time, days, months, or maybe years to get done. So when all creativity and resources are exhausted that's when a hiatus comes in. But that still doesn't mean you cannot communicate with your trusted friends. That's when social media or Skype is necessary for that.

trolls and hatersYeah, it's time I touched a very big subject most people face on the internet these days trolls and haters . everyone has them trolls are the usual people that says usual "this sucks" no matter what you do they tend to find it intolerable like talent,value,friends,fetishes and perhaps the best messages to respond "if you don't like it don't look at it" or just don't respond to them at all. otherwise, showing drama to the troll would just make the situation worse because they obviously got a response from you. haters, however, are the biggest recurring conflicts.they just try to discourage you, tear you apart of your friends and what you like. just want to watch you fall either by calling you or your friends out or making a commentary on him or her on a blog site believe me I seen this happen to a couple friends before and I think that's unnecessary in our society giving them a bad image and harshly judged, pointing fingers and labeling them. but what usually

depressionWell guys it's time I talk about a special topic that's been going on depression it's one of those things my friends suffers always trying to get through painful situations but stress and anger and sadness sets in trying to take over making you think your life isn't worth living anymore, you think on the negative side of the situation and think you made a bad image of yourself. those are the few things that are considered depression it could be that that persons having a very hard life or it could be a medical condition/syndrome that that person is born with. if you happen to be one of those people let me tell you this your depression can be beat it usually takes true caring friends to heal your wounds, medical treatments to cure you, and lastly keep your chin up and make the best of your situation and you might break your depression. you can't let depression get to you no matter how bad the situation is and suicide is not the answer it not only hurt you but it

Guilty Pleasurehi, fido here. let me ask you a question is there something that you like that a majority of people hate? like say a tv show,video game, movies, music, humors, fandom, and such or perhaps you might like em as a kid, teenager, and still like em today as you grew older or you look back on said thing and think "ugh! this stuff is terrible why do I like it!?" sometimes you often ask yourself "was there something wrong with me?"the answer is no it's something each of us has that something is called a Guilty Pleasure. for example, some cartoons, tv shows, bands, fads, humors, and video games that some people often bashed on a lot that I still love. despite the fact that I was born in the '90s you might think I like being trapped in the old school stuff. on the contrary, there is also today's cartoons, video games, and tv show i also really love that keeps my balance of both old school and new school in check. so you know who's opinion is correct? technically no
Thoughts and Understanding
Understanding internet drama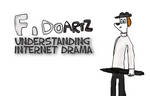 hello and I'm Fido Artz, and I'm sure you might have experienced this before then you know what Internet drama is. Internet drama is an ongoing situation these days. where these often occur in comment boxes, forums, and even chat rooms where 2 or more people get in an argument with each other rather than to leave it each to their own and Live and let live. instead wants to debate the topic on a negative scale. or just want to start a flame war with a fandom, or even to judge people and make a mockery of their interests. I'm sure we have all been there before. and these not only happen between a troll or a hater, but also between friends who get into disagreements too.
sometimes these often lead the victim being attacked by either haters or trolls. and have no choice but to deal with stress, anger, and depression. wondering what to do in this situation. next thing you know, the argument gets reduced to insulting one another, hacking into people's account, unjustified anti-wiki entr
Thoughts on Fetish content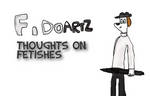 Hello and this is Fido Artz. And... yes, I share my thought on a topic about. Fetish art, Also, if some of you guys came to see some pictured examples of the subject, me giving a negative commentary, or find out why I like crude humor. Well, my sincere apologies to displease you. Because this topic is about every art or literature fetish-based content that exists, how it gets handled in the Art communities, Writing communities, fandoms, and how (at least, In my opinion) it should be handled.
Now, I'm sure some of you are asking why I decide to talk about such an unusually uncomfortable or taboo topic? Well, it because it's a fascinating topic of considerable interest around the internet to a majority of people on this site. Fetishes is a strong and unusual fascination to something that each of us creators like a lot of times like and usually expresses them material in the form of a video, artwork, literature, with any weird subject of interest to entertai
Thoughts on Fandoms

Greetings Everybody, and I'm Fido Artz and this is my thoughts on Fandoms. fandom's Are Communities that are Based around a Huge majority of People with a common Interest in a television show, movie, video game, book, or other franchise based media. when a franchise becomes very popular it immediately gets a huge following of loyal fans. creating a fandom or a fanbase and, out of those fanatics there are creators or artists that make anything supporting their franchise they fell in love with. fanfictions, fan art, fan characters, FMV, and even fan animations. sometimes fan content is what keeps a franchise afloat.
Common Fandom's like say furries, bronies, Trekkies, and Cosplay tend to be the biggest recurring Fandoms in the world. that have a huge following. which earns them their own conventions (or cons for short) where people of said fandom's can hangout, share ideas, participate in activities and panels, and even meet up with not only with mutual frie
---

Positive Motivation quotes worth keeping

"The Creative adult is a child who survived "
-Zomaa

"To love means loving the unlovable. To forgive means pardoning the unpardonable. Faith means believing the unbelievable. Hope means hoping when everything is hopeless." -GK Chesterton

"You can't second-guess your audience. You can only do what you think is right. If you do that, your audience will appreciate you."
-Lyle Lovett

"art disturbs the comfortable and comforts the disturbed"
-Banksy and Cesar A. Cruz

"Any idea can seem stupid, all that matters is how it's executed."
-Pan Pizza

"There is only one thing that makes a dream impossible to achieve: the fear of failure."
-Paulo Coelho

"Have no fear of perfection you'll never reach it."
-Salvador Dali

"Keep moving Forward"
-Walt Disney

"Never let them see that they get to you"
— Nick Wilde

"Be more positive"
-Jacksepticeye

"There's no such thing as perfect, you're beautiful as you are, Courage. With all of your imperfections, you can do anything you want to do"
-Green fish from Courage the cowardly dog

"Remember: It costs nothing to encourage an artist, and the potential benefits are staggering. A pat on the back to an artist now could one day result in your favorite film, or the cartoon you love to get stoned watching, or the song that saves your life. Discourage an artist, you get absolutely nothing in return, ever"
-Kevin Smith

"Not only is online content the future of entertainment, it is the great equalizer. There is no middleman between creator and audience. No gatekeeper of content."
-Chris Neuhahn

"Fast forward to the internet age and the greatest frustration that I knew growing up as an artist is gone for most of this generation's artistry. If I didn't get a paper to publish me in 1980, you wouldn't know about my work. But if I had the internet to publish my comic for free, I might remain poor but I would have an audience! And the audience is what it's all about."
-Doug Tennapel

"Don't eat rotten fruit "just to be nice". We can be positive and recognize negative elements, situations, and people. We can pursue greatness and light while not forcing ourselves to wallow in misery and darkness just to prove we're strong enough to do so. Follow your heart and let it bring you deeper into yourself and your world. Bring out what is inside your heart and go where it leads you. The vast knowledge of love found in the heart is the true Second Coming and the true savior of all mankind"
-Andrew W.K.

"Successful people build each other up. They motivate, inspire, and push each other. Unsuccessful people just hate, blame, and complain."
- Anonymous

"The past doesn't define who you are, it just gives you the starting point of who you're going to be"
― Agent Carolina

"Sometimes good people make bad choices. It doesn't mean they are bad people. It means they're human."
— Arima Kishou

"Tolerance and celebration of individual differences is the fire that fuels lasting love."
— Tom Hannah

"Hate will never die. but thankfully neither will love."
-Myth

"Never forget what you are. The rest of the world will not. Wear it like armor, and it can never be used to hurt you"
-Tyrion

"All art is great art.It is original and can never be duplicated.
Even down to a baby's scribble, it is a masterpiece. Because it is your's and no one else's."
-Jason BrambleTail

"There is no such thing as a new idea. It is impossible. We simply take a lot of old ideas and put them into a sort of mental kaleidoscope. We give them a turn and they make new and curious combinations. We keep on turning and making new combinations indefinitely; but they are the same old pieces of colored glass that have been in use through all the ages."
-Mark Twain

"Friendships are like trees. You have to water them so they grow."
-Candy Borowski

"Keep God first place. He's going to take you places than you can even dream of"
-Myles "souls" king