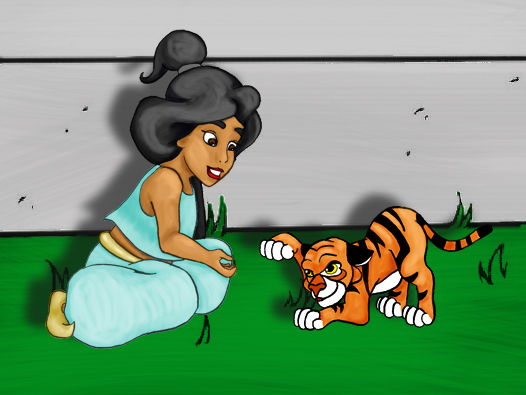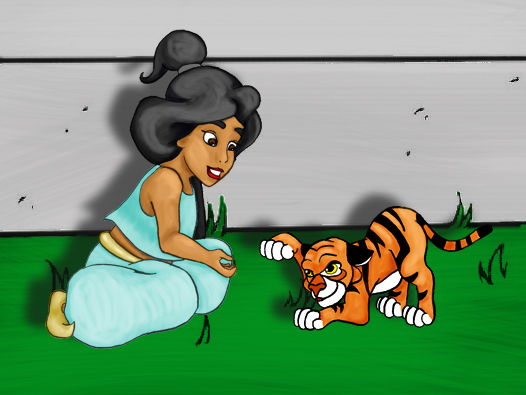 Watch
Princess Jasmine from Disney's
Aladdin
along with cub Rajah! This picture is actually not canon-compliant since according to
A Pet For A Princess
, a Disney book released about when Jasmine got Rajah, she was already a teenager/adult when Rajah appeared in her life as a cub.
Love the teal suit she has on, and the way I managed to do Rajah's stripes. Not so sure of the background -- it was the third one I tried out! The wall looks too little to be useful, if it's smaller than kiddie!Jasmine is. I also forgot to colour the hairband in Jasmine's hair when I was doing her clothing, so I wanted to make it gold, but then forgot to do THAT as well, so it ended up grey when I did her hair. Totally not as cool as I would've liked it to be.
Lineart comes from ~
Blossom-Disneyaholic
who has

Awesome!

Reply

Very nice job. I really like the shading on Rajah and Jasmine's clothes, especially.
Reply

Thank you very much!

I got the idea from "Tales from Agrabah", where they meet when she is still a child.
I not that great with bg's myself. Practise makes perfect, they say. I like Rajah the most. Jasmine looks good as well, just be careful with all that grey in her hair.
Thanks again! I appriciate it!

Reply