1K Favourites
39 Comments
9K Views
I am on a mission to make more insect bases because there aren't ENOUGH
---

Free to use!
This base can be used to create your own characters, adoptables, and more!
- Rules -

You may color and/or edit this


You may create adoptables/customs with this


You may sell adoptables made with this lineart for points/cash


You may use this lineart to create your own original character(s), reference sheets and gifts



Do not claim the lineart as your own


Do not remove my signature

You may not sell or redistribute this lineart


You may not use this lineart for commission/YCH work



If you'd like to leave a tip with points, click this link! ♥
Please credit me for this lineart when you use it! Thank you!
White BG: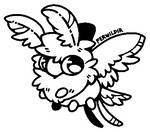 Artwork by Ferwildir / Ferwild-Adoptables
IMAGE DETAILS
Image size
389x346px 13.38 KB