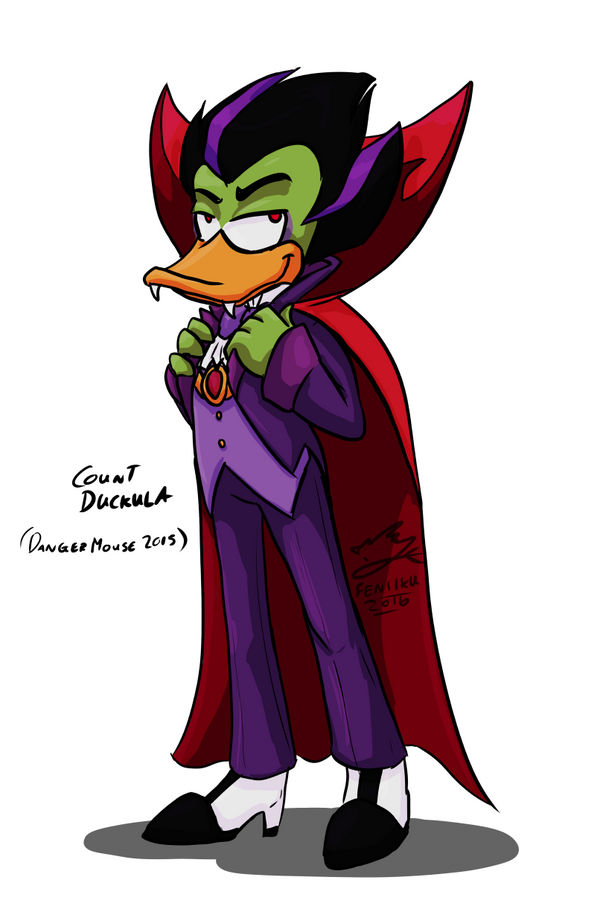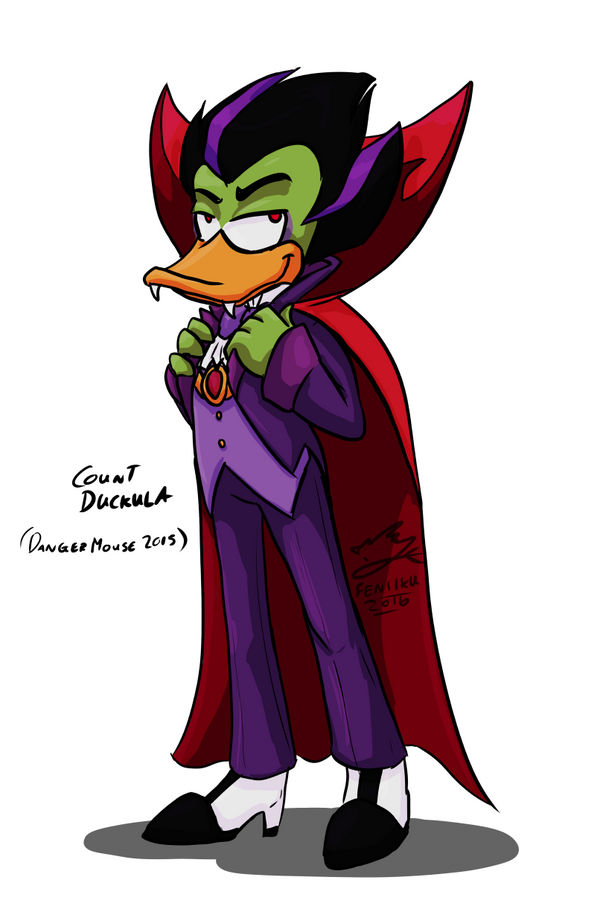 Watch
Count Duckula from the new DangerMouse series.
(I like drawing the old design still, but I had to draw this one too after all

)
Ducky getting his hedgehog on with that haircut a bit XD
New episode on Monday (15th Feb 2016)! Yay

(ps no it's not a duckula one, that one will be later lol) -
www.bbc.co.uk/cbbc/watch/dange…
(please do not edit, reuse, or repost)
[tumblr post]
[twitter post]

Duckula is so hot in his new design!
Reply

Never seen the episode yet but hoping the portrait of the original Duckula in Duck til Dawn is some kind of foreshadow.
Reply

It's more likely a homage, knowing the creators of the show. There's been several throwbacks to the previous series of DM scattered throughout it. But we can hope!
Reply

I only just found out that duckula has a appearance in the new series and I'm soo happy !!! I love the design so much , u did a awesome job !
Reply

Yep! He appeared in friday's episode (episode 21) of the new series and he's fun and ridiculous

Perfect ahahaah! Thank you very much!
Reply

Really like Duckula's new design there. It makes me want to see a Duckula revival series as well.
Awesome job.
Reply

we'll see what happens in the future I suppose, I'd like to see him a bit more in the DM series before I can say for sure whether I'd like a stand alone series of him from the new lot, though.

Thank you!
Reply
There's a name I never thought I'd hear again. Good to know he's still remembered.

Reply

wait what OH MY GOSH IT'S ON FEB 15!!!!!!!!!!!!!! SEEEEEEEEEEEEQ! >w< yes finally I thought CBBC was doomed! due to having this new cartoon called strictly zig and zog which looks awful! ._.'
Reply

naa DangerMouse was only on a break since xmas, it resumes on monday with, I think, the Duckula episode!
Reply

whoo! this will be great!

I knew it was going to continue some how but never really promo it on TV
Reply

This is a lovely drawing that certainly shows a tremendous amount of development in your style and methods of drawing digitally. Your take on the new design is a strong one, showing a strong eye for capturing the same detail and admiration that the concept work contains. Your style generally has grown well, certainly in the control of your line art and colouring, combined altogether to shown just what you are capable of artistically. Your cell shading has improved well and you have a stronger hand in your line art, detailing the expression and aspects of the hair and clothing well.

Keep it up.
Reply

There's a new DangerMouse series?! Where??!!?

That was my very fave caroon back in the 80s. I'd love to find it and be able ot watch it again.

Hopefully, the folks doing it haven't screwed it up like has been done to so many cartoon reboots.
Reply

On the CBBC block on BBC

You can probably find it online on various streaming sites, or watch it on bbc iPlayer, though I havent a clue if you'll be able to watch it.
I remember you, you commented on a post I made about the new series a while back!

It's posted on KissCartoon sometimes so if you don't have luck with bbc iplayer, you can find it there. (there's some dodgy adverts on the site but they can be hidden while you watch the show)
So far I really like it, it's funny, very sarcastic, and generally keeps the feel of the original series, i've found

Reply