Welcome to The Females of Star Wars



The very Fan Club where you can submit you favorite female character (example Princess Leia Organa, Mara Jade)



To Join, Click on Join Group and request to join.



To submit fanart/fanfic Go to Your Deviation, Click on Contribute button



Carrie Fisher 1956-2016

</b>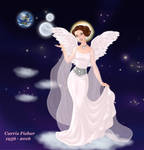 OCs Cross-overs and nude female characters are welcome here.



Fanfics are allowed here as well



WARNING



Anyone who makes threats and/or is offensive comments to this group and/or group members will be blocked and/or reported to dA and banned.