Hello there and welcome to Felvargs yearly custom sale!
We here at Felvargs would like to start with thanking each and every one of you for helping to support and aid in the creation of our group each and every day. This last year has been amazing and we truly enjoy and are thankful for all of our members and staff for making this group possible. Thank you, from us to you. We hope you had a wonderful Christmas and that your New Year is looking equally as bright.

SALE WILL END ON 01/12 AT 11:59 EST.
NOTES
Members should comment in the journal to claim purchases from the sale.
Members may sell their purchase for the same price in which they paid, excluding uploaded customs, which may be sold at the users discretion.
All participants should be respectful to one another when making purchases.
All claims must be paid within 24 hours of the initial claim, cancelled or unpaid claims will result in suspension from participating in the groups sales in the future.
PAYMENT DETAILS
Once confirmed members should total their entire purchase and confirm the amount is correct, once confirmed the buyer must then do the following:
Using Paypal the buyer will send the total to 'Lucklesskit@gmail.com'. The buyer should include their DeviantART username in the payment details so that confirmation can be done easily.
Once sent please respond to the confirmation comment prompting the admin you have sent the funds, where it will be confirmed and the items delivered.

RAFFLE
As usual
Felvargs
would host various raffles for those who support and participate in the sale.
Thank you so much for your continued support.
Custom Raffle

The custom raffle will allow custom buyers to nominate a single user (including themselves however we would encourage you nominate a friend or user, after all this is the time of giving.) to receive a semi-custom gift certificate for the same price in which the user has paid on their custom. The chosen nominee (rolled randomly), will be able to choose two background import sets to have applied to their custom, alongside the ability to add one of the two newest coats available (release date: 01/20/2018).



General Raffle

Everyone who participates in the sale will be added into the groups general sale raffle, allowing them 2 randomly rolled specialty items which can include runes, traits and various other companions and goodies. We will choose 1-5 winners, rolled randomly.




________________________________________________________



STOP! Be mindful that for an hour ALL Purchases will not touch any locked QTY amounts. Once that hour ends, the QTY amounts will be revealed and tick down respectably until the items are sold out as usual.

Custom Felvarg - VARIED (SOLD OUT!)

You custom can include UP TO the following: (No more than 8 markings TOTAL)
4 Common Markings
4 Uncommon Markings
3 Rare Markings
2 Legendary Marking
Physical Mutations
1 Single Non-Hereditary Mutation
Any Builds (No High Content Titan)
Any coat type (No Satin/Wooly)

Any colors/variations. (Specialty/Dilute/Ashen/Normal - No Helix, Silver and Cream are included)
Please use the following form:

Common Markings: #
Uncommon Markings: #
Rare Markings: #
Legendary Markings: #
Mutations: (Physical/Non-Hereditary)
Coat Type: Common/Uncommon/Rare

Base Coat Color: (Please include any variants like ashen and specialty!)

Build: Standard/Titan(Content)/Brute/Dwarf

Please note you do NOT need to decide on specific markings/coat type at this point in time. The permissions will state X common markings, X uncommon markings, Common/Uncommon coat type, so on so forth. Regardless of what you choose.

Fertility Booster Pack - $25

Each pack will include
2-3
of the following: (
Early bird special - The first 5 sales will include a
Carnelian
Stone.)
Exclusive Hearth BG Set - $25 (6/15 Available)

This exclusive background features a locked lore location known as the Village of Hearth. (
Early bird special - The first 5 sales will include a
Background Exchange Frame
.)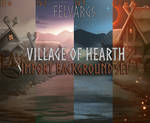 Import Background Set:
Village of Hearth


Use this item to apply the 'Village of Hearth' background set to a Felvarg.
You may switch to another background and switch back to any learned backgrounds with a
Background Exchange Frame
.
Alpha Slot Booster Pack

(
Early bird special - The first 3 sales will include a
completely randomly rolled alpha slot.
)
Standard Build Tier 1&2

Any coat variant / $15 ea /or/ 6,000 Felcredits

Specialty Tier ($50 ea)

(Includes 1-2 Randomly rolled specialty tier alphas.)
Brute/Dwarf Tier

Common/Uncommon coated / $25 ea
Rare+ coated / $35 ea
Titan Tier
Low Content / $25 ea


Medium Content / $35 ea

High Content / $50 ea (1/2 Available)



Randomly Rolled Felvarg - $25 (SOLD OUT)

(
Early bird special - The first 3 sales will allow for a
reroll, should the buyer not be satisfied with the first initial roll.
)
A completely randomly rolled Felvarg with a chosen lineage to match.