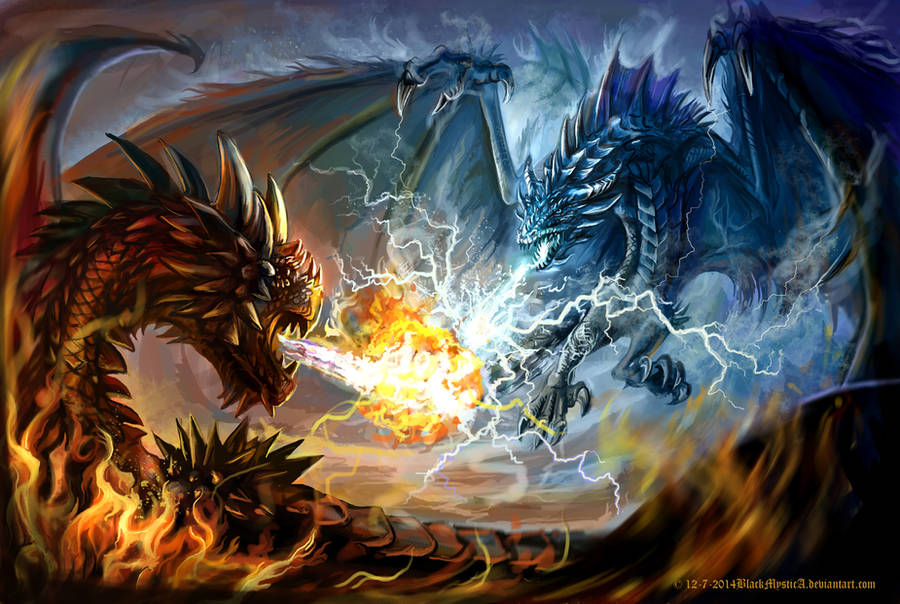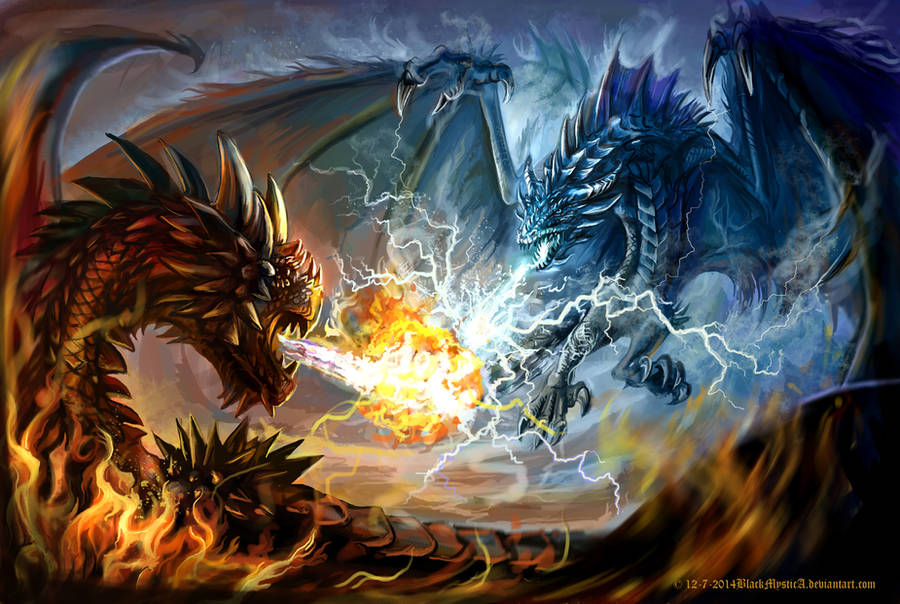 Watch
I wanted to practise with another style and realised that it has been a long time ago since I drew dragons - something hope to draw more often again. I tried to apply some different techniques and tried play around with values and such. Yet I feel a bit of a noob compared to great artists. I'm more or less satisfied with the outcome but I would really like some technical suggestions for improvement.
Anyway I thought about a fire dragon and a blue-black icy cold 'alternative' dragon that doesn't breath fire but white hot lightning. Nice combination - ice and lightning

I'm wondering what which dragon would win this battle - if it even is a battle. Maybe they just play around - that is up to you

Drawn in Adobe photoshop CS2 with Wacom Tablet in ...approx 8 hours or so??
Art by me, please don't copy and/or use it without my persmission
I'm not big on doing something like this. I have critiqued, but only once.
To show two different colours as a sign if rivalry is fairly cliché. As the two characters are rivals, the viewer is given a sense of duality, for we have difficulty choosing a side. It is also natural that someone has competition and letting it go overboard is a cliché.
I will say: personally, I have a soft spot for dragons. Having seen much artwork of yours, Mirjam, of animals, I am impressed as always with your detail. I can see how hard you worked, paying attention to the lining of the scales, horns, and spikes on the red dragon. Seeing the pattern the blue dragon's spines and his number of horns, add to the difference between the two characters.
Typically, a fire dragon would be an ice dragon's enemy, but it is unique that the blue dragon represents lightning. Fire and lightning are both very powerful dragon elements and having them fight avoids a cliché. The fire and lightning are also well-detailed.
As for the background colours, I think of them like the dragons' aura, for they take up the picture.
These clichés, I have a soft spot for them as well. Keep up the good work

The Artist thought this was FAIR
6 out of 7 deviants thought this was fair.
I am stunned. The colors, lighting, everything is amazing. I love it as much as i loaf dragons. I love it it looks awesome and i just can't get over it...
This piece captures the dragons very nicely and it looks fucking fantastic. I can't get over the astonishment and breathtaking feel of this piece.

It looks very good and I love it.

Dragons are cool like this pic

i have no idea what else to say so filler
a
a
a
a
a
a
a
a
a
a
a
a
a
a
a
a
a
a
a
a
a
The Artist thought this was FAIR
2 out of 3 deviants thought this was fair.