Finaly I've done my first "alicorn-mold" figurine . Princess Celestia tries on her new gala costume.
As usual, I made her costume and wings from foamiran - so they are pretty soft :3
More photos from the different sides are here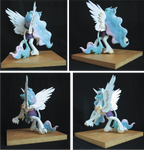 Celestia is 15 cm per height (includes pedestal) .
Sun princess is also looking for a new owner! You can get her here :
www.etsy.com/shop/FelinexyClay…