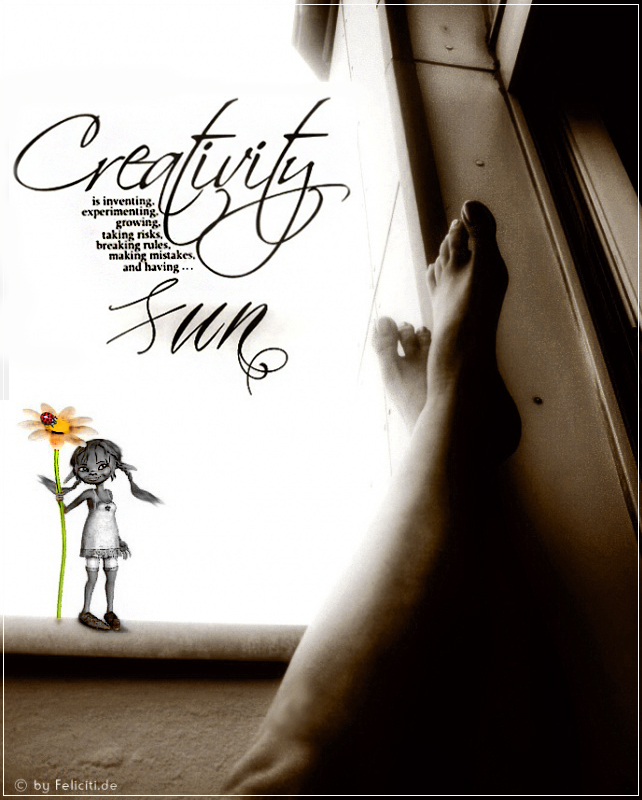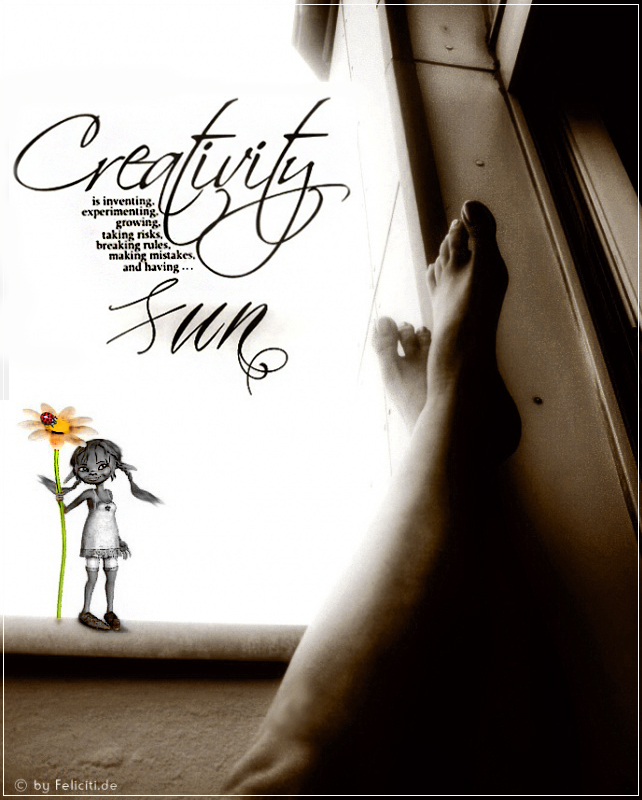 ...simply a play with one of my photos and other things in Photoshop (yes those are my legs

lay on my balcony & look into the dreamy clouds)...just for FUN !...years ago i found this statement (creativity) i like this !
-----------------------------------------------------------
CREATIVITY
is inventing,
experimenting,
growing,
taking risks,
breaking rules,
making mistakes,
and...
having FUN!
------------------------------------------------------------

Schön dich wieder auf deviantArt zu finden.
Es ist eine Weile her.
Straßen führen oft zu anderen Orten, aber am Ende finden Sie einen Weg zurück.
Ich habe deine neue Seite besucht und eine ganz andere Seite von dir gefunden.
Meine Arbeit ist jetzt auch auf einer neuen Seite.
www.aqua1955.nl/art
Ich werde versuchen, dich öfter zu besuchen und zu sehen, wie es dir geht.
Ein schöner Gruß, Ben
Reply

danke ebenso

bin zwar täglich hier schauen ,habe aber seltener Zeit oder Lust hier was hoch zuladen ,
Bei rero... bin ich garnicht mehr online ....und wenn hier mit Fotos oder Fractalen
Liebe Grüsse zu Dir !

Reply

Beautiful image!

Reply

the light and shadow in the photograph of your legs is great - i also like the sepia effect

Reply

I like it to! legs and feet posed like this give a sense of freedom, relaxation etc.
Mike
ps nice legs and feet to!

Reply

yes simple realax and enjoy the sun on this day (photo)

thanks

long legs
Reply

Creativity is everything!
Reply

Hey, thanks for the faves!

Gorgeous legs and sweet toes you have!
Reply

sehr schön gemacht...!...

Reply

thanks fand die idee ganz witzig

Reply