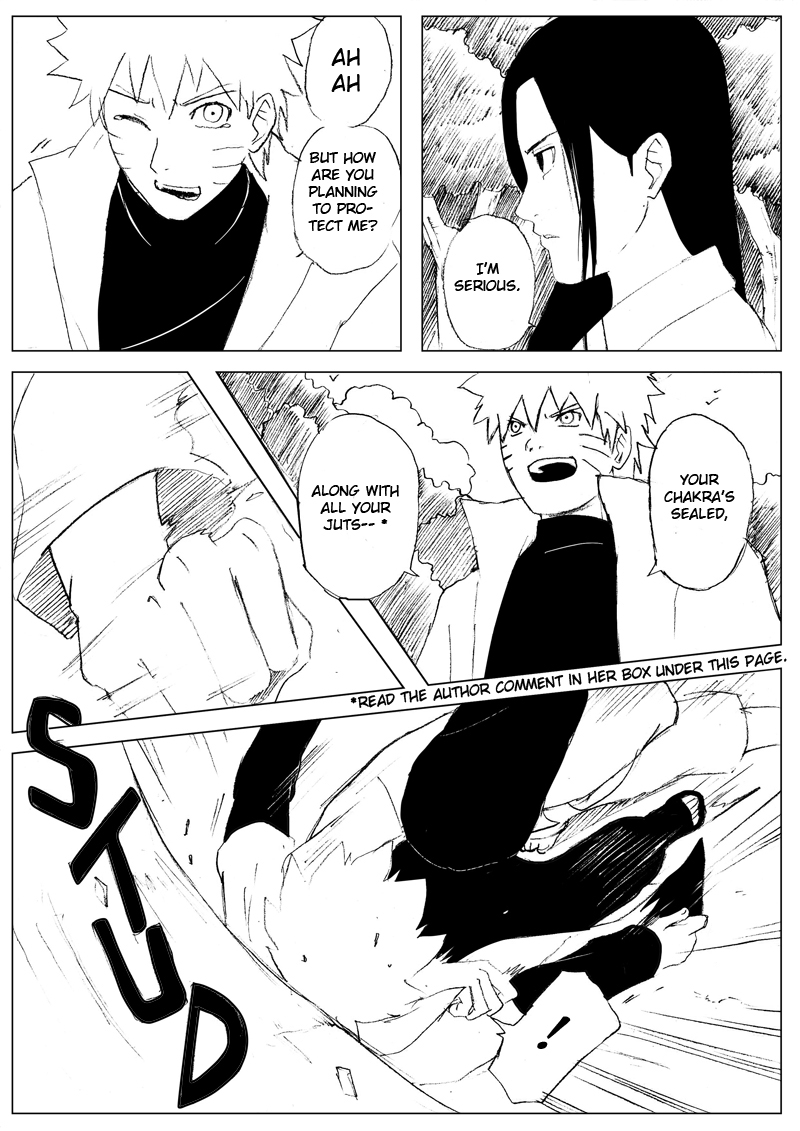 Watch
I thought on this story after that my friend explained me her theory about the end of Naruto's manga. You can read this story because she thought on this incredible theory and... Because I was so crazy to start ot draw it XD
She is also my editor and my teacher.
I luv you!!!
"In the sealing

theory, Naruto in the manga becomes the new Sage of the Six Paths. Just like how the first Sage of the Six Paths introduced ninjusu to the world, Narutp brings balance to the world of ninjas by sealing all jutsus and techniques away. That way, he can keep all the promises he's made to himself, and the promise he made to Itachi. Once all ninjutsu is sealed away, everyone in the world will become a normal human being. There won't be any more jinchuuriki. There will be no more clans with special eye techniques of bloodline abilities. Clans will no longer even have an excuse to inbreed anymore, because the Hyuuga will be the exact same as the Uchiha, and every other family. Ultimately, Naruto will bring balance to the world by making everyone equal. There will no longer be a need for Akatsuki. There will even be an end to needless ninja wars, because Naruto would have brought balance to power. The worth of a village will no longer be judged based on the strength of their respective jinchuuriki anymore, or bijuus, which are the villages' weapons of mass destruction, because all demons and supernatural powers would have been sealed away.

Ultimately, the world of Naruto will become the world that we, the readers, live in. All the physics of their world will become our world. It's a great way to end a series, because it makes the Naruto story more real to people, that even in this world, in the imaginations of children, Naruto, and Sasuke, and all their other favorite ninjas could have existed.

So yeah, ultimately, Naruto brings balance to the world by sealing away all the chakra, bloodlines, and ninjutsu that the Sage of Six Paths originally introduced into the world. After he seals it away, Sasuke will be reduced to a rebellious orphaned teenager who no longer has the power anymore to be any more special than any other teenager. What he does have going for him is that he knows how to fight hand-to-hand, throw shuriken, and wield a katana, which ultimately still makes him a valuable fighter even after all ninjutsu is sealed away... but he certainly won't have any more Sharingan godmod abilities that bring his fighting skills to a level that makes him near invincible.

EDIT (by

: to point out/ remind people that Kishimoto established the Uzumaki clan as a clan that specializes in sealing. Why would Uzumakis have that clan specialty, established by Kishimoto, if not to further tap into that established innate ability that Naruto will have later on. The sealing ability can go so much farther than just him sealing Kyuubi's already-sealed powers within himself. That's peanuts compared to his full potential. What established Naruto as being such a great character is that he's able to learn and expand and dedicate himself to perfecting a technique. Add determination to his abilities, and I just about think anything is possible with him. He -is- the #1 most unpredictable ninja
"
PREVIOUS----------->
[link]
NEXT------->
[link]