Hey there my names Emma, i've been designing since 2006. I started with my old camera's software.... it wasn't very good but I had a go. Then about a year later I downloaded Paint Shop Pro 9 and started following tutorials. Once I got the hang of it I just went from there. I now have Paint Shop Pro X7. I just love to design!
i've more recently started writing my own fanfictions but bear with me as I write them.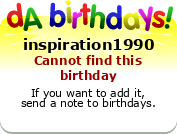 I'm member of:





#GetWatchers help artists to share their creativity, increase their audience and get more feedback by getting more exposure and pageviews. If you want more exposure of your arts, constructive critics, watchers and/or if you would like to discover new talented artists, come join us

Here

.
Current Residence: Leicester, UK
Favourite genre of music: anything but metal and hip hop
Operating System: Windows 8
MP3 player of choice: ipod Nano!!!
Personal Quote: Don't give up keep trying!
If you wish to contact me off here please use this
Email
(non Personal)
Favourite Movies
Veronica Mars, Kick Ass, Now You See Me, The Hunger Games, The Avengers, Captain America: The Winter Soldier
Favourite TV Shows
Veronica Mars, Bones, Castle, Warehouse 13, Doctor Who, Torchwood, The Mentalist, Smallville, Unforgettable, Haven, CSI
Favourite Bands / Musical Artists
One Republic, Little Mix, Paramore, Taylor Swift, Demi Lovato, Avril Lavigne, The Script, Jessie J, Kelly Clarkson, Carrie Underwood
Favourite Books
Virals, The Maze Runner, ACID, The Girl Who Kicked The Hornets Nest
Favourite Writers
Virginia Andrews, Steig Larsson, Kathy Reichs, Brian McGilloway, Rachel Caine, Veronica Roth, Dan Wells
Favourite Games
Mario Kart Wii, The Sims 3
Favourite Gaming Platform
Nintendo Wii
Tools of the Trade
Corel Paint Shop Pro X7, Windows 8
Other Interests
Designing, Swimming, Watching movies, listening to music & playing Badminton