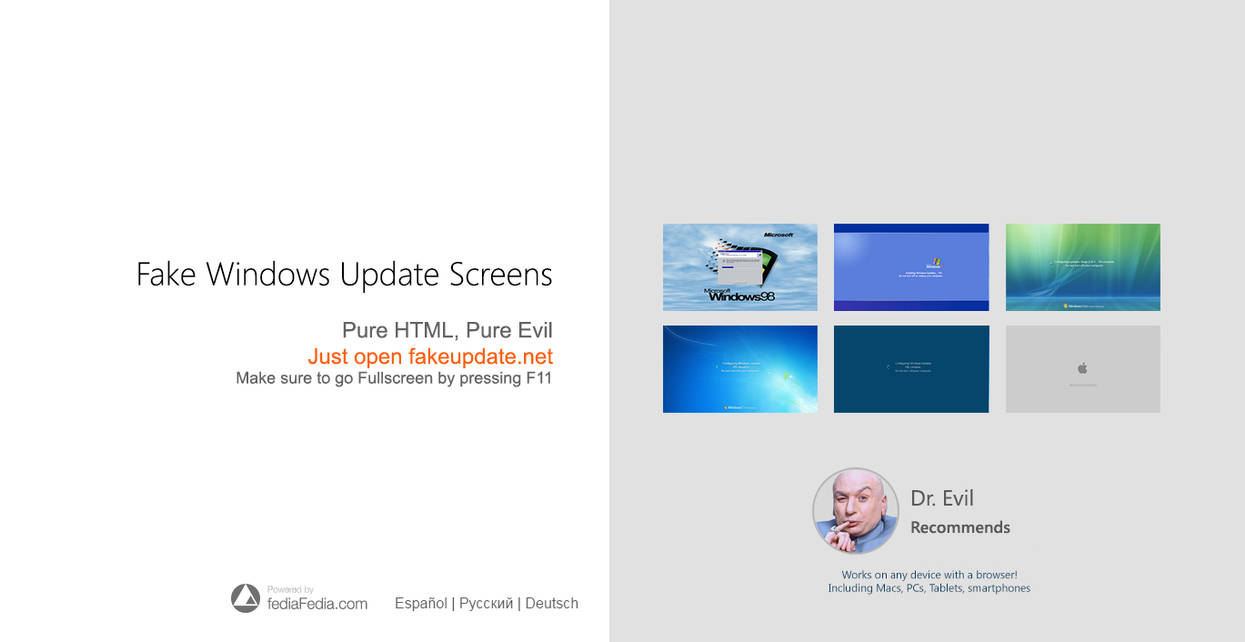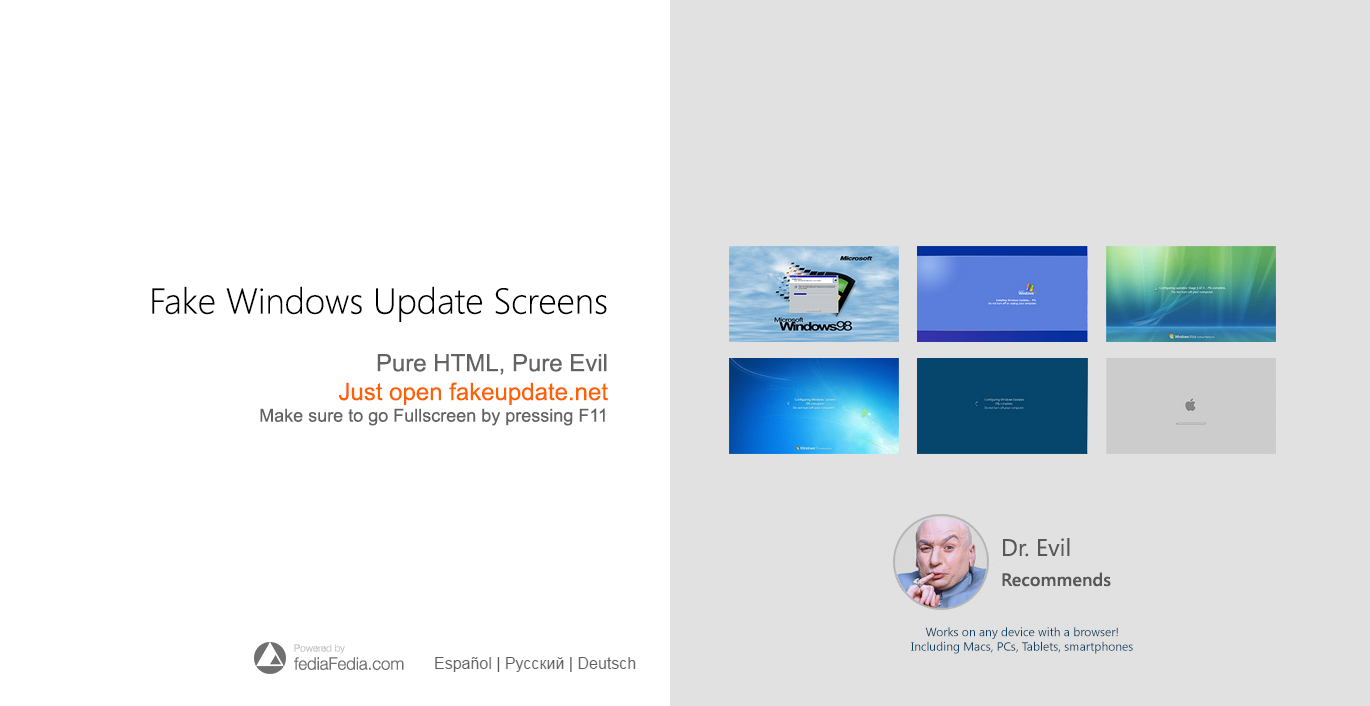 Get your April Fools 2016 material here!
Please don't watch the video explaining this:
www.youtube.com/watch?v=N_qT1c…
New version with more features. We actually have a domain now, just in time for April fools

PROTIP: Pretend you're helping and press ENTER on the key to cause a BSOD!
Please don't bring it down..
Aaaand it's down. Mirror: http://omnimo.info/wu/ Main one should be up in a yiffy.
---
Oh good, it's down again. You can try a mirror meanwhile: fediafedia.comule.com
Just an FYI - this works on windows, mac, linux or whatever. It just needs a browser and internet connectivity.
Now works.
EDIT: Looks like the server is dead from all of the requests. I'll reupload it to another one soon.
Hey guys, just thought I'd share something I did a few weeks before out of boredom.
Basically it's a fake Windows Update screen that resides entirely in your browser. With April the 1st coming up, here are the following potential practical uses:
> Go to an Apple Store. Type in
fediafedia.com
on one or all of their Macs and Press F11 for fullscreen. Be escorted out of the store by angry employees.
> Do the same on any of your college computers and watch people just stand there confused
> Use it in your office to slack off or get a break
> Use it as an excuse in your botched PowerPoint presentations
Features:
> Loops forever.
> Hides the cursor, almost impossible to tell if it's fake
> Adjusts to any screen size
> Very realistic
Soon I'll do some improvements to it (thank you everyone for suggestions):
> Changing the Language
> More accurate Windows 8 version
> Windows XP version
> Ability to add your own text (maybe?)
Silly stuff. It matters.
TM
Follow me on Twitter if you want, I'll post updates to this thing there:
fediaFedia
twitter.com/fediafedia
Daily Deviation
Given 2013-04-13
This prank was really funny. I liked the fact that this could be used to prank others. It brings laughs to my mind.
The thing is though, the W8 version wasn't really accurate. I use it, and I know that the thing uses no logo, that new white dot wheel, and one of those Segoe fonts without a shadow. I know, I'm really nitpicky. Besides, I don't think the workers at Apple Stores even know what Windows 8 looks like.

Overall, I loved this. Fedia, you've made a great thing. I love all of your work none the less, for sure!
The Artist thought this was FAIR
152 out of 156 deviants thought this was fair.
This is actually a great joke,it can be a big laugh for you. My friend just was like "Ahh,an update, please not again Windows, I'll simply restart *left-click,right-click*....What the hell?" Lol, but the spanish version is not 100% accurate on the translation, as the english version is on the Windows Vista, 7 and 8.
This is pure evil genius, keep the great work going
Microsoft should call you for a job being the one who makes the User Interface.
I just think that this is very great, the best PC prank I had ever seen lately, amazing, and well designed
The Artist thought this was FAIR
19 out of 19 deviants thought this was fair.