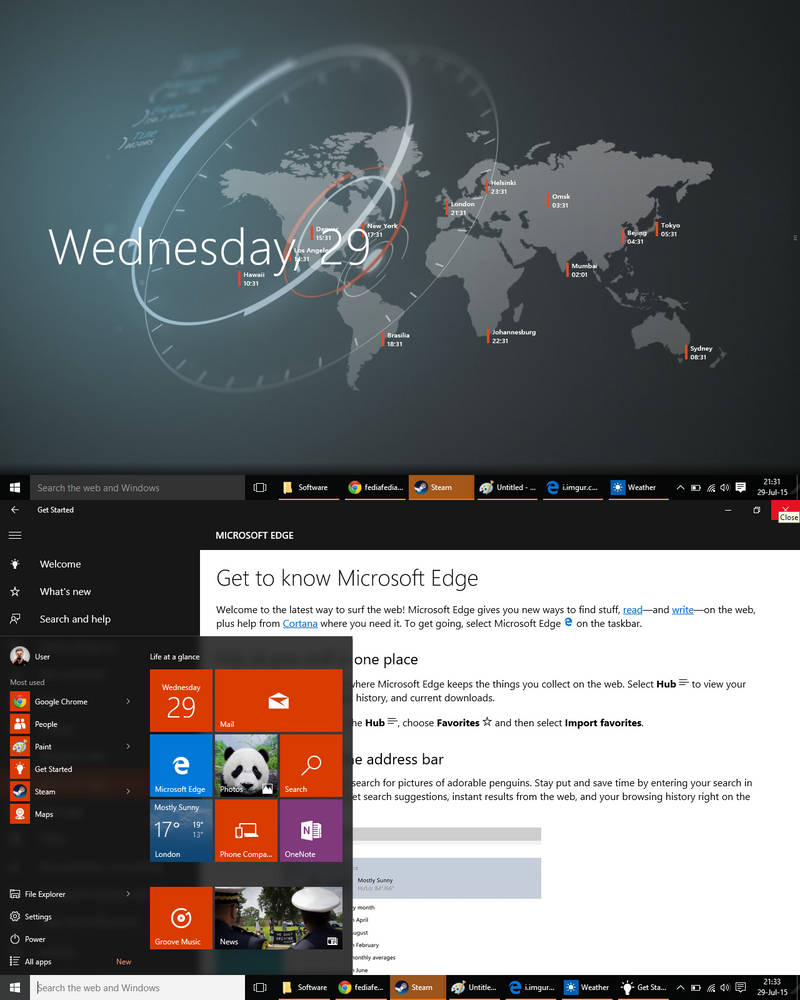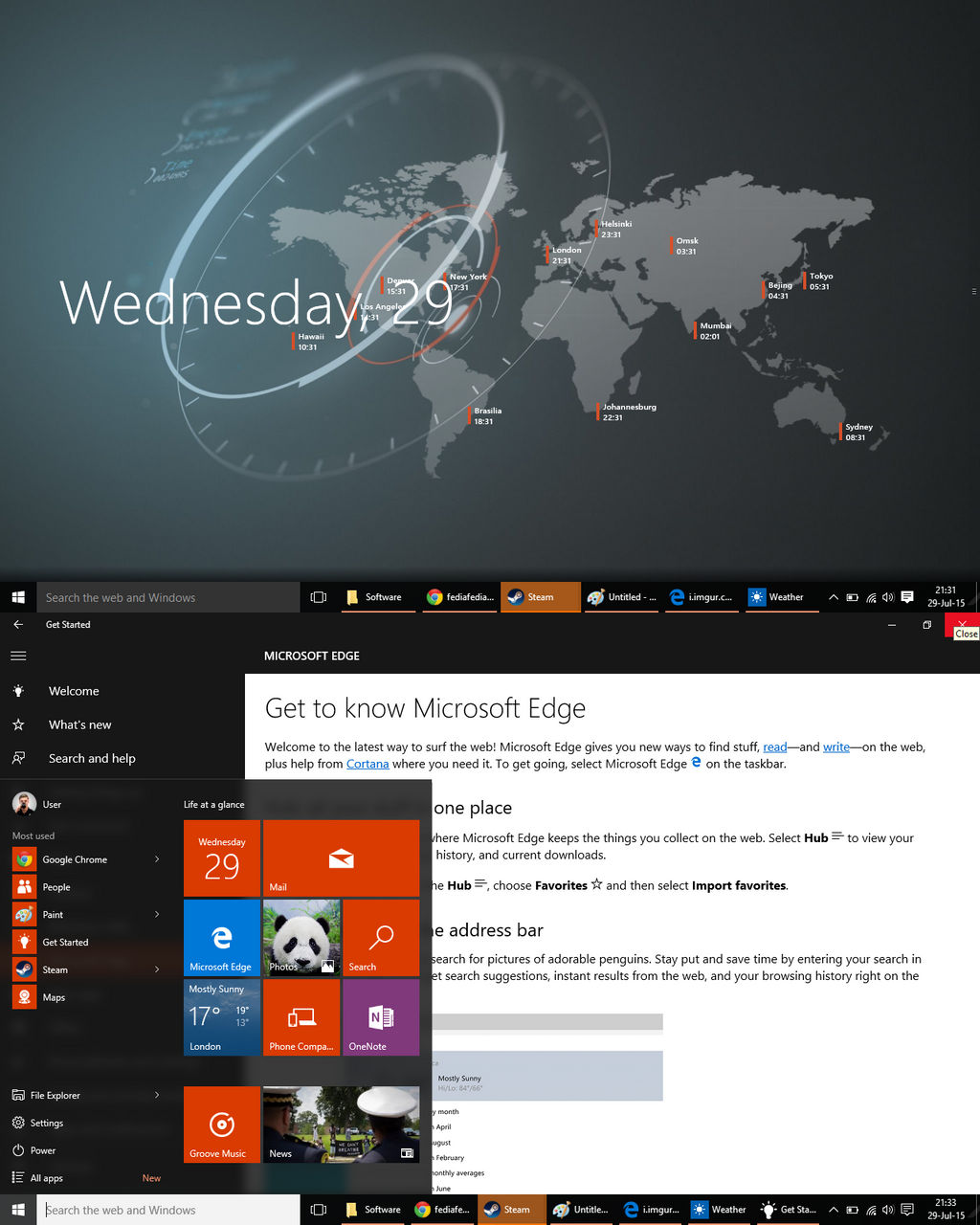 Watch
It's here

I've been looking forward to installing it as my main OS for a while.
Installed it today on my ThinkPad, loving it so far

The OS is really snappy and responsive even on an older computer, I like the UI and the fact that they used some of my suggestions from the Windows 10 concept:
fediafedia.com/10
, as well as the resizable startmenu I suggested here:
i.imgur.com/1PJzqfz.gif
Lots of great improvements like Cortana, MS Edge, many revamped apps including Music, Videos, Photo Viewer, Calculator, Solitaire. Also the existing Windows 8 default apps work so much better in this new mode. The notification center and new UI for the clock, calendar, messages, battery is very welcome. So far it seems like Windows 10 is the best of Windows 7 and Windows 8. Good thing Microsoft decided to skip Windows NEIN NEIN NEEINN!

If the pattern is correct, this release should be looking really good, perhaps even the new Windows 7. (Need to go back into theming)
Microsoft is also planning to keep it as Windows as a service - meaning it will constantly evolve and improve. Hoping they'll solve the Nvidia driver issues some people are experiencing soon.
Overall, big thumbs up from me

What do you guys think? Have you tried Windows 10 yet?
Btw the desktop stuff is still Omnimo (yes it works on win10):
omnimo.info
/plug

Reply

There's a lot of things I like in W10, mostly the visuals (theme/icons/etc), but I've seen a lot of problems occurring in other people's computers after they upgraded; problems like incompatibility between projectors, hardware and mostly software; also, there has some disturbing reports about lack of privacy on this new OS, so I prefer to stay with Windows 7 until I'm sure I won't regret it.
Reply

Idiot sister-in-law who destroys laptops by just looking at them bought a new Toshiba Satellite with Windows 10. She didn't know how to install Microsoft Office with a license card and handed it to me. The file manager (Windows Explorer) is unbearable. Items keep popping open with the slightest hover. Menu items pop open while I'm scrolling down looking for a program. Installing software results in windows being skipped because the cursor got close to the button. It's like a really buggy version of one-click open. I remember searching through system settings on a new laptop in Best Buy running Windows 7 a couple of years ago looking for a setting to change to alter this behavior. I never found anything.
Reply

That's not supposed to happen...
OH MY GOD YOUR SISTER-IN-LAW DOES BREAK TECHNOLOGY BY LOOKING AT IT!
Reply

She gets a new laptop. Never installs an antivirus. Never updates Windows. Never even installs Firefox. I don't think she knows how to install a program. Uses laptop till its so infested with malware that it won't even boot. Whines about how did she get a virus she never opens attachments in email. Takes it to Staples to be deloused. Brother grumbles when he pays bill. She picks up laptop and repeats process.

Did I mention that she carries her laptops open by a corner of the screen?
Reply

I am also using Windows 10 as my main OS, I am absolutely loving it.
Reply

Reply

The only downside is titlebars that we can't change the color of but other than that its fantastic
Reply

I like it so far too! It's even snappier than windows 8. I especially am loving running store apps natively in windows. Though, I'm a little disappointed that they pulled the skype app from the store and are just making everyone use the desktop version instead now. I had looked forward to using that instead of the desktop version because its UI was so much better looking.
Reply

Just use the Skype Translator app. It's essentially the Windows 8 version of skype but with added translation ability.
Reply

Getting ready to install it my self, but so far there are no win10 drivers for my gigabyte mobo.
Did you went for a fresh install or an upgrade, and have you found all the drivers?
Reply

You can still use the Windows 8.1 drivers if you want, an upgrade and a refresh should do the trick.
Reply

Works quite solid here, but I hate the new mail app, it's more of an downgrade for me. But overall, I'm pleased how good it works (even on my HP Stream 7). You should try the Metro for Steam skin in your steam if you haven't already installed that, it fits perfect into the system

Reply