Big Sur RC1 for Rainmeter
1.8M
Views
26
Collected Privately
Description
Update coming soon! Post feature requests here: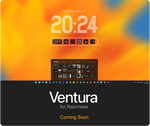 Fixed Weather!
Release Candidate 1 (not quite Final yet

)
RC1 1.0 Changelog:
Added a new Spotify Album art solution (also works with iTunes)
Music Player Picker instead of Default WMP in the default theme
Added a compact Sidebar layout
Added a sidebar shadow option
Added an option to change Label colors
Added a configurable Sidebar with Auto-Align
Changed z-index for most items to never appear over windows when clicked
Changed all clocks to local timezone
Added Custom Timezone clocks (in the context menu of normal clocks)
Added French Language (thx to Ciel)
Most Widgets are now Resizable from their context menu settings
New icons for Music Player
Welcome screen has the wallpaper option now
Added configurable background extra
Fixed some shortcuts
Added new widgets:
- HDD Meter
- CPU Meter
- RAM Meter
- Date
- DateTime
- Text Clock
- Custom Text
- Countdown
- Reddit (Find it via context menus)
Improved Calendar
Added double wide system panel (thx to 3rd-apex)
Fixed MediaControl
Added configurable fade to Slideshow
Added tiny clock
Improved Greeter Graphics
Expanded Shortcuts and Web Galleries
Added 3 Create your own Web Items
Added 3 Create your own App Items
Tweaked Daylight
Changed opacity setting to be percentual
Option to disable AM / PM
Added Opacity 2 (the color opacity) option
Misc DPI scaling issues fixed
Centered Welcome Screen
Added new configurable rounded background Extra
Calendar and Clock panels now launch Calendar or Clock when clicked
Added some symbolic panels for donators and those who helped with Big Sur
Added mouse pointer for action items
Added RSS feed selector for all RSS items in their Settings
Renamed the project to Big Sus (Then renamed it back)
Added a shameless plug for ScreenStyler.com
Fixed: Sliders not working for some people

BETA 3 Changelog:

Better font included
Fixed Weather
New double-wide weather panel variant
Fixed some web shortcuts color in dark / light mode
New experimental "Smart Stack" panel with scrolling
ClockNews now scales properly on higher DPI
Added new Grid aligner
Added ability to Lock layout
Changed Analog clock
Improved World Clock - now with day / night cycles
Clicking slideshow now opens the pictures folder
Multiple lines in the Calendar for notes
Improved RSS Reader design and ability to scroll
Better Battery Widget, with color statuses and variants
Extra Moon Panel variants
Added Podcats Panel
To anyone asking for Spotify album art support - It can't be done reasonably. Blame spotify for messing up their app.

If you used BETA 2 or earlier, it's best to just overwrite your current config and rearrange everything again.

--

Dock and Icons
New 1st of July update: Fixed items getting stuck in dark mode after changing settings.

Bigger update: Fixed most shortcuts (Steam, Origin, Skype, etc) Probably best to redownload

Small update: Fixed word, Spotify shortcuts. And light mode for shortcuts/web. Changed placeholders.

--

Well there it is

It took longer because I needed to find a suitable replacement font

Big Sur 1.0 BETA by fediaFedia
RELEASE: 26th of June 2020
NEW USERS / CLEAN INSTALL
If you have Rainmeter installed, just double click BigSur.rmskin
If not, launch Setup.exe and follow the instructions to download Rainmeter, after you've installed it, BigSur will be installed by the installer.
You can also download Rainmeter yourself from
rainmeter.net
, then install it, and you'll be able to open BigSur.rmskin
Thanks to LEX, Maiguris, dtaf_alonso, smurfier, jsmorley, cfixd and Xyrfo
Font credit:
rsms.me/inter/
--
Please visit
fediafedia.deviantart.com
for more stuff
If your Antivirus is complaining about stuff, just ignore it. It's a false positive.
Comments are welcome!