:thumb419409646:

Links to my animations :


Idols:








Youtube :www.youtube.com/user/daisyrock…




My Buddys and links to their pages oAo


I know some people In real life, too.





=== A little bit of infomation about me===

Name : Daisy/Fear-Immortal/Lonely
Age : HOHOHO wouldn't you like to know?
Personality : You'll find out if you stalk/talk to me
Favorite colors : Orange and Purple
Favorite characters : Byakuran, Garry, Etc,etc..
Favorite animes : Katekyo hitman reborn, Angel Beats, Trigun, Soul eater, Keroro Gunso, Amnesia, Little Busters... Y'know



Click here to make me fangirl
<-- DO THIS KAY.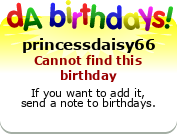 :thumb389878063:
:thumb389505954:

:thumb288849254:
:thumb380863275:

:thumb388606104:




:thumb386472962:


:thumb385031212:



:thumb380521164:



:thumb377231506:

















:thumb358279438:

:thumb356736602:

:thumb356363231:


:thumb356253970:



:thumb351762251:




:thumb341857288:

:thumb341625585:














:thumb213918319:


:thumb321952520:




:thumb318084705:

:thumb451979005: