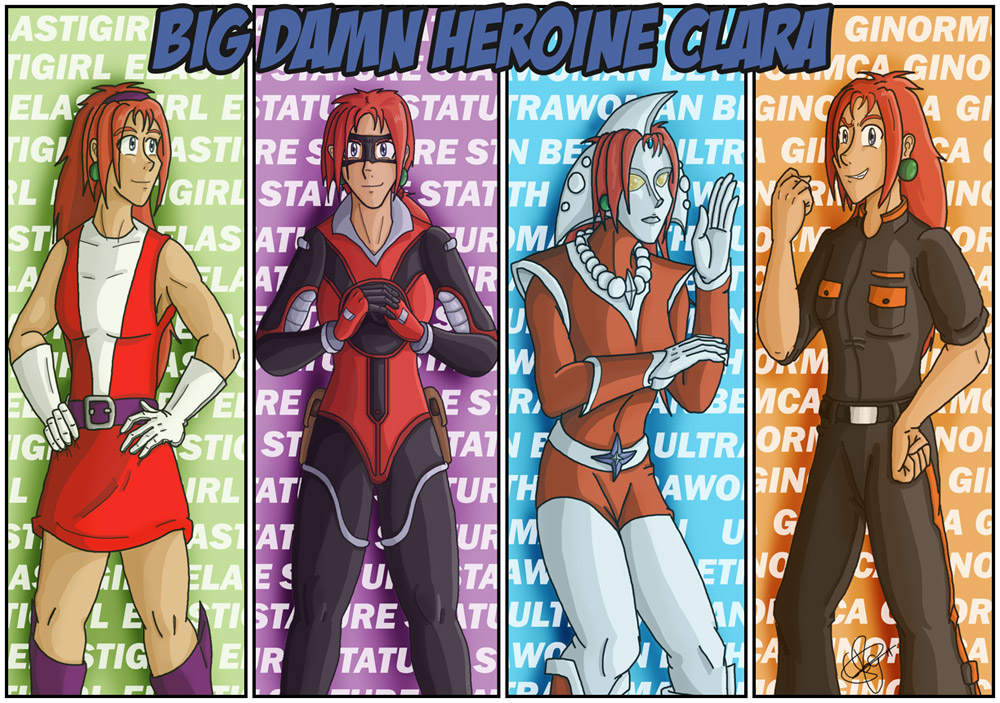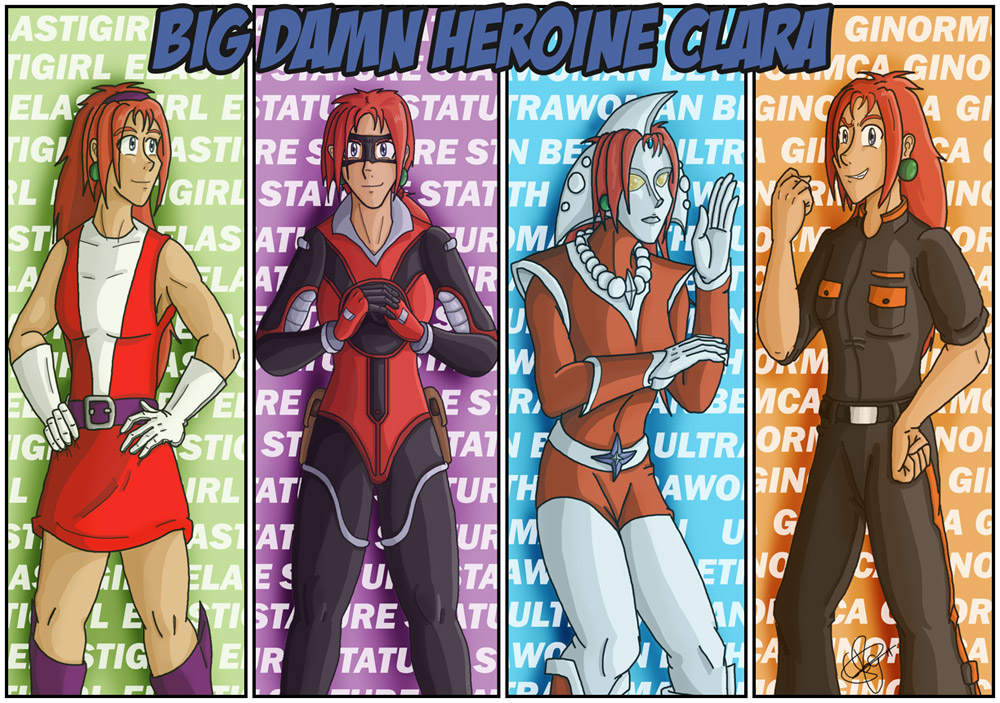 Watch
ESPAÑOL

Participación para el art-jam de mayo de

, con la temática de superhéroes. Clara se viste, de izquierda a derecha, de varias heroínas de gran estatura:

- Elastigirl, de La Patrulla Condenada. Rita Farr es, tal vez, una de las mayores inspiraciones para crear a Clara. El uniforme clásico de Elastigirl, además, le va como un guante a la pelirroja.

- Estatura, de Jóvenes Vengadores. He querido evitar una elección obvia con La Avispa (más conocida por encogerse que por agrandarse), además de que Cassie Lang tiene su interés.

- Ultrawoman Beth, de Ultraman USA. Curiosamente he elegido una encarnación poco común, más guiado por el diseño y el deseo de tener un Ultra que por el personaje en sí.

- Genórmica, de Monstruos vs Alienígenas. A pesar de que la película no me agrade mucho, necesitaba una cuarta heroína de buen tamaño, y me vino Susan a la mente... así sin más.

---

ENGLISH
Submission for de

's May art-jam, and the theme is superheroes. Clara dresses, from left to right, as the following giant/sizeshifting heroines:

- Elastigirl, from The Doom Patrol. Rita Farr is, maybe, one of my biggest inspirations for creating Clara. Also, Elastigirl's classic outfit fits the redhead like a glove.

- Stature, from Young Avengers. I wanted to avoid the obvious choice, The Wasp - better known for shrinking rather than for growing -, and also Cassie Lang is kind of interesting.

- Ultrawoman Beth, from Ultraman USA. Curious enough, I chose a not-so-well-known incarnation, looking more for the design and my desire for including an Ultra rather than the character herself.

- Ginormica, from Monsters vs Aliens. Even though I'm not a fan of the movie, I needed one more big heroine, and Susan came to my mind... just out of the blue.