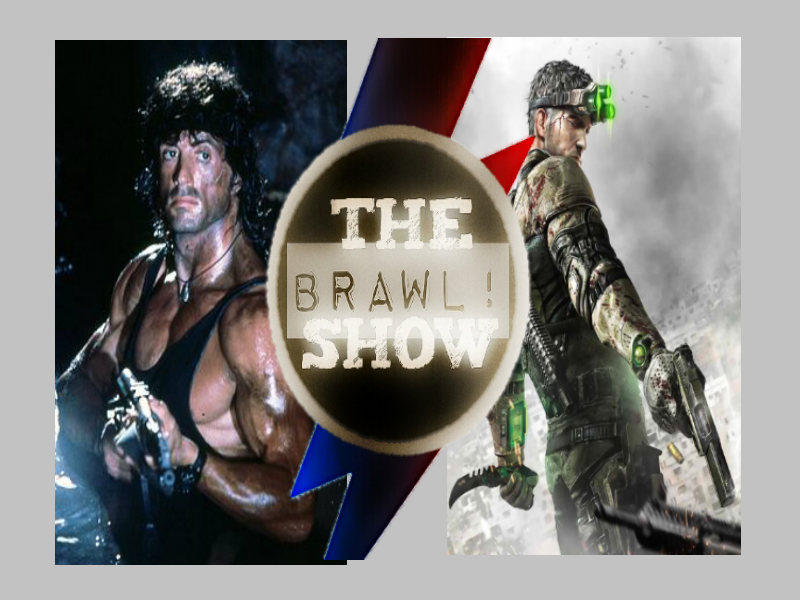 Fateful: Well it's do or die time guys. Anyone have any bets to place?

Red hood: Even though he's a bit of a dick I'll go with Sam.

Eren ( Stays silent for a bit) I'm not betting.

Red hood: What, why not!?

Eren: I'd rather not bet on these guys, both soldiers will give it their all and to just single one out based on my bet and not their skills would be foolish.

Fateful: I feel ya Eren, but we gotta keep it fair so I guess I'll go with Rambo then, purely for fun though.

Red hood: Just be ready to lose man.

Fateful: Like you did all those times?

Red hood: Hey those were flukes! ( Ahem ) Anyway it's time to see which hunter has his day...

Eren: And which one becomes the other's prey...

Fateful: Finally, it's time for a......

ALL: FATEFUL BRAWLLLL!!!!!! ( Spot the prelude here:

War...War never changes!: Prelude Pt.1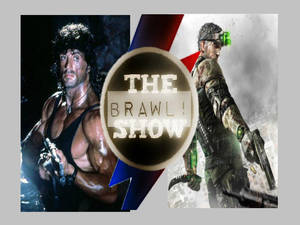 Fateful: It's that time again, time for our season ender trilogy!
Red hood: Which may turn into a qraudriology depending on the ideas we have left.
Fateful: And this time around we have a-
Red hood: Hey wait, where'd Aladdin go?
Fateful: Oh he took a nice soft vacation for this brawl as his reward for winning~
(Cuts to the universe of Manyuu with Aladdin drowning in tit flesh during a lively party)
Red hood: Well guess it's just- ( There's a knock at the door ) Uh who's that?
( Jason answers the door to see a lanky yet muscular fellow with a manbun, a clean shave, decked out in Survey corps attire with knee high boots)
Eren ( Walks past Jason ) Hey Fateful long time no see.
)

---------------------------------------------
Halo drop: Jungle Military Air Base in the Bahamas....1600 Hours
A single military chopper flew through the skies over a dense rain forest with great speed, it's pilot quickly making her way to the mission drop point, however it wasn't her that would be dropping down to complete it.
Looking behind her while swiping red hair from her vision the woman checked up on the only other occupant in the helicopter with her as she flew the flying machine at the right altitude and position for his jump to be as non lethal as possible, a hard task for sure given the many
ceiba trees.
" Sam, just a heads up your gonna most likely have a hard landing, " said the red head as she addressed her partner who looked up from checking his parachute.
The man known as Sam was getting on in years with his short grey beard and low cut hair, but his chiseled chin and physique betrayed that notion entirely, being easy to make out even with the Splinter agent decked out in a his Mark VIII T.O.S which nicely showed off his impressive out lines.
Sam checked his Five-seveN as he holstered it, " Good thing I never expect stuff to happen according to plan,".
" That's assuming you ever followed any plans to begin with," quipped back the woman.
The Fourth Echelon leader tightened his suit up for the coming jump, " Only the ones that I make myself,".
The agent then double checked the rest of his load out before tightly securing them on his suit as he turned to the red head, " So, any new messages from the kidnapper or the hostages, "?
The pilot shock her head, " Nope he's strangely not the talkative type, kinda odd considering that the people he's caught could actually catch him a good ransom, which he also hasn't asked for, ".
Fisher stood up having made sure everything was in proper order, good thing too as they were nearing the drop site, " Well then I'll just ask him face to face," said the man as he opened the hatch and prepared to jump.
" Sam, wait,"!
The agent turned to his long time friend and comm linker.
" This guy's got quite the record; he's easily one of the deadliest soldiers I've ever seen, so... just don't die yet old man, ".
The agent turned back to his halo jump, but not before he made one last sarcastic remark, " Funny, just come pick me up when I'm done Grim," With that he leaped off the chopper and into the trees below........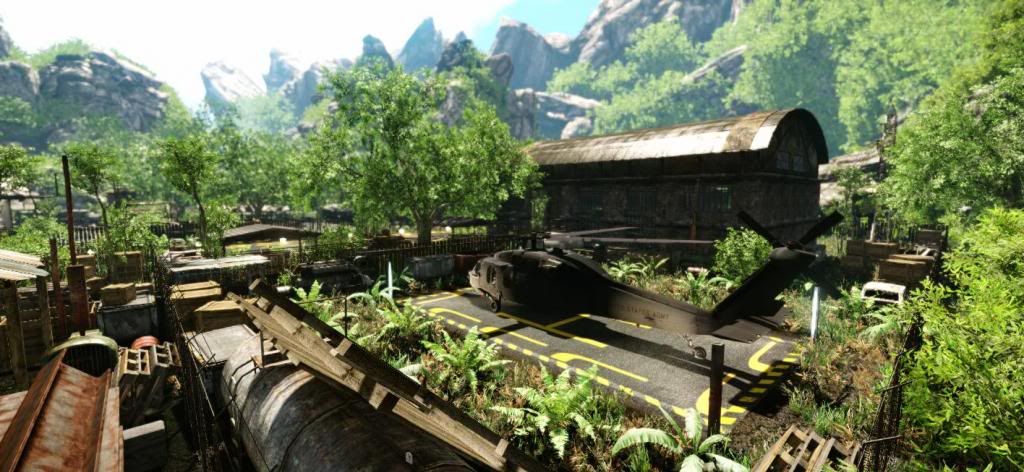 Having heard the helicopter approaching from a distance a single man who looked to be just pure muscle got up from his chair as he took one last glance at the knocked out and hog tied trio in the cellar, " Sit tight boys, I'll be back for ya later,".
The man then walked out in the afternoon light of the sun showing off his very muscular stature underneath a blank tank top and casual pants, mixed with his Navajo bandanna all with a chin that could pass as a sledge hammer and anyone could see he was an old fashioned commando!
As he walked out he saw for a brief moment a single man jump out of the chopper, no doubt here to ' rescuer the hostages ', not that people like them deserved saving, he'd see to it that they weren't leaving here unless his voice was heard!
" Well better go greet my guest," dryly stated the herculean man as he strapped up his bow and arrow, pistol, and other weapons all while walking out to meet his new arrival.... who had just snuck up at the entrance of the base as it meet the forest.
( Stop Music )
Sam blended into the surroundings as he made his advance into the base as he conversed with Grim, "
Sam, ... our connection...is getting weak......you'll....have to t....,"
then the link severed from that point forward.
The secret agent disabled his comm as he put down a briefcase hidden in the brush and looked ahead, to be somewhat shocked as his target brazenly walking right to the same spot he was at!
" What's this guy thinking, or is he just trying to get himself killed, either way this makes things easier, " whispered Sam as he took out his pistol and aimed it at his opponent's head while busting out from the forage.
" Alright pal hands on your head real slowly now, " Ordered Fisher as the larger man just stared blankly at him.
" Uh, I was kinda expecting an army or something a little more... threatening,".
The snide remark was brushed off as Sam approached the old veteran with steady step, " Heard it all before, John Rambo right, your commanding officer said some interesting things about you: Awarded several honors in Vietnam, took out a police force when you returned, rescued P.O.Vs from enemy camps. Your quite the trooper John, ".
Rambo began to circle Fisher as he kept the gun trained on him with expert tack, " I found some files on you too, Fisher. Taking down secret agencies, creating new ones, all that stuff,".
" Don't forget stopping WW3, so now that the little refreshers are done let's discuss the main course, where are the hostages and what do you want for them,"?
John just slowly reached behind his back and pulled out.... a stick?
" Just for the truth to come out, but we both know your not hear to talk," with that both soldiers stared the other down as they waited for the their opening to attack...
Sam tightened his grip on his SeveN aimed at Rambo's forehead.....
Rambo did the same to his Eskima stick........
One of them would defiantly be the first to attack......
But which one would also be the last to leave this place..... Well, they'd just have to find out...


Before Sam could fire Rambo had crossed the distance between them in a heatbeat whacking away his gun hand before sending a second stick towards his neck but thanks to the agent's quick reflexes he managed to block it with minor difficulty as he retaliated with a sharp kick that sent the commando back as he disarmed him!
Now with his opponent's own weapon in hand Fisher put his SeveN back up and fired at the now recovered Rambo who ran, not for cover strangely but instead towards Sam himself, who actually found it difficult to land a single shot on him as John out weaved the bullets he fired!
" Damn, talk about never skipping leg day," thought Sam
as Rambo charged into him knocking the two of them both down to ground with the bulky veteran on top.
" Hmmm, sorry your not my type," dryly joked Sam as John started to throw a flurry of hammer-fist upon him which he blocked with his forearms.
" Funny, have anything better to say," John retorted as he elbowed Sam in the cheek causing a bruise.
Instead of answering with words the agent caught one of the veteran's arms while trapping his left leg which he used to effortlessly flip him over allowing him to mount this time with one hand pinned and his waist trapped, " Yeah, I'm on top," with that Sam kneed the downed soldier in the gut explicating a pained moan which was welcomed with a swift right hook!
Sam then went to work on his target slamming his fists and thumb-jabs into the most vulnerable areas on his face causing immense pain that could put most men in sheer agony, Rambo however was not most men which he proved by forcing Sam's off him via a strong buck.
The dislodge sent Sam skidding across the ground giving Rambo plenty of time to draw his Beretta and open fire!
Narrowly evading the bullets as he rolled away in haste Sam thankfully found a much needed road stopper to duck behind as he returned fire with his own pistol from behind it, " You ready to tell me your game plan now John,"?
In response Sam received a hard shotgun shell that blasted off a small piece of his cover, and as he looked around he could see that the next nearest one was a good several meters away, making a run for it the agent pulled out his MP5 running and gunning at the exposed Rambo who did the same to avoid getting shot.
The two went back and forward until they both ran out of ammo, not as bad for John as he simply pulled out his bow and arrow letting out a shot that nicked Same in the arm just as he ducked for cover, the agent bent down to check the damage and thankfully it was just a small scratch.
" Well this isn't getting me anywhere, if only- " Sam groaned until he saw a very pleasant yet sticky sight." I guess that'll do," ...
Grabbing a flashbang grenade Sam threw it over to the cover Rambo who had just gotten reloaded ...only to shot the well placed flying projectile!
BANG!
Blinded by the blinding light Rambo started to fire in the direction he thought Sam would run in, but as it cleared he saw that his opponent had just given him the slip, " Well, guess it's time to go hunting," the commando sighed as he reloaded his gun and went after his slippery foe....
( Meanwhile with Said slippery foe )
Unbeknownst to Rambo however, was that his opponent hadn't gone very far, in fact he was just a couple feet from where he last saw him, underground that is.
" Good thing this sewer shaft was nearby, now if only my good luck could get rid of this stink," thought the spy as he crawled through the shaft trying his best to ignore the many filthy obscenities in the way as he pressed forward trying to find a good place to get out inside at least one of these buildings.

But Sam still wondered what the rouge commando meant about his demands for the VIPs release, oh well, if he took him alive he could ask him then....
His target was busy searching over the surrounding area trying to find him, Rambo had his MP5 at the ready for anything signs of movement, only to have disappointment waiting at every turn,
" Damn it, I can't fuck this up!...... ( Breaths in and out ) Alright, now where would he be going, this place is big so he's not likely to find those punks yet," .


As John Pondered the many scenarios of where his opponent could be he glance at something that caught his eye from his opponent's last position, a slightly opened ground vent, " Well, that narrows it done a peg,".....
Sam was really getting sick of this sewer's shit,
literally,
as he gagged again for the fourth time, " And I just got the suit cleaned, ".
Fisher crawled to a nearby vent above him which he stealthily but quickly pushed it open standing out of the vent as he resurfaced into a compound completely shrouded in darkness, Fisher pulled down his M.V.Gs to see and what he saw made him smile, " Perfect,"......
Rambo began to check off the places he suspected Fisher would be, that specific sewer vent only lead to about five places; two of which were on the far side of the base so unless he wanted to trek trough that shit below he'd cross those off, as for the other three, well John had some surprises set up in each of them, " I'd love to see him out stealth an explosion, " darkly laughed Rambo.....
Sam carefully maneuvered through the very well placed Claymore mines on the ground and walls, he had to hand it to Rambo he sure knew how to make a decent trap, " At least their not lasers this time, " said Fisher as he finally made it to the guarder rivet he spotted on the other side.
In less then 5 seconds Sam had climbed to the roof of the mess hall warehouse taking out his crossbow and
Beretta Px4 Storm .45:,
the latter of which he aimed at a single mine.....
Rambo was about to enter on of the warehouses just as this happened-
BOOOOOMMMMM!
A decent portion of the neighboring compound exploded, causing the the old war veteran to avoid some debris as he grimaced, " Looks like I caught a bite, ".
Running into the base he was still on high alert as he couldn't see anything through the smokey darkness, Rambo held his breath as the fumes almost choked him, but he did pick up on something as he took a quick whiff, whatever it was smelled like shi-....
Wait a minute!
Rolling to the side and just barely dodging a sticky shot bolt as it sizzled on the ground Rambo immediately opened rapid fire on the direction the shot came from, of course it was to dark so he was basically just blind firing, unaware that Same had snuck over to his sides on the raptures.
" I know a bow string when I hear it Fisher, did I leave an impression or something,"!
Sam pulled out a frag grenade,
" Only the impression I should've used lethal force instead, ".
Throwing the grenade down Fisher shot it with his Beretta right as it was behind Rambo who upon hearing the shot ran forward fast enough to not be blown to bits but not to avoid the splash damage as it singed his back and sent him flying over behind the cafeteria counter as numerous trays fell upon the commando.
Grunting John got up despite the raging head ache he had now, as he cracked open his glow stick, " Damn, what is this guy a ninja! I gotta finish him bef-," as he cracked his neck John turned around to see a few canisters of gas that were used to heat the kitchen stoves, he wasted no time in grabbing two of them.....
Sam saw his target run full tilt out of the kitchen much to his shock, but shock it off as he opened fire with his chosen pistol, but missed almost every shot because of his opponent's Usan Bolt shamming sprint, even shooting ahead was met failure as the commando kept changing directions at random, never losing speed through any of it!
" Alright enough of this, " Sam groaned as he took out his
Honey Badger
and opened assault fire on his speed driven foe with one bullet going through his right leg making him to stumble down in a strange manner, causing the agent to chuckle a bit" And that's the end of your track career, "
However even while down Rambo still managed to shot his shots with some manner of accuracy in the direction of the last rounds fired by Fisher's gun and mouth, a while Same dodged the first few one caught him in the shoulder causing him to fall off the rafters only barely landing on his feet.
Without missing a beat Sam had already disappeared into the shadows again, " Ya can't shoot what you can't see bucko, I'd suggest surrender,".
John scoffed with contempt, " Alright mister hid and seek, let's see you sneak away from this,"!
Rambo turned his gun to the ground shooting his last few bullets into the gasoline he spilled all over the area,
lighting it up with radiant flames accompanied by the smell of burning oil!


Now with his sight back Rambo caught a quick glimpse of a familiar shadow to his left, knowing he wouldn't have time to reload Rambo flat out
threw
the heavy gun at Fisher who narrowly dodged the makeshift javelin, but that split second was all Rambo needed to run over and leg sweep him ignoring the pain in his leg like nothing!
Sam however caught himself with one hand as he cart wheel kicked John into the wall as he righted himself seamlessly!
John shrugged off the blow as he lashed out with strong right punch that was deflected by Sam with one hand as he backhanded John with the other one ending the combo with a brilliant tornado kick that sent him staggering to the side, recovering quickly though Rambo got into a basic military combat stance.
" Hmm, a little H2H action uh, well teaching is the best way to stay sharp, " Sam quipped as got into his own Krav Maga stance, " So let the lesson begin,".
Not missing a beat Rambo was the first to attack as threw a quick jab which Sam ducked as he socked him in the gut winding the commando, " Gut check, fail".
To follow up Fisher then palm struck Rambo's forehead dazing him slightly, but not enough for him not to counter with a side kick that Sam blocked with a raised knee but left himself open for a front kick with the other leg this time sending the spy flying back, but unlike Rambo before he hit the wall he kicked off it landing a devastating back kick that sent the veteran over a table and through another one!
Sam dusted himself off at the end of it, " Ok your good at attack, albeit pretty predictable, but defense, oh boy, we gotta a lot to work with,".
As his opponent critiqued his fighting style Rambo put his hand on the table and got up as he wiped blood from his mouth with his bandanna before rushing down Sam with a flurry jabs, crosses, and even a couple low kicks; all of which Sam matched with his own more professional variants of the moves.
Then without warning Sam outright caught John's left crescent kick and slammed his elbow on the knee, dislocating it,
" ARRGHHH,"!
Even through the intense pain John managed to clock him in the cheek sending Sam tumbling to the right as he grabbed his leg and well, reset it-
CRRRRACKKK!


Groaning a bit as the pain dulled, John saw that Fisher was right on him again, but the moment he threw a fist out the spy had already deflected it on the inside sending a flurry of fast paced thumb jabs to his chest shorting his breath, before he caugth the commando in a double led trap sending John to the ground, right next to a trail of fire.
Sam leaned over him, " Like I said, predictable,".
To his surprise John looked relatively calm, " Good thing I took your lesson to heart, " tech ". Then from John's other hand came a flaming punch, as he coated his hand wrapped Bandanna with the flames beside him unbeknownst to Sam, burning the former's face!
Before Sam could recover or retaliate he received a hard elbow to the nose knocking it out of place, " Arghhh,"!
The commando got up as he pulled out his combat knife pointed at the downed spy, " You should have kept it out of my business then,".
Now extremely pissed off Sam rotated around stopping John by the waist with one foot and sweeping him over with the other, afterwards he caught his knife arm in an arm lock with Rambo's face to the floor all while fixing his nose back into place!
" Now it looks like you need a hand uh pal,".
Rambo smiled darkly as he secretly pulled out a detonator from his other pocket, " Way
( Uhh! )
ahead of ya bucko, "......
( Meanwhile in the cellar )
While all this was going on the now conscious 3 captured VIPs were still tied up and gagged in the basement of the captain's quarters, each one struggled still to free themselves from their current predicament with even more vigor then before, this is part to hearing the raging war going on above them; their rescue was here!
But all efforts were in vain as the bonds were just too tight, the 3 men began to lose hope, until the peach skinned one spotted a heater behind them, grinning under his gag the man crawled towards it with haste once there he stuck his roped up back to the hot metal as it steadily burned away his binds.
When that was done he rejoiced in standing up for the first time in days, taking only a second to breath clearly again, *Cough* *Cough*, Damn, I'll be having nightmares about this that's for sure,"!
He wasted no time in unbounding his partners shortly after; both of which were pale men, one however was shorter then the other.
The shortest man brutally threw down his gag, " Your telling me, that's the last time I hire such inapt bodyguards! I knew buying off the sales papers was a bad idea,"!
His taller cohort placed a firm hand on his shoulder, " Pablo, now's not the place or time, we need to get somewhere safe while that terrorist is busy,"!
The peach man nodded, " Will's right, we need to get out of here, the only problem is how, I'm pretty certain that door's locked as well as the one above it,".

They all walked to the metal door seeing it was indeed locked from the outside, " Any ideas,"?
Will stood tall with his comb-over clear as day as he eyed the locked door, " Well, that depends, you guys have good backs right,"......,


( Back to the war )
With the press of a button Rambo detonated a bomb he hid in the outside lot nearby causing Sam to slightly lose his grip as the close range explosion sent both the combatants flying
right out of the cafeteria onto the cold hard ground outside,
with Sam managing to roll to his feet as Rambo skidded to a halt near a tarp, burn marks clear on his body with his shirt now in cinders!
Sam got up steadily as he caught his breath, which was hard to do through both sudden impact and anger, " Wh- what the hell was that, ARE YOU TRYING TO DIE,"!?
His target simply stood up tall proudly showing off his new scrapes and burns, with a stone cold face he then pulled out his machete and Beretta,
" Well... they do say always go out with a bang,".
At this point Fisher was beyond frustrated with this wack job,
" What's your fucking problem! First you stage a coup to kidnap government officials, then you wait out here expecting an army to come fight you, and now your content with blowing yourself up..... You know there are easier ways to die right,"?!
( End music )
What followed next was just silence, both combatants looked at the other with steeled eyes, one waiting for his answer and the other thinking about how to put it, or if he even deserved it at all.
" I thought you had a job to do Fisher, what's with the talking,"
Rambo hissed out as he stood next to the tarp.
Sam who had finally caught his breath, glared annoyingly at John's very being, what could have made him such a.... broken mess of a man?
" I could always resort to interrogation, if that's more your style,".
Once again there was silence the only difference being that it was somehow deeper and more.... sinister then before.
John looked at Fisher as if to set him on fire, but then he did something completely unexpected to the agent, he smiled darkly, leaned his head back..... AND LAUGHED!?
" HAAAAAHHHHHHHHAAAHHHAAA," !
All Sam could do was stare in bewilderment at this strange turn of events, had that explosion rattled more then just his body or was he simply losing his mind by the second?
Fisher forced a smile onto his face, " Didn't know you had such a dark sense of humor, ".
Rambo just continued to laugh it up as he stepped threateningly closer to the trap,
" Been there, done that buddy....,".


John's smile faded as he looked to Fisher with pain clear in his eyes, this allowed Fisher to glance upon his chest seeing a deep scar that looked like a machete wound, then it hit the spy, this man HAD been through a lot!
The question was just what in the hell was it, " What, -".
John interrupted,
" I bet your handlers didn't even tell you the full stories on those events; like how those cops hounded a man for just wanting food and bed,-"
With every word the commando started to shiver a bit in unbridled anger, lifting the tarp to reach a hand under......

This action made Same take up his crossbow and aim it at Rambo, " I didn't know,-".


Rambo started to lift the tarp as he cut in angrily,
" Of course you didn't, why would they tell you anymore then need know, like how they left it up to me to save those POVs when their own country abounded them,-"!
Rambo lifted the tarp more revealing a nuzzle, not waiting to see what it was Sam fired two sticky shocker right into Rambo's chest causing the shoulder to jolt violently as the electricity coursed through his veins, the spy then started to approach him-
Until he outlasted the volts of the tasers and with gritted teeth looked right at Fisher with a stare of such pure wrath that it made the spy STOP in his tracks!


Then in a truly enraged tone he continued as if nothing happened, as he fully got behind the barricade of the object and lifted the tarp,
" I bet those fuckers didn't even tell you what these guys did to get what they deserve,?! It was then Sam saw what he thought it'd be, a fully functional turret! Thinking fast he reached behind him as John kept raging, but through it all he still listened...
The commando got in the turret seat and turned it towards Fisher who had just raised two dual grenades one Tear gas and the other a frag as he quickly looked for cover finding the nearest and best options-
"
YOU AND YOUR PEOPLE STARTED THIS WAR,-"!
Sam unclipped and rolled the tear grande as the threw the frag just as he made a mad dash for cover, right as Rambo hummed up his anti-air turret-
" AND I'M GONNA FINISH IT,"!!
Sam ran full force in his chosen direction but chanced a glance back to thankfully see as planned Rambo shot down the explosive first then before he aimed at the retreating spy who had just found his cover in a small office building, was halted by the exploding tear gas that clouded his vision and stung his eyes,
" AHHHHHH,"!
As he heard his crazed target scream in agony Sam figured he'd have enough time to sneak away to-
BRASHHH!!!

CRASSHHHH!!!
Acting quick the secret agent deftly rolled away from the wild storm of anti-aircraft bullets that shredded through the building's walls like wet tissue paper, sending several documents and files flying all over!
Risking a peek outside Fisher could see that John had actually took to blind firing all over in an attempt to hit him, and whether by way of pure instinct or blind luck he was getting dangerously close to finding the spy's hideout, while shooting up this side of the base while he was at it.
Fisher ducked into the bathroom of the office as he took out a small computer and pulled up his OPSAT, " Well, looks like a good time to bring it the air support," he concluded as he calmly pressed in the commands......
At the entrance of the base a briefcase opened up revealing another of Sam's toolset; the Tri-Rotor!
The small drone ascended into the air with haste as it made it's way over to the battle grounds in little under a minute, the spy turned it around to go behind the crazed Rambo who had just regained his sight, but was to busy shooting to notice.
He was still getting closer to turning Sam into paste though as a bullet flew over the agent's head scraping some hair off, Fisher waved his hand through it, " Ahhh, I needed a close cut anyway,".
Imputing the needed coordinates Fisher had the drone angle itself directly towards Rambo's exposed back, " Let's try some more shock therapy, " mused the spy as he fired all four shocker arrows into Rambo's back causing the man to instantly seizure around which of course stopped the bullets cold!
Next Sam had the drone slam and self-destruct into the turret itself destroying the barrel completely, once that was done he quickly ran out of the building as he aimed his
FAMAS G2
at the downed man, " Alright crusader, the holy wars over, and you lost by the way,".
Fisher approached the commando cautiously not rushing due to his wild nature, good thing to as the man was up on his feet within a couple seconds aiming his bow and arrow at him, turns out two of the shots were blocked by his quiver, now it was another standstill.....
Both just stood there for bit, until Sam broke the silence, " To the end then,"?
Rambo scoffed, " What do you think," then he let his arrow go, but at the same time Same fired a round that set off his aim, via hitting him in the shoulder, Sam however had enough to to narrowly evade the arrow, but as it passed him he realized it had a different tip compared to the others-
BOOOOOOOOOMMMMMMM,"!!
It was made abundantly clear why as the small arrow completely obliterated the office he was just in in a sizable explosion, the force of the blast sending Sam lurching and falling forward, as he looked up he saw to his great dismay that Rambo had pulled out the bullet in his shoulder and had aimed at him yet again.
Imploring a new tactic the agent began to roll and shoot at the same time, catching the veteran off guard as he had to hide for cover again, this time however the solider kept the spy in his sights and saw him shimmy up a drain pipe to the roof of an adjacent building.
Why'd he do this? Rambo didn't exactly know himself but either way he was exposed so.....
Wasting no time the Veteran ran out of his cover and fired another explosive tip arrow at his retreating foe who had just jumped a gap
barely
evading the insuring explosion that forced him forward as he tuck rolled and returned fire to the commando who ran ahead of the bullets, but was still grazed by a few.
This game of explosive tag went on until Rambo saw that he was down to his last 2 explosive arrows, deciding to save the last one the commando aimed this next shot at where Sam was going to land next, which was a large warehouse building that stood at the edge of the base.
Seeing the arrow coming and knowing he'd have little time to counter Fisher took a breath as he curled up and slammed through the glass window of the warehouse just as the explosive arrow exploded above him.....
( End music )

Crashing into a steel beam and grabbing it to stop his landing the spy steadied himself on the steel support as he took a few deep breaths, " Okay that was, new. This guy's just full of surprises, I can only won-,".
Before he could finish Sam heard the sounds of an approaching vehicle from outside, quickly taking an EMP grenade and shutting off the lights he hid in the shadows as Rambo bust in with a jeep mounted with a fully loaded
.50 CALIBER MACHINE GUN!
" And that's what I get for tempting fate, " sighed the old spy as he used his goggles to scan around looking for some king of advantage he could use on his target, until he found a couple new guns and a pair of sweet wheels, all of which made him smirk,
" Yep, time for a comeback,"!...............



The war rages on....
Rambo turned on the headlights of his jeep as he tried to spot out Fisher, what he least expected however was for a single headlight to shine back at him, occupied with a loud VRROOOMMMM, " What the-,".
Then out of the pitch darkness emerged his opponent who had just found some new guns and a shiny new motorbike; HIS MOTORBIKE!
To say Rambo was infuriated was an understatement, " That's my bike,"!
" Not anymore, besides I give it more class," joked Sam as he sped off into the jungle path but first he took out the M.A.W.S shot his ' All-seeing-eye ' into the air before John had turned around to survey the area before he went full speed into the dense rain forest.
By this time John had already gotten on the agent's tail, rushing down through the thick canopy of roots, vines, and face sized leaves. All of which were promptly ignored by the two warriors.