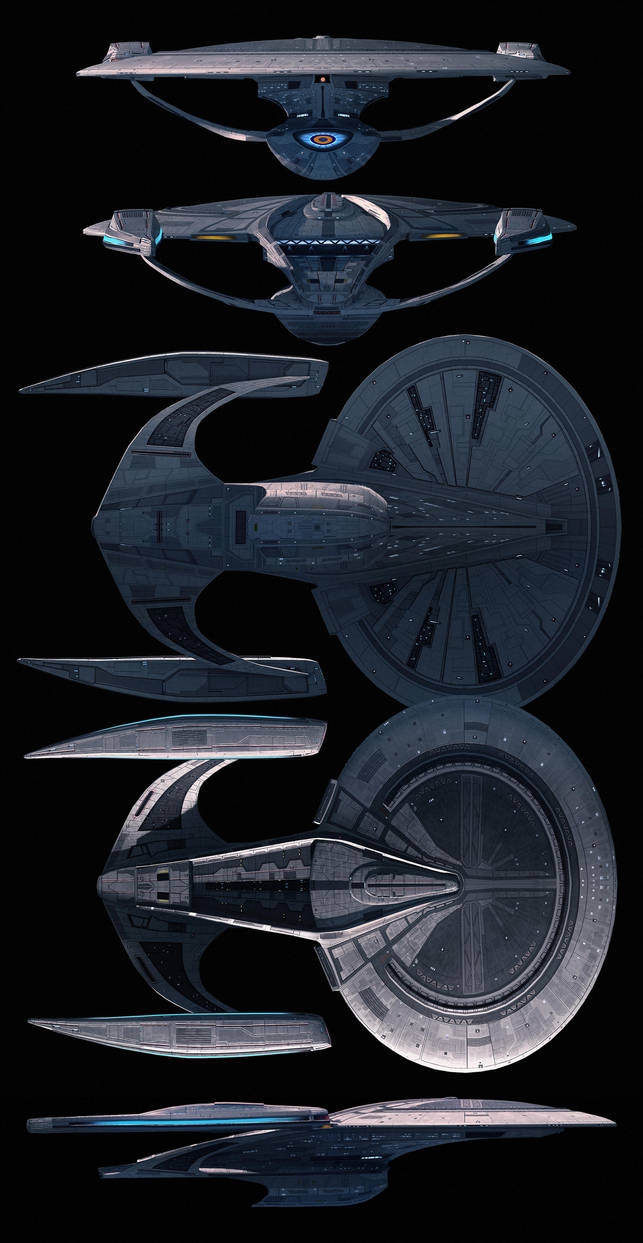 Watch

I like the design, but for me, the pylons are a bit far forward and a bit too high, I would prefer it to be under the saucer and a bit further back as the pylons look like a weak spot for attacks. Still, like the design as a phase 2 Galaxy.
Reply

This is not the classic style of galaxy class, this is basically a radical design for the new era of 25 century, and for that many changes where added in the new phase 2 galaxy class.
When i made this design i viewed this ship from different angles, not one side.
The high up nacelles and the position of the pylons are orientated in harmony with the entire design of the ship, and i do this refit in the image of the original time line of star trek, not other parallel universe( JJ universe or St discovery).
The engines are very high up because between them is some kind of radiation of magnetic field that is very dangerous for any kind of living organism, and the new design of the star drive area has many decks with potential living crew.
Reply

Much better version than the one used on STNG
Reply

Thank you very much for your appreciation.
In my view this ship is a new refit, is like from the future of TNG, more exactly from 25 century era, after 30 years from dominion war and nemesis.
The galaxy class model exist in this universe that i created but is the old version, like a museum in space or something like that, but this new one is an big change for 25 century era, design, technology,etc.
For example the old constitution class fro the old series has a phase 2 design in motion picture, a very big change in the engine, star-drive, pilons and nacelles, and even the saucer part was modified, at my ship is the same practice of change the design and technology to fit the new era from 24 century to 25 century.

Reply

Awesome views of the fine vessel!
Reply

Wow!

Every other attempt I've seen has been playing swap-feature with other ships or bolt-on tricks as in "All Good Things..."

None of those approaches did much to wow me.

Your take has plenty of WOW.

Reply

This would be awesome for a new tv show set in the late 25th or early 26th Century

Reply

Reply

Reply