An image pieced together in short sessions over a period of a week, between intensive periods of work on a publishing project. I can't work continuously...!
Rendered in Vue Creator, post work in Photoshop CC.
Previous image: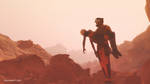 Craig
All Rights Reserved

Please do not take, use, reupload etc. my work
without my prior written permission.
Image details
Image size
4800x2700px 7.06 MB