This ended up as a much simpler piece than I had originally intended - this was an interim phase of constructing the more complex image, but I kinda liked it as it is.
Daz Studio Iray render with some Photoshop.
Previous image: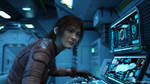 Craig
All Rights Reserved
Please do not take, use, reupload etc. my work
without my prior written permission.
Image details
Image size
4800x2700px 6.27 MB