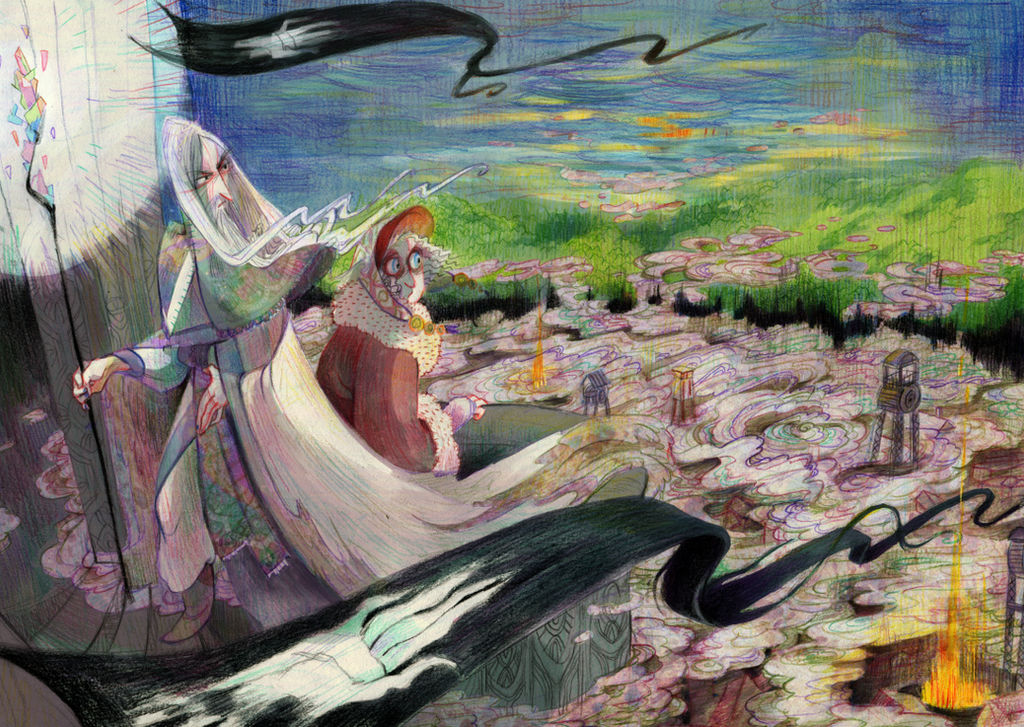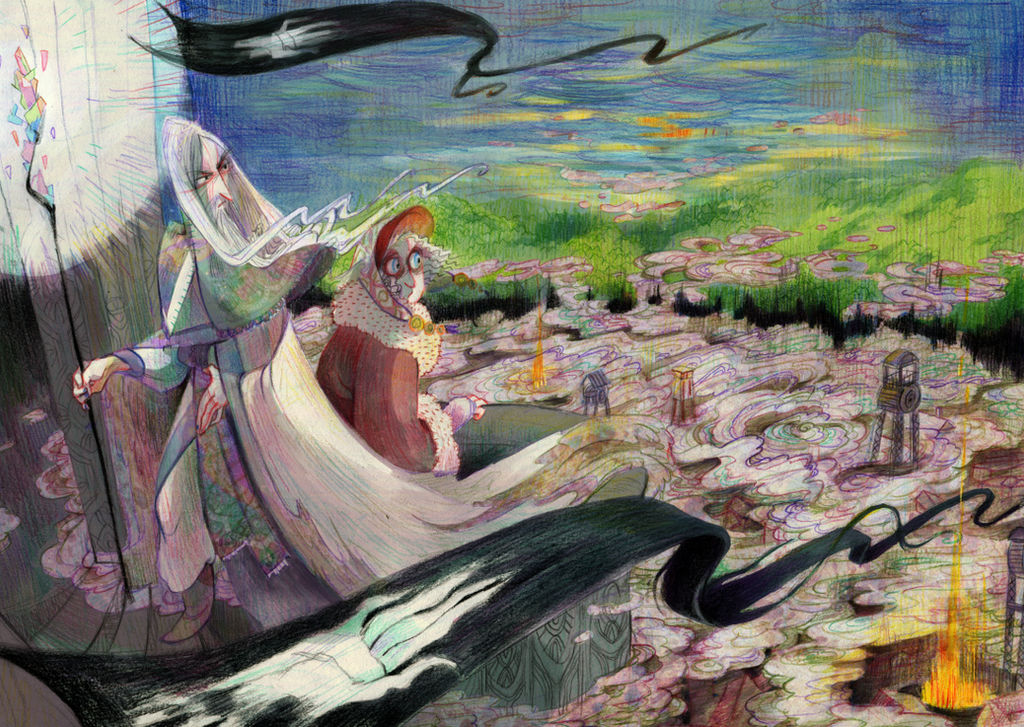 Saruman of many colours and Gríma, my submission for
Ages of Arda Anthology
:3
It's quite weird combination of coloured pencils and digital but it was really fun to draw

I simply don't know what to say except everything is superb! Superb expressiveness in flow, textures, colors, shades...superb perspective, so dynamic...such dynamic textures! The black in distance, those lines work so well!
Lines have beautiful flow making everything alive. Amazingly, amazingly lively-the work is so alive, everything is moving. Perhaps only forest, done with vertical lines, is static --a very symbolic. Such static forest is giving nice contrast and balance to everything dynamic in front .
Lovely pastel palette gives new freshness and originality to this scene. And then the black flag, giving more life, depth, contrast to whole composition...
And of course, not to forget characters and expressions, such freshness and charismatics... overall breath taking and charming, well synchronized composition. It's all working together so well!
The Artist thought this was FAIR
8 out of 8 deviants thought this was fair.
An interesting and original depiction of Orthanc and Saruman! I think I have never seen anything like this - Isengard as seen by Orthanc with both Saruman and Gríma.
The wild colours of the picture fit really well with Saruman who forsook his white for the "many colours". Also good job at portraying his coloured garment and staff.
The picture is all very dynamic and full of motion – the wizard, flowing flags, burning fires, swirling smoke. It doesn't let your eyes rest. Also I like the flow of the flags, together with Saruman's beard and cloak.
I think maybe there should be more contrast between foreground (Orthanc with both characters) and background (all the smoke below). At the first glance it is difficult to understand what is going on and the black flags stand out more than the characters. Although perhaps this confusion and disarray add to the overall dynamic impression of the whole picture.
But I certainly like the expressions of the characters, they are interesting and fitting for them, Saruman looks powerful and prideful but also brooding and uneasy, while Gríma is just scared.
It is certainly a great depiction of interesting chacters and setting.
The Artist thought this was FAIR
3 out of 3 deviants thought this was fair.