((My lovely profile photo was brought to you by
Rattlesire
and the orginal designs of the ponies where done by
hoshi-kou
))
I am 21 years old and LOVE Sailor Moon. I am also an avid World of Warcraft and Guild Wars 2 player. I am also 3 time state title holder with two different pageant systems as their "Miss Florida". I was Miss FL American Dream 2009 & 2011 and Miss FL American Renissance 2011. I am not the typical beauty queen as I like to cosplay -and- wear my pageant banner with my costume. I like being that conservative role pageant role model for young girls as most young pageant title holder girls show up to events in short skirts and dresses, sometimes acting self centered or slutty. Not all pageant girls are, but I've seen my fair share of the bad kind.
I have just recently started getting into the cosplay scene. If you happen to get my photo at a convention let me know! I love to see it as I like all clear photos of me! It sounds kinda self center when I say it, but I can never pick a favorite photographer as they are all different and have their own unique styles and ways they take a photo. Anyways that's enough about me, if you have any questions or comments about me or anything in my gallery, please feel free to send a note or leave a comment on my profile (assuming you finished this whole dang thing XD).
I have recently started getting into "adopting" the various creatures around DeviantArt. While I do not (and have too much of a short temper for) draw, I will still bring these cuties to life in a 3-D aspect of art. My main projects to try to do are plushies and scuptures, as well as future writings that contain the fantasy creatures, while humanfying any ponies I pick up. I have a still few more pending adoptions as well as eggs that are currently hatching. Once I get the ball rolling with my 3-D projects I'm kinda hopping to open my work up to trading. Yay for art!
:thumb347922032: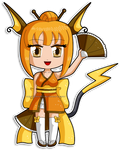 (this is Mom's ponysona)
(my ponysona)
:thumb348821608:
Favourite Visual Artist
Andy Warhol
Favourite Movies
Wizard of OZ
Favourite TV Shows
My little pony, Sailor Moon, and anything SciFi
Favourite Bands / Musical Artists
I don't really have one, I have too many favorite songs instead
Favourite Books
Don't really read much
Favourite Writers
See above ^
Favourite Games
World of Warcraft, Civ 5 and Magic the Gathering
Favourite Gaming Platform
Computer and Wii
Tools of the Trade
Glue gun, glitter, felt and a tackle box
Other Interests
Pageants, Travel, WOW, Cosplay and Commuinty Involvment