20 Questions with *nymphont
23 Favourites
6 Comments
3K Views
Resources Week wouldn't be complete if we didn't get a chance to learn about fonts. This article is a delightfully informative interview with one of deviantART's font providers, but before I get ahead of myself...
What is a Font?
A font (aka:
typeface
) is set of characters or glyphs that you can download, install on you computer, and use to create graphics, logos, Word documents, or other textual or text-based files. By using different fonts, artists and writers can create text with lovely scripts, bold typesets, and cool symbols. The art of creating fonts is called
Typography
, partly from the word "type", which comes from the Ancient Greek "tupos" meaning "a mark, impression, or type." The other half of the word is "-graphy," an English suffix that generally means "a work, an art, or a field of study."
You can find fonts created by dA's typographers in the following link:
dA's Fonts Gallery Info:
"Fonts are files with the file type *.TTF or *.FON or other font file types only. Images of fonts are not included."
It may seem easy to take all this for granted, but that's about to change.

Deviant since June 10, 2009
I asked
nymphont
to take part in my series of
20 Questions
interviews because her fonts have been catching my eye over my year as a Resources gallery moderator. Even though I didn't know much about the work itself, I could see something special about her elegant style, her attention to detail, her willingness to go back to a font and tweak it to perfection as her typography knowledge grows.
Seeing her fonts during the past several months has given me an awareness and a kind of wonder about the work that must be involved in mastering the very building blocks of the text we use in our everyday logos, designs, presentations, etc.
She's the Co-Founder of
Social-Media
, a group dedicated to art and designs that help people stay connected with each other such as blog layouts, icons, and web design.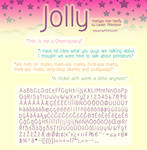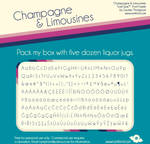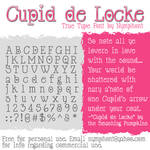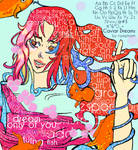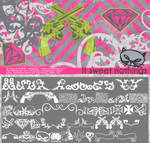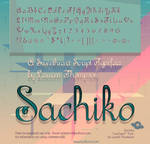 Gallery
|
Daily Deviations
|
Favourites
20 Questions with nymphont
Q1 Why do you like offering fonts at deviantART?
nymphont
: deviantART is one of my favorite places to share my fonts. I love sharing them with fellow artists, those that might be able to use them and hopefully, that might like them.
Q2 What kinds of rules do your font users need to follow?
nymphont
: Well, the one main rule for the majority of my fonts, is that they are licensed "free for personal use only." Meaning, the fonts are free for any personal or non-commercial works, while any commercial use of the font requires the purchase of the appropriate license. The license can be obtained/applied upon placing a PayPal donation to me at nymphont@yahoo.com. Assistance and more information on this can also be obtained by sending me an email at nymphont@yahoo.com
Q3 How does this work? When someone encounters a new font, what's the best way to download and use it?
nymphont
: Whenever using a font in commercial works especially, it is important to find out the terms/license for using the font. To find out that information on windows you can open the font up in your font viewer, the font author should be listed. Typically the terms will not also be listed, and in that case, I suggest "googling" the font author and font name to find out more details. Those with a more comprehensive font manger/viewer might be able to access that information directly from there.
Other than that I suggest font users have fun and continue loving fonts, most are free for personal use.
[Readers: Installing Fonts by

Cryingsouls

- Learn how to enable downloaded fonts.]

Q4 When (and why) did you first get interested in typography?
nymphont
: I have been interested in typography for many years, since middle school maybe. But I did not create my first font face, or publish one at least, until 2008.
Q5 You've probably improved since you first started out. What's one of the best fonts you've created so far?
nymphont
: I think my favorite font and the one I am most proud of would actually be my first
LT Oksana
. I have of course updated it from it's original version, but I still really like the design. For a geometric sans serif, it still has it's own unique look and identity. I love it. It's been described an categorized at "retro" or art deco which is awesome, but truth be told I did not intend to be such. I just gave it an assortment of the characteristics I personally am fond of regarding geometric sans. Whether it was retro or just plain sans serif, I tried to make it fit. And I think this font worked partly because I was so "green" to the whole digital type/font world, I wasn't hindered by outside influences what-so-ever. New girl charm I guess.
Q6 Where have you gotten your ideas for the fonts you've designed?
nymphont
: All over the place. I am always looking at letters. I love them. Though I didn't intend for LT Oksana to be retro, it is true that "retro" or "art-deco" type is a favorite of mine. Recently I have been admiring the type used on vintage greeting cards, circa the 1920's through 1940's.
Q7 Your work is outstanding and has a professional quality; so why offer these fonts for free?
nymphont
: Thank you so much. I offer them for free... hmmm... because I enjoy sharing them. It has been an amazing and rewarding experience.
And of course... I am still learning. I think that all of my creations could be better.
Q8 What kinds of fonts do you best like to use for your own projects?
nymphont
: My favorite typeface of all time would be Avant Garde by Herb Lubalin, I use it all the time. As far as my own fonts, I use
LT Oksana
a lot, my portfolio for example uses the font for all heading/title text.
Other favorites are Sibyl by
Sentinel Type
as well as any other font from them. They are just exquisite. I used Sibyl in this illustration:
Another classic and beloved typeface is Fraktur, which I utilized in this illustration:
Q9 For those that don't know much about typography, can you please describe the steps involved in making a font start to finish?
nymphont
: Font making is difficult to describe start to finish because there are so many different ways to go about it, and the process varies from font to font, for me at least. The simplest way is to come up with your typeface design first. This can be done on paper with hand drawn sketches, within digital art software such as PhotoShop, or even the concept visualized in one's mind.
The next step is to bring that design into font designing software... There is so much more to fonts than meets the eye, it does take a lot of work. A lot of testing, and adjusting. A lot of intricate work fine tuning by hand.
Q10 About how long does it take you to design a font from concept to completion?
nymphont
: Several months usually. A lot of times I will begin a font and come to a 'design-block' of sorts, and stow it away, only to resume the font some time later. But usually I get into a steady 'font-mode' where I work on a font, one that I had worked off and on again previously, for hours at a time for several days until it's completion.
Q11 What kinds of software do you use to make fonts?
nymphont
: I use FontCreator from High Logic, but I just recently acquired the far superior FontLab, yay! Which I am excited to delve into.
Q12 Is there any good free software available online for making fonts?
nymphont
: FontCreator has been a wonderful tool for my own creation of fonts and I do recommend it. It is great for a beginner and comparatively less expensive than other similar software.
They do offer a free trial version at
www.high-logic.com …
, the trial version does not include some of the more desirable features available in a purchased professional version, such as previewing fonts, and saving created or edited fonts.
Q13 In typography, what is kerning, and what's the best way to achieve smooth kerning?
nymphont
: Kerning is very difficult for me. Some people are excellent at it. Ray Larabie for instance, is amazing at this, as well as every other aspect to type design.
Kerning is the negative or positive spacing between two characters or "glyphs." Basically the "white space." An unusually shaped character might need to be paired with one or more characters and given special instructions as to how it should be spaced with said character. To give an example, a capital A might need to be paired with capitols V and W, and given a negative kerning amount, so that they do not appear awkward when next to each other or otherwise disrupt the "flow" of text in that type.
Kerning unfortunately is not cut and dry. There are no definitive or essential kerning pairs for fonts. Each is different and kerning must be done individually accordingly. I still consider myself terrible at kerning, but I have begun to view kerning as almost an art form in itself, rather than a tedious and grueling chore.
The only thing that I can recommend is to test and keep testing. Each font is different, and will requires different kerning accordingly.
I find kerning that needs adjusting within my own published fonts, one reason I hope that user's get the updates!
Q14 When designing a font, how important is it to keep aliasing and anti-aliasing in mind?
nymphont
: Anti-aliasing should be considered. FontCreator, the software that I use is limited in regards to that, but I do equip my fonts with what the program is capable of in regards to rending on screen.
Q15 What are some characteristics that can make some fonts difficult to work with, and how can designers avoid these pitfalls?
nymphont
: Grunge fonts with far to many points and intersecting contours. I advise against simply uploading digital images into font software and also editing existing fonts from other designers. Start from scratch and edit every pixel by hand.
Q16 What are some other challenges for new typographers to be aware of? Any troubleshooting advice?
nymphont
: I have noticed a lot of new designers creating really large font files, and fonts with errors. And by errors I mean complicated glyphs, which means it contains to many points, intersecting contours and so on. This usually happens when a glyph or character is created from an imported image, usually in grunge or detailed font designs. Editing by hand can correct and prevent these sort of errors.
Q17 Which groups do you recommend for people interested in typography?
nymphont
: I have enjoyed the typography community here on dA quite a bit. The group
typoholics
and it's moderator
pica-ae
are great. She really puts together some fun events for type enthusiasts.

Typography Art from typoholics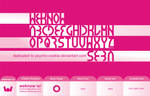 Q18 Are there any uses of your fonts that you're particularly fond of?
nymphont
:
sebick
makes lovely minimal desktops and makes use of my sans serifs so well.
:thumb114757160:
Lovely colors and perfect fun use of my
LT Chickenhawk
:thumb169007917:
Stylish and fitting the retro LT Oksana (see above)
Cute and minimal logo design
I am very proud to have lent a font to so many talented designers and so many wonderful creations.
Q19 What kinds of fonts can we expect to see from you in the future? Any projects you'd like to take on?
nymphont
: I do have many fonts planned and in the works for the future. Some styles I look forward to completing are some retro serif as well as sans-serif styles, as well as some much improved light geometric sans-serifs.
Q20 Thanks for taking the time to play 20 Questions with me. Is there anything else you'd like to add?
nymphont
: Thank you so much for interviewing me. It is an honor. Receiving Daily Deviations for my
Champagne & Limousines
and
Sachiko
... that is more than a dream come true. It might sound silly to some, but that means SO much to me. It's like an Oscar to me. It's amazing. I am glad that my fonts are enjoyed, and I hope that they are. Thanks so much.



More Resources Week articles are available at
StockandResources
all week!