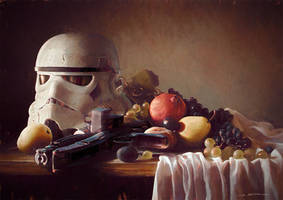 Tip Jar
Support my work by contributing to my tip jar. This tier won't include any specific perks, but you will receive my appreciation.
---

Description
▷ Buy me a Coffee ▷ Patreon ▷ Instagram ▷ ArtStation ▷ Gumroad ▷ Storenvy (Shop)
me again, with a new painted one,somehow i try to evolve my digital skills a bit, but unfortunately i need a new tablet, my artpadII has tooo much scratches and no spare lead

anyways, thanks to those whose commented on my last deviation so far,i´m kinda busy at the moment, cuz i have to do work and learn a lot for exam next month...

i have some lines here, to go with this image, dunno, but i thought they might fit...
hope you like both

"...her victims are spellbound by the beauty of this magic-siren,
before she loves to gut them, and enjoys to prepare them for dinner...
Oh, now you fools, ...
take a pretty look, before you decide to end up in front of her feet.
This is the real bloody face of death!"
---
Permission granted for an image usage as reference from:
morgana-stock
/
Ladymorgana
as always, constructive critique and comments are welcome and appreciated,
■ Copyright notice and disclaimer:
- Created by Oliver Wetter / Ars Fantasio.
- You are welcome to share my work or repost it, but please don't claim or sell it as your own.
Image size
900x900px 145.23 KB