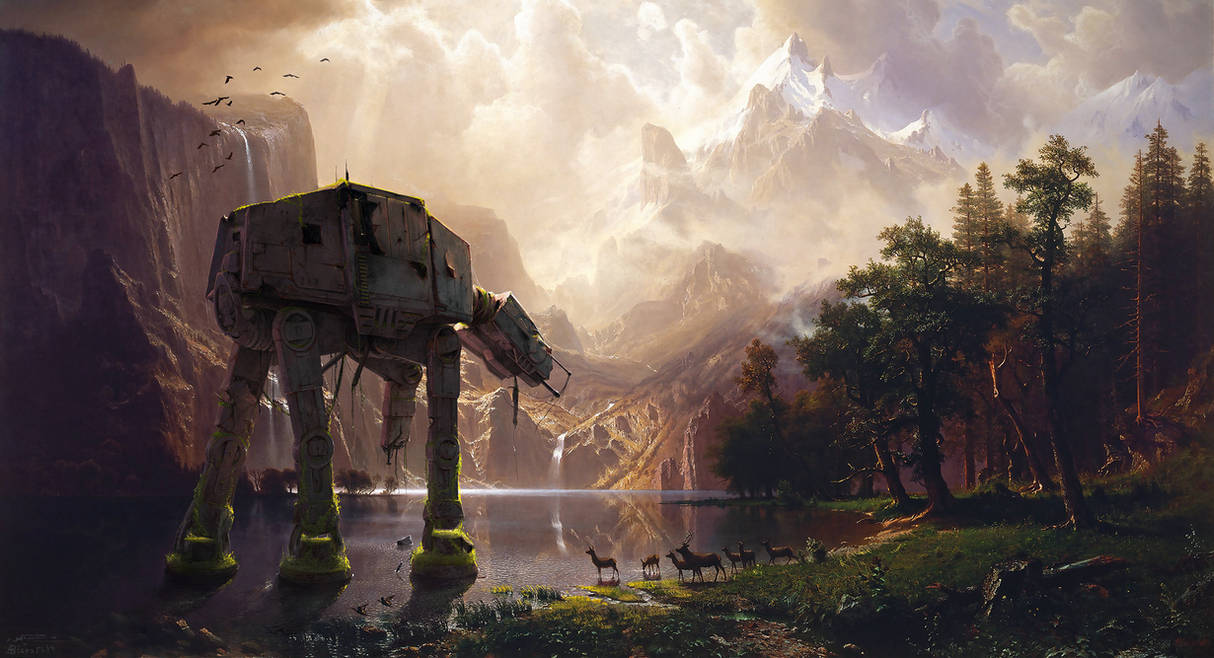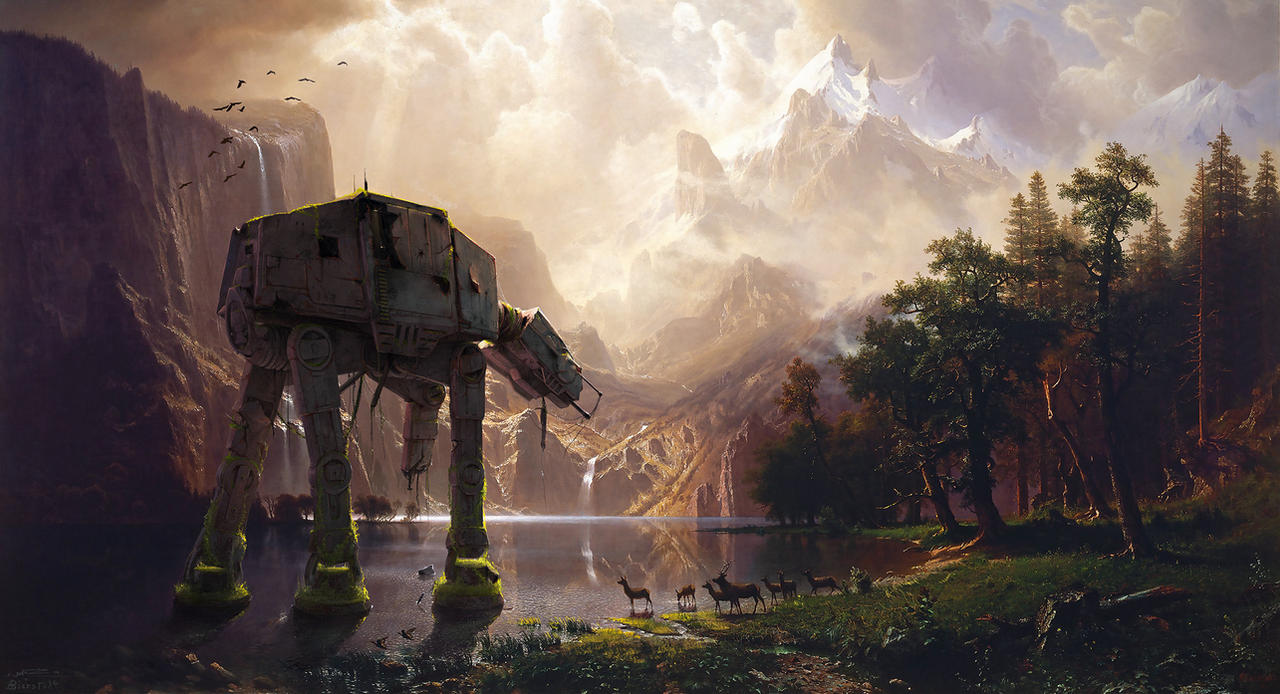 Watch
▷ Instagram ▷ Gumroad ▷ Patreon ▷ Official Shop


May the Fourth be with you!

Today is Star Wars Day
Full view is duty!
Explanation here: please read !!
I did only paint the AT-AT Walker in Photoshop in this old version from 2014.
I repainted this version and upscaled it with additional work in 2016 and quite recently in 2018.
So if you see this piece for sale anywhere, you can be sure it is this old and very low-res version.
Below is a close up of the 2014 version
and here one with the 2018 version:
The walker is inspired by
Dimitri Kaliviotis
The landscape is a painting from Albert Bierstadt - check out his amazing works:
www.albertbierstadt.org/
The Landscape from Albert Bierstadt is in Public Domain since it was created in 1860.
The work I created combining the landscape with the imperial walker is transformational and since it was created first with the intention of education in mind it falls under fair use according to:
fairuse.stanford.edu/overview/…
Following are some interesting facts:
The work is ranking
Nr. #1 as AT-AT Wallpaper
according to google and
Nr. #2 Star Wars Wallpaper
in image search.
This version of the piece is plagiarized and among the top 50 most plagiarized Star Wars artworks.
On my blog post documenting only my case I have listed around 50 Webshops selling canvas pieces with that piece on it:
www.fantasio.info/2016/11/bewa…
Slowly taking down one-by-one at a time.
Why did I do the double tribute in the first place?
Actually the intention behind this is to learn from the old masters, Mastercopies are good, but actually there´s no better way of studying them than to get your hands dirty and spend 10 hours
in the image
and paint something that is not there.
I learned so much more from this painting than a 2 weeks stay at the Louvre would probably ever do. Especially in terms of appreciating the techniques of the masters and learning to emulate them digitally - a priceless exercise!
Additionally this was a nice way to practice light and color. My aim was to make the walker to be believable in the situation, as if it was meant to be there and part of the original painting. Still not 100% perfect but I wanted it to be finished for today

Here´s a process-sheet from the development of the Walker (from 3d-viewport shader to Photoshop painting):
Actually I´m positively surprised about how well my
recent Kaiju-piece
was perceived, thanks so much!
For the Kaiju Fans:
Leatherback is in progress

This is part of a study-series, called
"Ancient Kaiju project"
(
AT-AT is probably not a Kaiju, but it certainly fits the scheme of big things)
Suggestion for other Kaiju´s are welcome as well as also constructive comments!!
I like popculture and I love traditional art, so this project came so naturally to me and since the paintings are public domain, no one was harmed, not even the original paintings!
There is no intention to sell these images, I did them for learning purposes and use them in my classes as well, however, if you want it as a wallpaper, feel free to hit the download-button to get the 1900x1000 px version.
cheers,
fant
The blog post containing all works and information:
www.fantasio.info/2014/05/the-…
The deviantArt-gallery:
fantasio.deviantart.com/galler…
■ Copyright notice and disclaimer:
- Created by Oliver Wetter / Ars Fantasio.
- You are welcome to share my work or repost it, but please don't claim or sell it as your own.
wow, I mean just wow. it catch both wonderally awesome and emotionally tearjerker about this picture of this AT-AT. the emotion, just... the emotion of this picture is... is just sad. This great giant machine, a rusted, alone AT-AT, once a mighty war machine that saw many battle of many kind. now, it final battle and resting place... a inhabit, wooded planet, where it will be abandoned and be alone forever. a once great and mighty, powerful war machine is now a remnant of a past that was days of golden years, is now a abandoned and alone machine that will never be disturb. The Golden Age of The AT-AT... is now over.
The Artist thought this was FAIR
43 out of 45 deviants thought this was fair.
The All Terrain Armored Transport, or AT-AT walker, Is a huge thing quadruped mechanized infantry combat vehicle used by the Imperial ground forces. Standing over 20 meters tall with blast-impervious armour plating, these massive constructs are used as much for psychological effect as they are for tactical advantage.

The AT-AT (canonically pronounced "A T - A T" but often pronounced as an acronym, instead of a correct initialism) was first introduced in The Empire Strikes Back and also appears in Return of the Jedi. The AT-AT also appears in a destroyed form in Star Wars: The Force Awakens. I see AT-AT at this art, its looks good.

I do not know about The Sierra Nevada you mean in your art, because the popular Sierra Nevada are 2 :

1. The Sierra Nevada (/siˈɛrə nᵻˈvɑːdə/ or /nᵻˈvædə/, Spanish: [ˈsjera neˈβaða], snowy range) is a mountain range in the Western United States, between the Central Valley of California and the Basin and Range Province. The vast majority of the range lies in the state of California, although the Carson Range spur lies primarily in Nevada. The Sierra Nevada is part of the American Cordillera, a chain of mountain ranges (cordillera) that consists of an almost continuous sequence of mountain ranges that form the western "backbone" of North America, Central America, South America and Antarctica.

2. The Sierra Nevada (meaning "snowy mountain range" in Spanish) is a mountain range in the region of Andalucia, in the province of Granada and, a little further, Málaga and Almería in Spain. It contains the highest point of continental Spain and Europe outside the Caucasus Mountains and the Alps, Mulhacén at 3,478 metres (11,411 ft) above sea level.

It is a popular tourist destination, as its high peaks make skiing possible in one of Europe's most southerly ski resorts, in an area along the Mediterranean Sea predominantly known for its warm temperatures and abundant sunshine. At its foothills is found the city of Granada and, a little further, Almería and Málaga.

.............................

The end of my Critique that your art is very fascinating because it already gives an idea of the mountains. GJ
The Artist thought this was FAIR
10 out of 11 deviants thought this was fair.