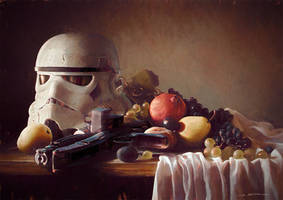 Tip Jar
Support my work by contributing to my tip jar. This tier won't include any specific perks, but you will receive my appreciation.
---
Suggested Premium Downloads

A Kaiju Evening at the Juniata
Description
▷ Instagram ▷ Gumroad ▷ Patreon ▷ Official Shop


Full view is duty!

Kaiju
(

怪獣

kaijū

?

)
is a Japanese word that literally translates to "strange creature."


Explanation here: please read carefully!!
I did only paint the Kaiju in Photoshop from scratch, not the whole Landscape!
The landscape is a painting from Thomas Moran from 1864 - check out his amazing works:
www.thomas-moran.org/
The piece is in Public Domain, according to:
commons.wikimedia.org/wiki/Fil…
What does that mean?
fairuse.stanford.edu/overview/…
Actually the intention behind this is to learn from the old masters, what better way of studying them while getting in the image and paint something that is not there?
Honestly, I learned so much more from this painting than a 2 weeks stay at the Louvre would probably ever do. Especially in terms of appreciating the techniques of the masters and learning to emulate them digitally - a priceless exercise!
Additionally this was a nice way to practice light and color, inspired by the book from James Gurney.
My aim was to make the creature to be believable in the situation, rather than corresponding, I wanted it to look like it was painted by Moran - still way to learn but I´m quite happy with the result of this approach so far.
Here´s a process-sheet from the development of the creature inspired by Guy Davis:
I don´t care if someone likes it, but I plan to do a series of these, probably called
"The Kaiju arthistory project"
I imagine also to have the
Marshmellow man,
Godzilla and Star Wars
playing a role in this, but at first I found Pacific Rim a good start - liked that movie very much.
Suggestion for other Kaiju´s are welcome as well as also constructive comments!!
I like popculture and I love traditional art, so this project came so naturally to me and since the paintings are
public domain
no one was harmed, not even the original paintings opposed to the Thriftstore paintings some artist use to overpaint.
There is no intention to sell these images, I did them for learning purposes and use them in my classes as well, however, if you want it as a wallpaper, feel free to hit the download-button to get the 1900x1200 px version.
cheers,
fant
The blog post containing all works and information:
www.fantasio.info/2014/05/the-…
The deviantArt-gallery:
fantasio.deviantart.com/galler…
■ Copyright notice and disclaimer:
- Created by Oliver Wetter / Ars Fantasio.
- You are welcome to share my work or repost it, but please don't claim or sell it as your own.
Image size
1920x1267px 1.23 MB