I work 40 hour work weeks on average at the local Hardee's. Depending on who else works that day, it ranges from good days to "HULK ANGRY!" days. It used to be slower, but after the tornado, the Krystal next door never re-built and we started getting ubber busy.
I'm the middle of three, from the same mother, siblings, both girls, and live with my mom still to help her out when she needs it, 'cause let's face it, she needs it, especially with tech stuff.
My PSN (very active) and XBox Live (less active) accounts are also fanofetcetera like it is here and my Wii code, well, I'll update that later.
I currently do requests in my free time so I will put up a waiting list as needed:
1.

(armored trot left)
2.
3.

4.

5.
6.
7.
I'm probably done with taking requests right now since I have fallen pretty far behind, but I promised the ones on this list already, so I will still do them, just not sure when I'll get around to them with how busy I've gotten lately. I'll try and knock a few out when I take my one week vacation from work.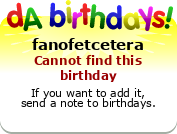 Favourite Movies
Not much of a movie watcher
Favourite TV Shows
My Little Pony:Friendship is Magic of course, Whose Line is it Anyways, and mostly other comical stuff
Favourite Bands / Musical Artists
Linkin Park and Within Temptation mostly
Favourite Books
Comic books count?
Favourite Writers
R.L. Stine I guess? I did read Goosebumps more than anything except comics
Favourite Games
Tales of series
Favourite Gaming Platform
I have all, why choose?
Tools of the Trade
Photoshop (trial :()
Other Interests
Obviously MLP:FiM, but I have others too.