So after many many years I have decided to try my hand at running a contest again... I mean the last one I did was 2008 and it did over all very well and people got good swag. So let's do it again shall we?? SO your probably thinking what are the prizes and what do I have to draw to enter this thing? Well let's get to it.
Subjects
The Demon Aamon and his lovely little French girl, Emeline.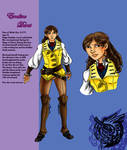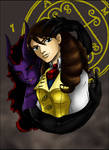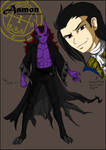 Background
Emeline comes from a noble family that was meant to meet her end during the Reign of Terror. However one night, while sitting in her cell with her family as they waited to be put to death, Emeline saw something unusual and horrible. One night there was a lot of ruckus coming from the cell beside her. When upon inspection, through a small hole in the wall, Emeline saw a small child kill her entire family then destroy herself. What she saw next terrified her. A dark monster rose almost out of the corpse of the child. It stood there looking over it's work. It turned it's head and looked right at her as she was peeking through.
Terrified. Emeline hide herself. However when she went back to look, the thing was gone. Quickly Emeline put the event out of her mind as best as she could. She was awaiting her own death....
The next evening he came to her. Time stood still all around them. Her screams reached no one as he approached her. And before she knew it, he was giving her a hand to help her stand up. What was standing before her was a demon in his true form. Which is something that Aamon found odd in the first place. Humans cannot see demons in their true forms. The only time a human can physically see a demon is when they are in human form.... or perhaps at the corner of ones eye. But not like this. There was something about this girl, an energy that was her own... but not human. Intrigued Aamon proposed a deal.
A demon must be tethered to a human if they want to remain in this world. He offered her an escape from this cell if he could tether himself to her, Which would entail him taking shelter within her own body until he could consume enough souls to manifest himself. Of course when he did take physical form his bond with her would still be there. He would still allow her access to his strength. Anyways desperate not to meet her end Emeline agreed and Aamon quickly took up residence next to her own soul. When it was time to meet the executioner, Aamon quickly went into action and took control of Emeline, and quickly killed everyone around them, even killing all of Emelines family in the process. Miles away from the scene, when Emeline was finally able to control herself she quickly grew mad at the demon for making her kill her own family. Aamon simply laughed and asked her what she expected when making a deal with a demon. Besides as he clearly pointed out they be a hassle now that she was attached to a demon.
Things escalate quickly however when a few soldiers come looking for her, and she is on the run for her life. Literally, until she runs into one
Napoleon Bonaparte. Napoleon is still generally very young at this time, not the short Emperor we've all come to known in the paintings. No he doesn't take her in, or anything of the sort, but he does help her out a bit. He tells the guards tailing her that he will take the young women in himself, and with much convincing the guards leave. The two have a mild conversation before she says her thanks and they say their goodbyes.


Emeline starts a new life, but one filled with secrets and mystery. Aamon, knowing that there is more to Emeline then just simple "humanity" begins to teach her a few odd things here and there. He has tried to meld his own power with hers, but to no avail. He doesn't know what it is that she has, but it is something he has sensed before... but it's very vague. And he cannot pinpoint it. Emeline however just wants answers. And she wants this revolution to end. So she's putting in her helping hand. Thus Emeline and Aamon work together. She still hates him, he is always bemused by her. And also much to her dismay, he will not tether himself to another human.
Personalities
Emeline - She is a very passionate individual. When she has her heart set on doing something, she will get it done. She was once bright and cheerful... but ever since the incident, there has been a darkness that has seemingly stolen her light. For a women of her time she is quite educated, she adores her books, and plays. Since she was of noble birth, she is a bit spoiled, she can get pretty demanding at times and often very frustrated because things are not going her way.
Aamon - He is a smug bastard. Literally. Aamon is very much about himself. He is a very very powerful demon, he is also known to be the Grand Marquis of Hell.... He basically has a few fancy titles and he's very proud of what he has accomplished. Aamon doesn't lie, but he will manipulate with you truths. He's an incredibly intelligent individual. And well advised of the on goings of "current day" Paris. He's really not someone you want to mess with.
Guide Lines
1. You can draw both of the characters together, or separate. When drawn together please keep in mind their personalities and their backgrounds and why they are stuck with one another. Remember she hates him, he is as always, bemused by her. The two work as a team. But in some odd way, the two have come to trust one another.
2. Story is set in the 1700's during the French Revolution. Fashion was be appropriate to that time frame and of course very very French.

3. Feel free to mess with their designs. You don't have to be exact with their outfits. You can put them in something else. You can have Aamon in Demon or human form. Although his true Demon form is much cooler. Look how purple he is.
4. You can enter twice.
If you have any questions about anything above please feel free to note me. Also I will be placing all entries in this journal. So once you have submitted something please note me and I'll place your entries here.
PRIZES!!
Yes there is prizes!
First Place:
6 month DA Subscription
800 points
A full drawing, painting/inked, done by me of ANYTHING you want.
Second Place:
3 Month DA Subscription
400 points
A Inked picture of anything you want, done by me.
Third Place:
400 points
A sketch done by my of anything you want
Due Date:
I'm just gonna say Mid June right now.
I know everyone is busy and got shit going on, so this gives you about a month and a bit.
GOOD LUCK ALL!