IF YOU CHARACTER HAS TONS OF REFERENCE IMAGES, YOU MAY SHOW ME UP TO THREE. I WILL NOT LOOK AT ANY MORE.

If you just link me to your website with tons of images, i won't look unless you pull the most accurate ones out. if you references aren't 100% accurate, tell me what is off. i am very tired of doing edits because of inaccurate references.
Examples see here, they are $30 each!
www.deviantart.com/fang/galler…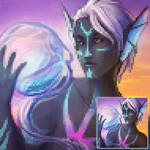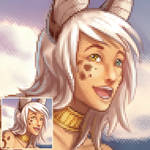 if you're interested, please note with:
character name:references/description:
(references are highly preferred, even if you don't have a complete drawn up reference. giving me a compilation of photos of parts of your character totally fine!)
desired pose/expression:other notes:
NOTE ME TO DISCUSS IF YOU WANT TO COMMISSION SOMETHING ELSE

this includes things like furcadia patches or environment paintings. however, i will NOT be doing full patch or full portrait sets. i do not have time for them.
slots:
1.
2.
3.
4.
5.
all clear!~
once five slots are filled, i will close until all five are done, so i don't get too overwhelmed!
Also PayPal only~