Birthdate - Feb. 26, 1985

Zodiac sign - Pieces

Favorite colors - Purple, Red, & Blue

I like to watch movies (preferably romantic comedies)

I speak english, sometimes not very well



My personality can be unpredictable sometimes, but I am a harmless person.
Hobbies and personal interests
Scrapbooking is my favorite hobby to do in my spare time. It is a great hobby, which brings out the artist in me. I like to use my creativity to express my ideas in ways that excite me. Photography is another hobby that sets my spirit free and I enjoy exploring new places. I am fascinated with original ways of looking at the world and I am inspired by innovation and the chance to solve problems in creative ways.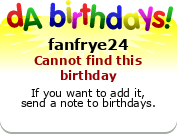 Current Residence
: Maryland (U.S.A.)
deviantWEAR sizing preference
: M/L
Favorite genre of music
: Alternative, Rock, Hip-Hop, Soundtrack
Favorite photographer
: Ansel Adams
Favorite style of art
: Abstract, Art Nouveau, Baroque, Fantasy, Gothic, Realism, Surrealism, Traditional
Operating System
: Windows 7
MP3 player of choice
: iPod Touch 5G
Personal Quote
: True work of art is but a shadow of divine perfection.
~Michelangelo
Favourite Visual Artist
Victoria Frances, Georgia O'Keefe, Nene Thomas
Favourite Movies
Ghost, 10 Things I Hate About You, My Life in Ruins, Wedding Crashers, Ever After
Favourite TV Shows
Two and A Half Men, Reba, The Originals
Favourite Bands / Musical Artists
Maroon 5, Evanescence, Within Temptation, Ciara, Lifehouse, Nickelback
Favourite Books
The Outsiders, The Scarlet Letter
Favourite Writers
Robert Frost, Nathaniel Hawthorne, S.E. Hinton
Favourite Games
Heavenly Sword, God of War: Chains of Olympus, Soul Calibur, Just Dance, Tomb Raider: Underworld
Favourite Gaming Platform
Playstation 3, PSP, Nintendo Wii
Tools of the Trade
Windows 7, HP Computer, Pentax K100D, Nikon Coolpix S9300, apps on the Samsung Galaxy II
Other Interests
Photography, scrapbooking, digital imaging