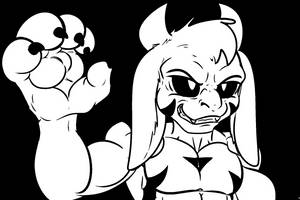 Werecritter tier
Not quite man, not quite beast. You are a special class of monster. Deviant art subscribers get to share in Select New Works without the 6 to 8 month wait!
---

Description
Some pages of a transformation comic I was recently hired to do. I added the tones and put the pages together for myself (I wasn't asked to).
I did one other comic for the same client but it was too explicit to really post here.
Next-
[link]
Last-
[link]
Pencils and inks in Painter 11
Tones in PSe5
Bamboo tablet
Image size
2741x2322px 1.44 MB

1: Man, I can't wait to get home.
2: Huh! My breasts are getting bigger. But that would mean I'm....
3: Ooh, feels so hot! I need to rip this shirt off!
4: Gotta...slip my trousers off! I can...
5: Grr! Bra feeling so tight!
6: HMPH! Don't need it anymore!
7: Ahh! Feeling it happening! Can't fight it!
8: ACK! MY BACK HURTS!