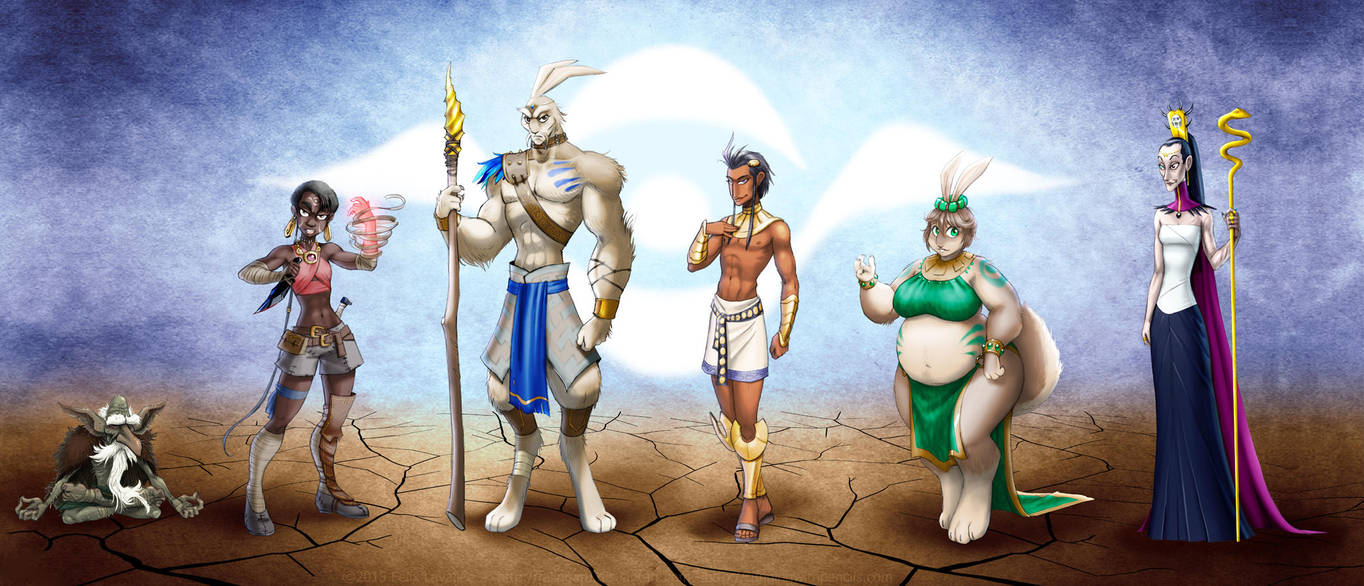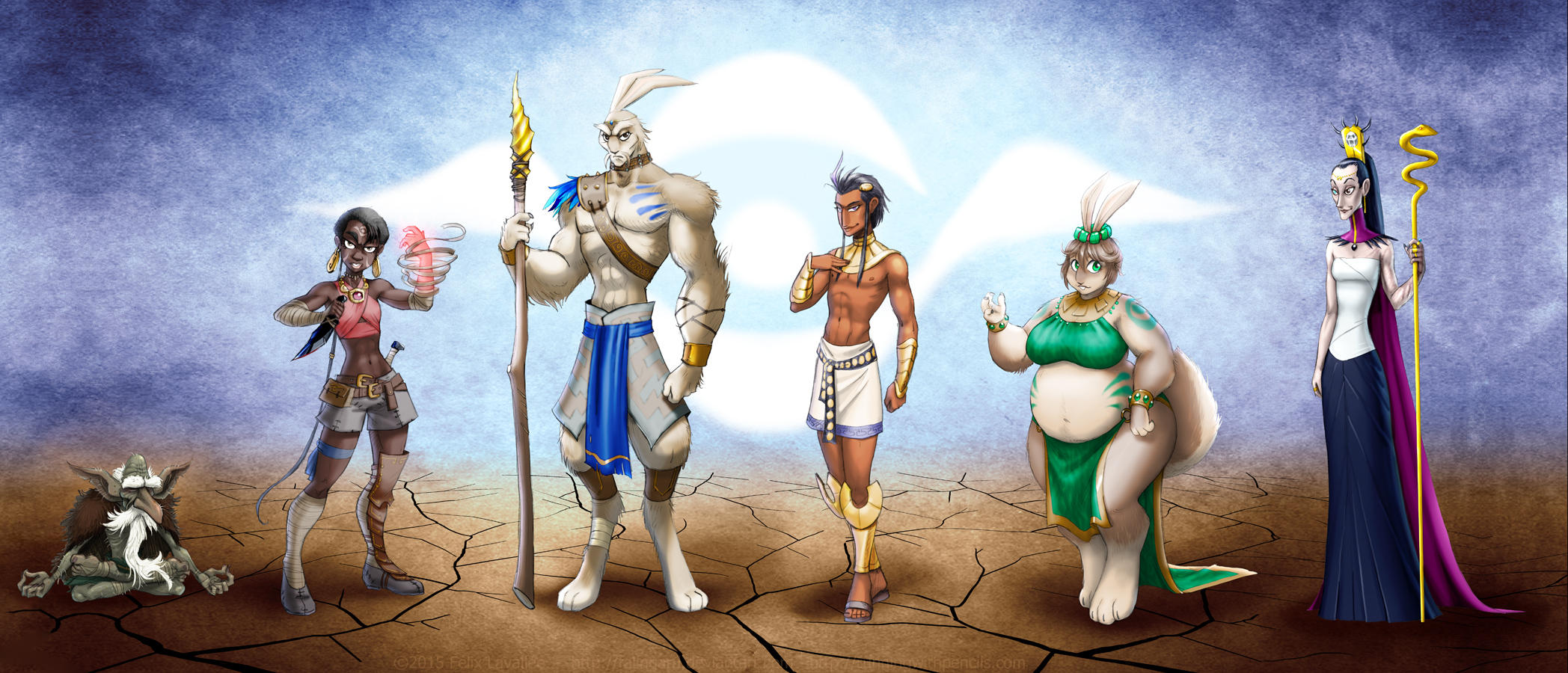 Watch
**EDIT 2016/03/12**
Apparently, I flattened the PSD for this. This makes adding new characters a pain. BUT, here are two new ones anyway.
******************

If you know me at all, you know I love designing characters. And that's what I done here.
The setting is Conan-esque world of barely civilized wilds and untamed magic.

The sage, Gorgotta. Rumoured to have started life as a mere goblin, who acquired immortality through unknown means. His advice seems to make no sense until after it would have been useful.

The heroine, Akili. A kind of private detective. Knows enough fighting and magic to get by, but solves problems mostly with her brains. I think of her as somewhere between Conan, Elric and Ulysses.

Terpan, her companion, the fallen king of the rabbitfolk. Forced to leave his tribe because of a scandal. His spear is made from the horn of a mythical beast.

Dnar, Akili's ex-boyfriend. A pretty-boy who betrayed her to secure a high-ranking position in the evil empire.

Mifa, the queen of the rabbit-folk. Would have went into exile with her husband, but they agreed it was best she stay on the throne.

Orostraza, the evil Empress. She used to teach at the school attended by both Akili and Dnar, but seized all its accumulated arcane knowledge for herself, and rose to lead an evil empire. Because she's worth it.

Might add more later as I invent them. There needs to be an evil empress, at least.

So Dnar was the teacher's pet...
Reply

Do I detect abit of Yzma there from the Emperor's new grove....Hot Mature.


Reply

I suppose I can't the thematic parallels

Reply

Nice update! I see you finally settled on the design for the evil Empress!

Absolutely love her staff. Also, I really how how they all have completely different body types, yet they all look absolutely great. Still just wanna latch on to the rabbit queen and cuddle her forever and ever. XD
Reply

Oh hey! They do, don't they?

I don't think I was purposefully trying for all vastly different body types , but hey, I do like variety.
I don't know that I'm 100% on the evil empress yet, but I had to do it someday, and I like this design better than all the others before, so.

Reply

I LOVE THEM. Will you do anything with them or just throwing them out there?
Reply

SAME AS USUAL!
i.e. miiiiiiiiiiight do something with them, but probably not. For me, the fun part is in coming up with them!
Reply

Reply

Ha cool, the imagination never sleeps huh?

Reply

Reply

You love designing things, I love seeing what you have done. Win/Win!

I am also trying to come up with stuff.. uniforms for a city watch.
Reply