Another look at the top part and back of this piece:
The main parts are either sculpted out of worbla (black art and transpa art) or apoxy sculpt (the rose windows).
I choose a rich scarlet velour for the cape and draping at the front.
The chest and shoulder piece can be separated for easier dressing.
More images: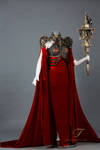 Image details
Image size
784x600px 350.38 KB