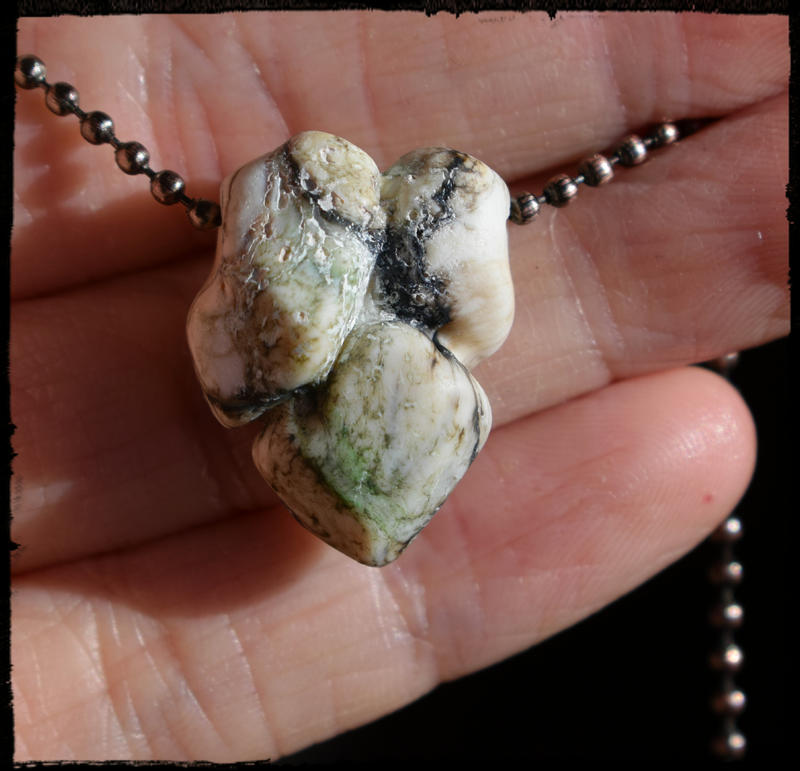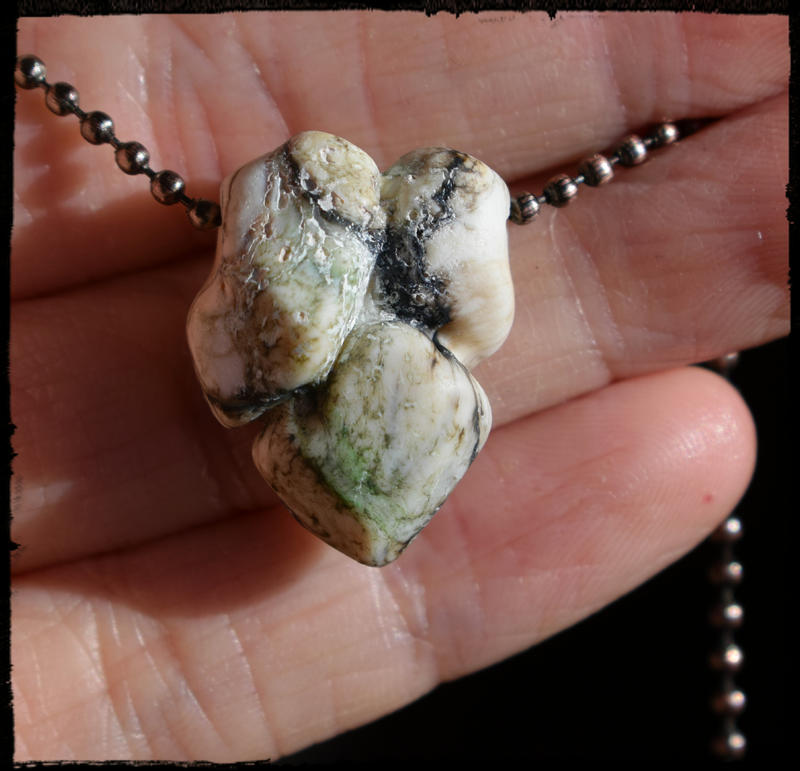 Watch
Lapis Exilis
Heart of stone, born of fire.
Pendant in lampworked glass, made to imitate the amazing patterns nature give to some stones. This in particular was intended to mimic the slightly green marble stairs in the staircase to where I live.
Great.. now I do not only gather and hoard pebbles; I create my own.. *rolleyes*
Stone itself got some very interesting symbolism (they been around and provoked thoughts and triggered imagination for a very long time...).. Stability, immortality, static life, durability, reliability, they are known to harbour spirits and are also considered givers of life. If you happen to have the book "Symboler" by J.C Cooper; do have look. (And then the heart symbolisn.. love, and the center of Being.. )
And then there's the fairytales about people with hearts of stone..
Basically; rocks..um..rock.

Right now I got my kiln full of cooling rocks, this time around I'm going for pale marble and alabaster feel to them. Keeping my fingers crossed!

I mean.. doesn't the work name "Heart of Venus de Milo" sound enticing..?
*SQUEE*

I have picked up rocks from the creek bed on the mountain pretty much identical to this...

We have a lot of quartz and quartzite veining running through the rock here along with mica, garnet and corundum.

Reply

Ooooh.. I'd love to have a look. Creek beds and places of running water is the best to look for stones. Found mountain crystals and amethysts in a small burn in Scotland. <3
Reply

One bit of fun is that along some of the rivers the large boulders get pot holes from the floods swirling past, and if you dig in the pot holes you can find interesting things, such as a ruby or sapphire corundum. Not high enough of a grade to be gems, but fun specimens.
Reply

That does look amazingly stonelike. I sometimes rework natural objects to get them to look like natural objects, but this goes beyond that. I suspect this is only the start.
Reply

Thank you! I am so very happy with it.
It amuses me how making imperfections in an object makes it perfect. Guess I'm easily amused.

But you are right, making a natural object look "real" is tricky. Working horn and people think it's plastic etc.
Trying to convince people this is glass; and that I made it, that's a hillarious challene and apparantly confusing people

My goldsmith master Anakin (yes, really. Anakin) told me:
"Many people think a flaw or irregularity in an object is proof of it being hand made.
To me, "hand made" means perfection beyond what a machine can do."
.No pressure.

Reply

I am also easily amused. I find some imperfections make an object perfect, others do not; it's an interesting study.
Many materials are capable of looking tacky. I have to be careful or antler can look like plastic. I have an earring that I found at a flea market. It's made of ivory and horn, and looks just like a million cheap plastic versions.
I will need to meditate on Anakin's remark.


Reply