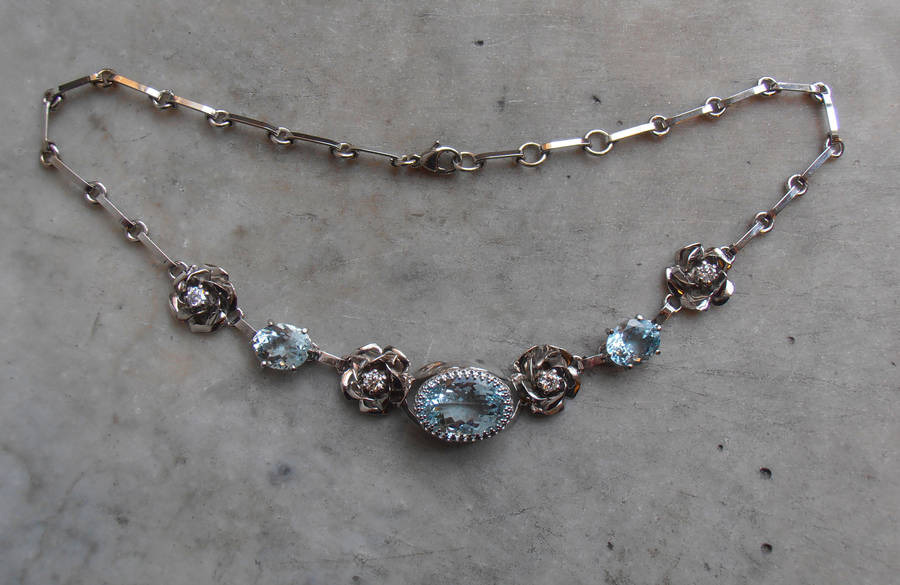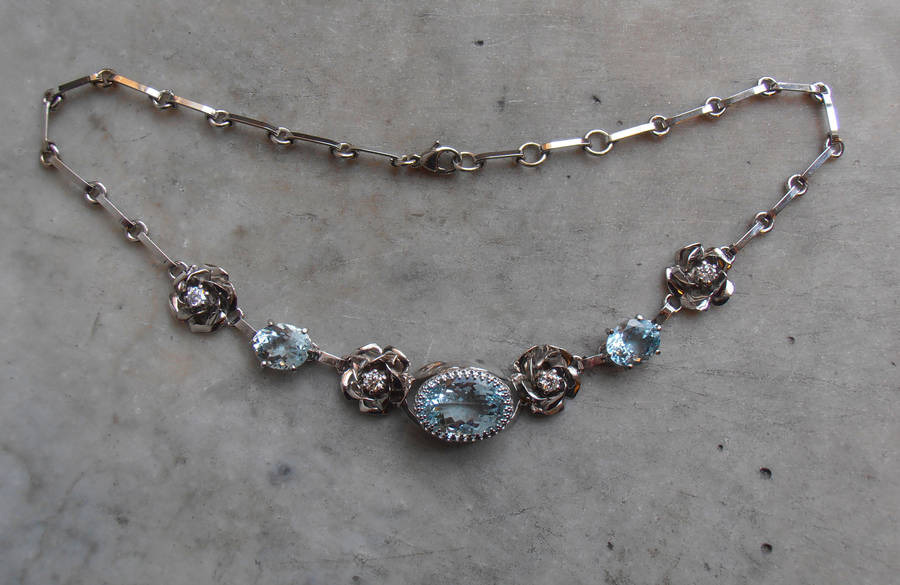 Watch
Materials: White gold, Aquamarines, Diamonds (and some silver which will later be replaced).
This has been a huge adventure, but now it's finished and my friend is getting married Saturday! Congratulations to her!

So, I sent the necklace to the setter but since I made the middle setting in very thin metal he couldn't set the stone!
this very morning I was handed back the necklace with 6 of the stones set, but the centerpiece a wreck!
It was my own fault, skimping on the material because there was a very tight metal budget with no room for mistakes.
And there was the mistake. Wah! O.o
So I had to do something quick. I made a new setting and used some silver bezel lace I ordered some time ago, and it really saved my arse! it also added a lovely detail to the necklace, since it was the center piece and a sizeable stone I'd rather say it was an improvement to my rather rigid setting!
So getting the stone in there I decided that I can always change the bezel if the customer would want to and have the extra gold. If I managed to extract the runined bezel and stick this one in, I can remove this again!

So, after the final polish this was quickly photographed and handed over.
The chain at the back only has a regular closing hook but will get something fancier and a safety chain eventually. The main concern was getting this rockin' before the weddin', and that I managed!
rhodium plated white gold in the main part, the chain is rhodium plated also, but sterling silver. the budget didn't stretch as far as covering a white gold chain, and we will exchange the links in it as we go along. The stones are Aquamarines with nice clarity, and diamonds. Two of them yellowish, one blue-tinted and one semi-white, since they weren't bought calibrated to match. I love that detail, abd placed the two yellow ones next to the main stone to give the blue stone some contrast. It tricks your eye on a subconscious level.

I am very happy with this, and I think it's the prettiest necklace I ever made! Wohooo! Also, VERY relieved it's finished! Pheww!
Relief! Yay!
.. I need a drink.

Detail shots:
In progress: