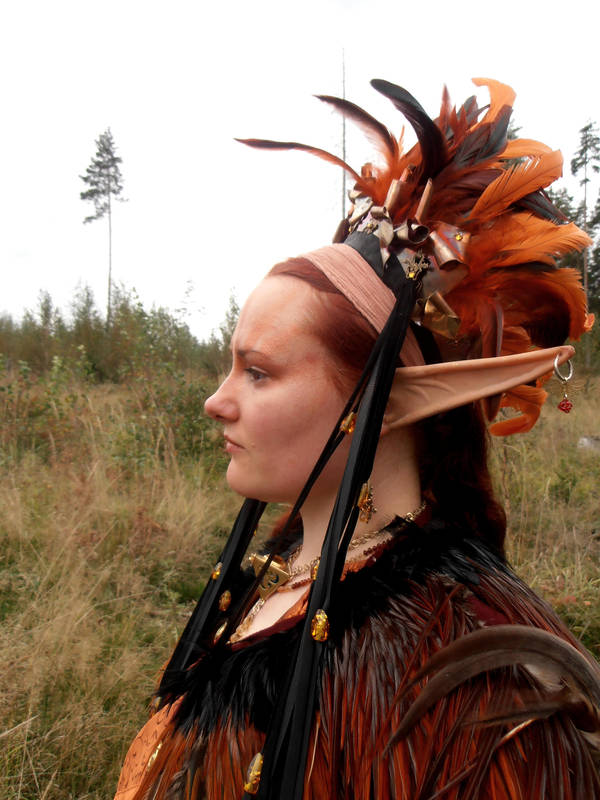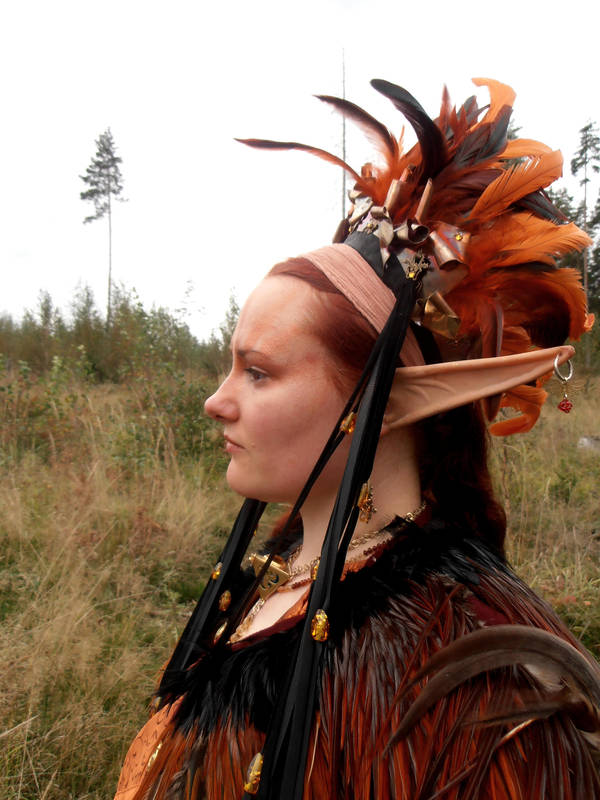 Watch
A costume I made from scratch (all but the corset) for a larp campaign here in Sweden. - Eleria.
The character is a fire fairy and quite old, like an embodiment of "Ember" or "Glow" - Glöd, which is the same word in Swedish.
The costume consists of an underdress, an overdress, a patchwork robe, a corset, a feather collar and a crown. Plus bits and bobs.
The robe is silk done in patchwork quilting but the rest is polyester for the sake of easy management out in the mud.
Headdress is made out of copper, findings, leather and rooster feathers.
I have been playing this OC for several years.

And also, thank you kindly for your appreciation!

Reply

First I WTF'd. Then I Lol'd. Then I posted my opinion. I can't help giggling. Oh well.
Thank you so much for pointing this out to me.
It was a very interesting read and i agree with her being upset in some aspects.
I get the shudders every time i see a group of "natives" playing oldies on the pan flute and dancing around in "traditional" costumes in turkey feathers and polyester pants with carpet frills on them. It pains me.
But I don't quite agree with myself being in that lot she presented.
So thank you again. She didn't ask if she was allowed to use my cultural expression to show off her opinion. Heh.

Reply

Actually she was pointing out that while you use feathers and face paint (common shortcuts to make a piece look Native American) you use it in a creative and original way. I can see where you would be confused though.
Reply

I read it. I thought that headdress reminded me of the Wyandotts! We had some Wyandott dancers come to our last pow-wow at Missouri State University.

Have you seen the Polish roosters with a similar crown on their heads? They are epic in their cuteness. lol
Reply

Aw, well I take it as a compliment! A huge one!
Apparantly the girl ment to use my picture as a _good_example, even if I didn't really think it was apparant in the text.
And she does have some valuable points in her article.
Aww.. those garments are insanely beautiful and well-crafted.. I went to a meet and dance performance when I was a child. I think I was ten or something and sat mesmerized for the duration of it and refused to leave when it was all over. My Swedish mother always thought it important for me to cherish the culture of both my countries, not only the one of where I lived and I thank her for it!
Polish roosters? Wait.. Oh, yes! I have seen them I think! Don't they have feather fluff's around their feet as well? perhaps I should ask them if they feel offended by my headdress. With all right they would be. Many of their kin went into that costume!

Reply

I love the pow-wows. Have you ever seen the Hoop Dancers? I couldn't stop watching them! It was amazing! Here's one of my favorite videos of it:
[link]
Yes! The polish roosters have the fluffy feet and fluffy feather crowns on their heads. I want one!

They are soooooo cute lol I think my apartment manager would frown on it if I got one though.

Reply

There were the hoop dancers as well, indeed! Although I these days would find those the most interesting, as a 7-yearold, the image really stuck in my mind was the young woman doing a dance of thanks to her parents, wearing a beautiful sky blue dress with little bells all over it...
-And to be invited in the final dance to take part and beat the grand drum.. Wow.

..Now you got me to want a chicken! Doh! XD
Reply

Reply

How long does it take you to get into all this gear, and how long does the LARP last?
Reply

*lol*
Way too long, it seems. My friends all play humans and can get out of the tent in the morning and just go out and larp.. I curse myself for picking this character every time.
And I tend to lose part of my gear in the tent, always having to dig around for stuff for wayyyy too long!

With the lenses, ears, fangs and make-up, on a really good day I can get ready in about an hour. Then I'd rather not move.

We larp around the clock and this was a short larp, only three days of ingame time.
Reply

That's dedication! Do you have a plot that you're following, or is it more of an SCA-renfaire feel?
Reply

There is a plot which has been ongoing twice a year since 2001, so there is a lot of stuff going on in the woods. I have been playing this OC since 2005 and this was my... 4'th or 5'th larp as her. My original kit was different and can be found here:
[link]
..I loke to see it as if she grew up a bit.
Reply

Interesting! It sounds far more formal and involved than the LARPs around here. More like an ongoing, improvised play than an in-character tabletop rpg. Sounds like a lot of fun!
Reply

We have distanced ourselves from the "troupe style" rpg's with referees. character sheets and experience.
You get a frame story, some clues, a few body points so you know how many hits you can take before you are down (usually 2 in this system) and then you are sent on your way. We play for days around the clock and the style of the setup is one where you yourself decide whether to sit in your camp and just eat and play mysic and camp, or to actively seek the answers and solutions to the intrigues. You don't get any experience at the end of te game part from what you learned yourself. It is more like a huge improvised theatre in the woods. And loads of fun!

Reply

That sounds like far more fun than the LARPs here! Do you keep a record somewhere of the story's progression?
Reply

There is the storytellers asking us poor souls to keep record and send in stories what happened to our chars over the larps.
If we don't, the ST's decide what happened and just write whatever they thought happened, keeping on their story lines. It sometimes get rather interesting and some people feel "run over" when the ST's say "You did this between larps!" - and the player go all "WTF!?! My char would never do that!" Heh.
I used to be a storyteller/intriue/plot writer but gave up after a few years. too much work for way too much abuse from the players wanting me to read their minds.

Reply
(1 Reply)

ffffffffffff nevermind Larp, you should be in a movie in a getup like that, that's some fraggin' epic costuming.
*Also secretly has a tiny Jewellerygasm at how awesome I still think the pyramid pendant is*
Reply

Aw, thank you!

I had very, very fun making the costume and taking it for this Larp test drive! It was extremely soggy, wet and muddy out in the forest for three days, but it did quite well! I thought the headdress might get ruined and making me look like a drenched chicken, but it managed, too!
And wearing my sunshine box turned the heads of quite a few warlocks at the larp.. they can't help poking it and asking what it is! That was so much fun!

Also, I love that word. *nods*
Reply

Vilket lajv var det? Eleria?

Reply