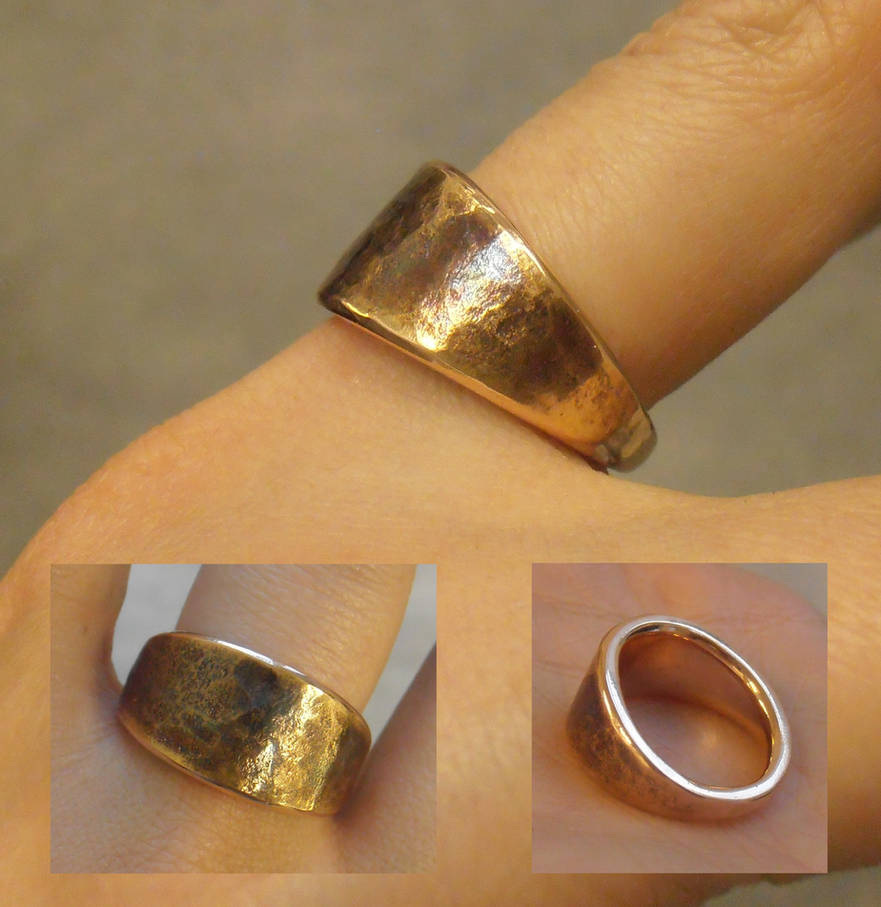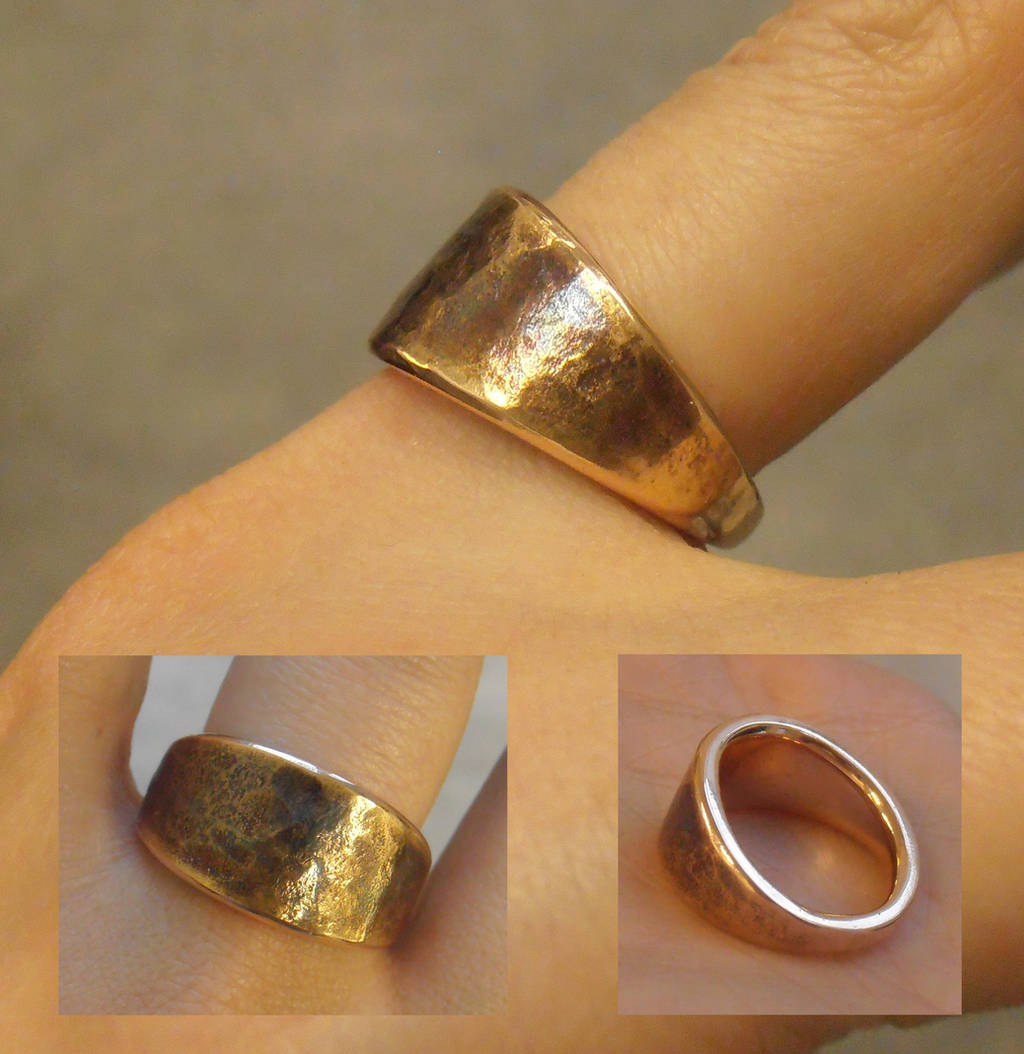 Watch
Well, there's been a lot of buzz about DWARVES lately. I have no idea, there was some kind of movie or something, and there seems to be this huge hype about a ring... I dunno.
(I'm just joking, I got inspired by The Hobbit of course..)
Couldn't help thinking how great it would be to make a ring for a Dwarven female. For decades I wanted a ring with a classic cut, tapered and in gold. Also, whenever I mention I'm a goldsmith, people seem to get this image of me standing at the anvil hammering a gold bar into jewelry. Preferably dressed in nothing but a leather apron.
I have NOT been nice this year, so I doubt Santa will bring me anything. I'll just had to make my own present!

So I figured "Why not!" Let's make a chunky gold ring, properly forged by the anvil (while wearing clothes, though).
Using "extra red" gold, a beautiful shade of gold that is a LOT more difficult than regular gold this baby is polished smooth on the sides while the top sports the crude surface where my worn hammer shaped the metal.
I had to go to town properly on that sucker - the alloy is HARD to shape - at least in the quantity needed. Started out with a small cast bullion 7 x 7 x 40 mm and did all the shaping by hand.
It's MY precious!


Reply

Simple yet elegant. Looks like it's seen years (decades) of wear and will survive to see many more (which lends to the Dwarvish atmosphere - I can only imagine they would make things to last, and last).
Reply

Reply

I hope in addition to clothes and a leather apron, you were sporting a protective beard. Can't very well go around unbearded. It's just not right.
Reply

That's a beautiful result, well worth your time and effort!
Reply

Beautiful! I love the texture left by your hammer. Nice job!
Reply

Amazing. That looks amazing.
Reply

Reply

Reply

This ring is just beautiful... I've seen like the "nice" gold from now a days but this looks so much nicer...
Reply

How hard would it be to add Dwarven runes in it? Or would that make it too masculine?
Reply

I decided against it since it can be a bit difficult wearing runes on jewelry when living in Sweden. You tend to get categorized if you do. People see you as either a nationalist, viking reenactor/viking fanatic, biker or a tourist. None of which I feel I wanted this ring to convey.
I might engrave runes on it, on the inside. For now I just wanted a forged and heavy ring, properly crafted the dwarf way.

Reply

Vary lovely and it does look like something that would belong to a Dwarven female.
Reply

" image of me standing at the anvil hammering a gold bar into jewelry. Preferably dressed in nothing but a leather apron." Errrm I have to admit, that would be a most interesting image, grins. Happy Yule to you my friend, may your Solstice be warm and full of light.
Reply

Brilliant, and a grand tribute to the dwarven kings.
Reply