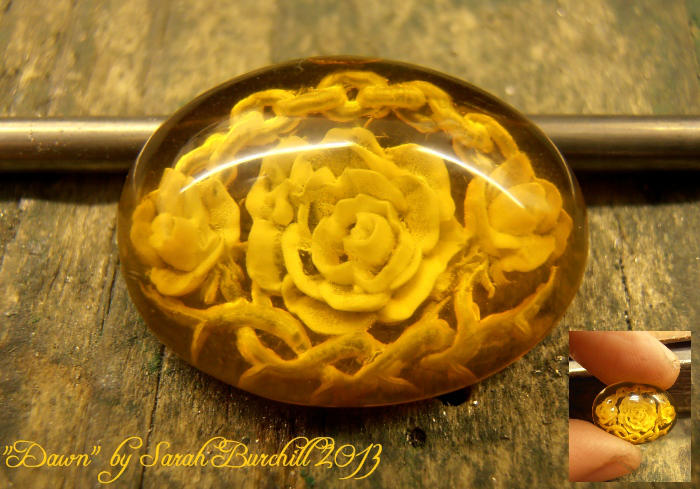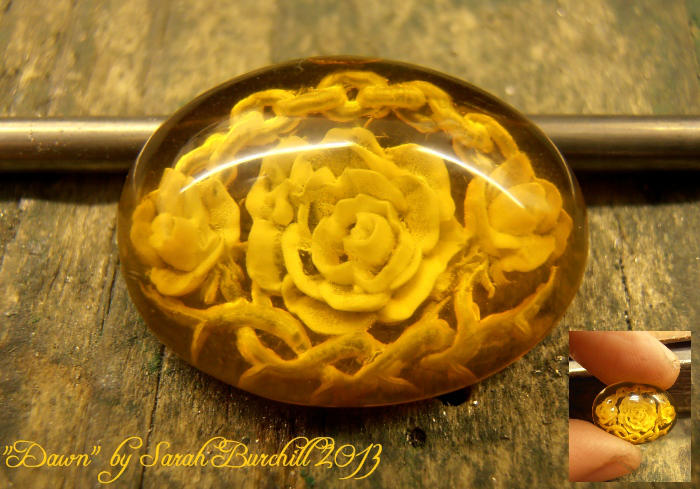 Watch
Amber carving, inspired by the comic "DAWN".
Ring project cabochon intaglio, one of the smallest pieces yet.
The steel bar it's resting at is 2.3mm thick -for size reference.
I never thought I would find my 0.3mm burrs too large and clumsy.. O.o
Took me about 1 hour. I'll revisit those chains and tribal-looking thorns!


That is amazeing! do you carve in the back of the amber, how do you get that image inside?
Reply

Reply

It seems to me that you learn whatever and then master it in a timespan that is just incredible
Reply

Aw! Thank you so very much!

I simply stay curious and keep thinking "I wonder if I can do this..."
Reply

Any chance some of these are ever gonna show up in your Etsy store..?
I mean, Valentine's Day is just around the corner and I need to get cracking...
Reply

I'd love to make you something custom!
-Or is there any of my amber work that you like? Some of them are still available.
This one is made-to-order for someone very dear to me and unavailable, the phoenix has sold and the "captain's cameo" is my own.
Pretty much all the rest are still in my treasure box...
Drop me a line!

/S (S is for "Squee!"

Reply

I actually checked your Etsy page [before I left the note above and, again, after I read your response], but could find nothing there. If I'm missing something, let me know. I do like the flower stuff and know my wife would go for it as well, though this is just Valentine's [which, as you know follows Xmas quite closely], so I don't want to get involved with something exceedingly expensive. Considering how much money we just spent on the remodel we did [which is actually only about 75% done], I could maybe get myself in serious hot water if I spent too much anyway.

So.. within those parameters, if you have anything you can bear to part with, let me know.
Reply

the chains look very 3D and I love your design!

Reply

oooh i love the chains they look really cool!
Reply