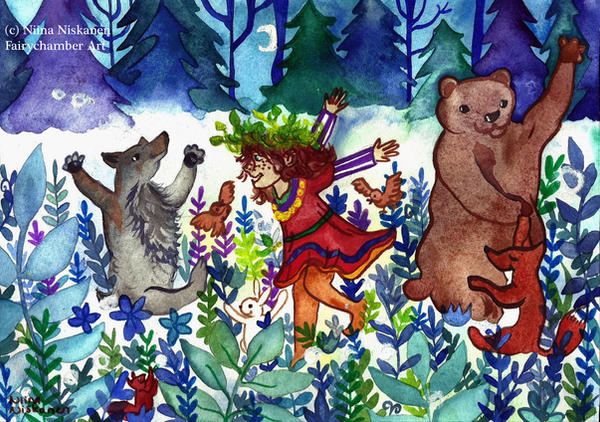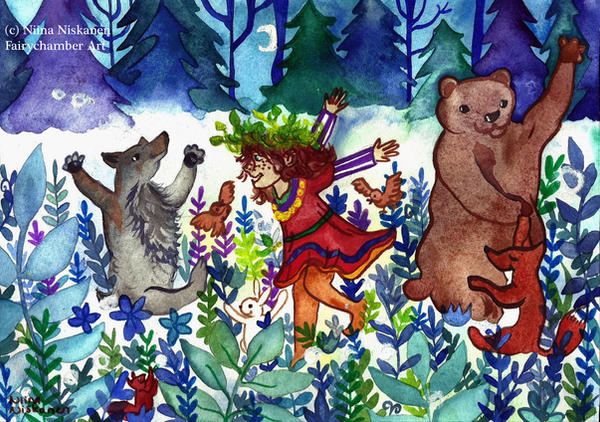 Watch
Tellervo and her animal family having a forest dance.
My entry for the

"the spirit of nature" - contest.
I was inspired by Finnish folklore. Dancing girl in the middle is nature spirit Tellervo. She is daughter of the forest god Tapio and nature goddess Mielikki.
Tellervo is known for her special connection with wild animals and her free spirit, like wind in the trees.
She is also called as the "child/daughter of Tapiola". Tapiola is old Finnish word for forest so she truly is
"child of the forest".
Soundtrack: Hedningarna: Metsän tyttö:
www.youtube.com/watch?v=8TpfKP…
(c) Niina Niskanen
watercolors, acrylics and felt tipped pens
You can find me here:
Facebook:
www.facebook.com/fairychambera…
Twitter:
www.twitter.com/NiinaNiskanen
Pinterest:
www.pinterest.com/fairychamber
Etsy- shop:
www.etsy.com/shop/fairychamber
Zazzle -shop: www.zazzle.com/fairychamber
Blog:
www.fairychamber.blogspot.com

Beautiful! It makes me want to dance too

Reply

Reply

Haha, this is just lovely!

Reply

I had a book as a child that was illustrated just like this. Beautiful job!
Reply

Reply

Beautiful color palette and watercolor style! This piece is all about good vibes, it makes me smile~ You captured the character described in the folklore perfectly.
Reply