Welcome Bubblebum Friends!
❤ JOINING ❤
Please click Join this Group on the top bar! Join the
Discord
too!
❤ THE TRAITS ❤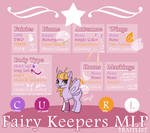 ❤ BUBBLEBUM DOs & DONTs ❤
Do not make a Fairy Keeper without admin approval.
All MYOs must be approved before submitting to dA.
Admin decisions are final. Please no arguing.
Apply to be a Guest Artist or Admin by noting the group.
No cursing or callouts. Be kind to everyone.
Questions encouraged! Note us or comment anywhere!
---
YOUR BUBBLEBUM TEAM




OUR GUEST ARTISTS
ItsImpuriTea
from Twitter!
also IG and FA (no dA)
---
- Taffy and Code by
MamaLantiis
-
---