Eevee Halloweeen Decorations - Part 2
Description
Let me preface with I have great difficulty in working on large, traditional media. I quickly lose sight on proportions due to having a very limited workspace when drawing the lineart on these large foam board.
I plan to do all the Eeveelutions, but I'm expecting it to be about 1 per day tops with my currently level of business and completing them before I have to get hand surgery this month.


Each image is about 2 feet tall in person.

Flareon has been drawn and cut out, painting tomorrow!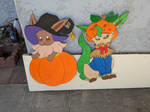 Image size
692x923px 172.92 KB