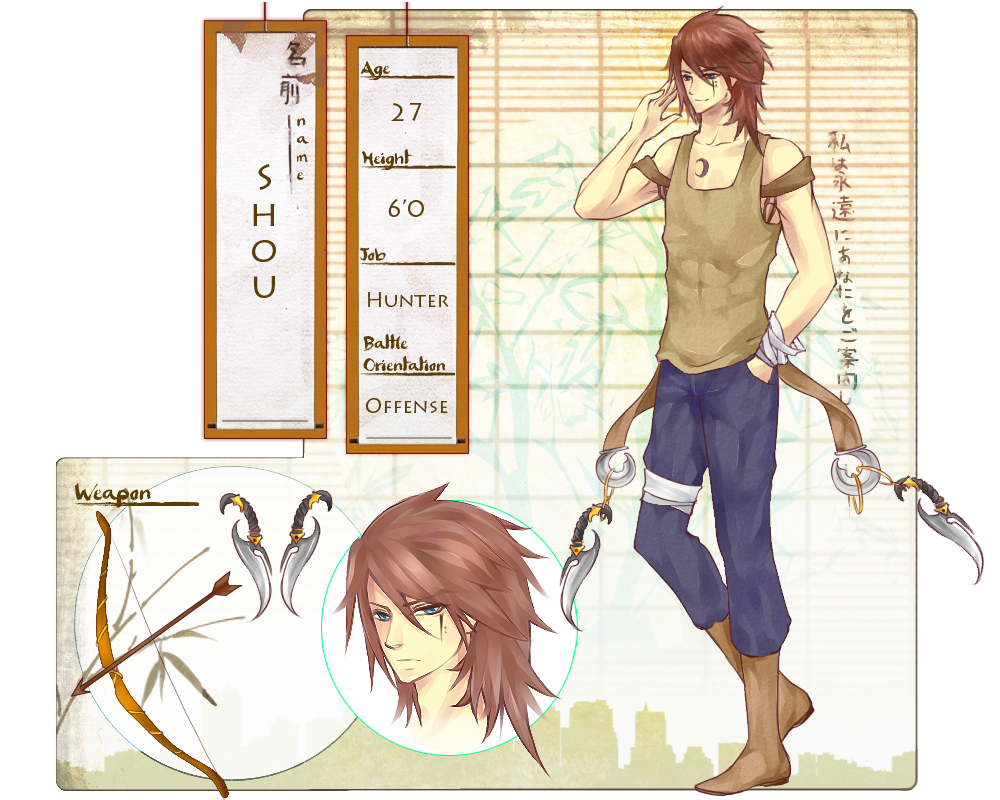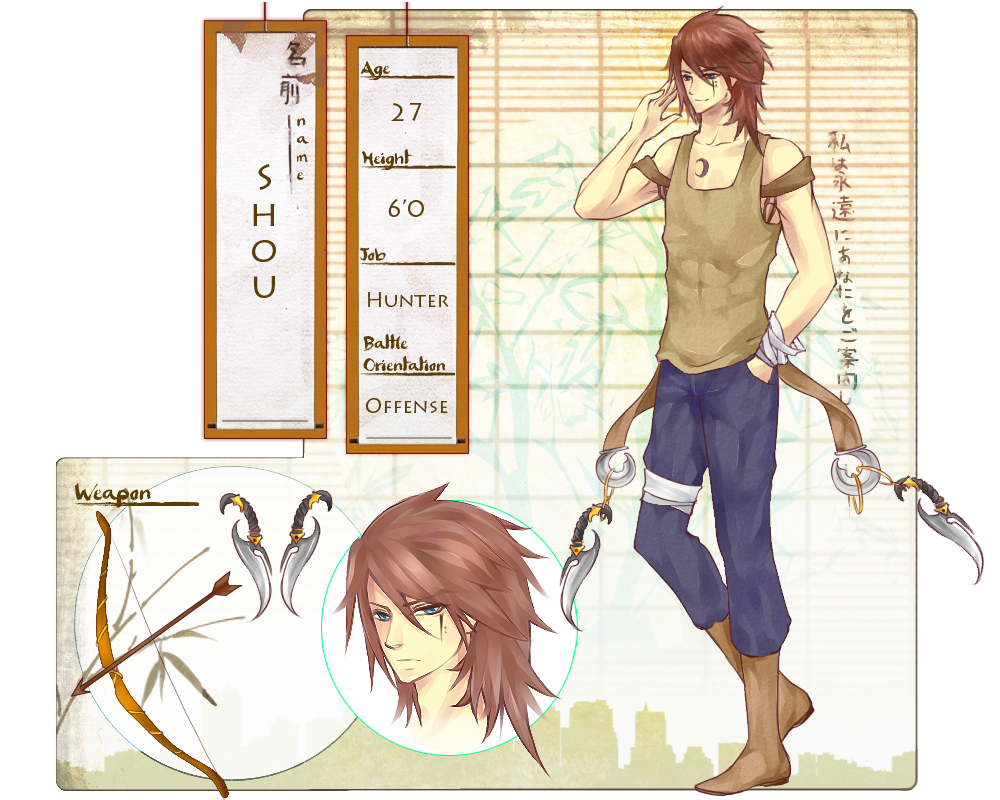 Watch
This is my app for

; 7 ; //

Name: Shou
Age: 27 watch out everyone he is a cranky ossan e q e //kick'd
Height: 6'0
God Currently Serving: Byakko / Haru
Relationship to God: onii-chan friend
Area of Residence: City Ruins
Weapon 1: Twin Daggers
Weapon 2: Bow and Arrow
Job: Hunter
Personality:


Shou is a bit of a caretaker. He's serious and often worries when it comes to the people he is close to. Although at times it may seem like he doesn't take people seriously (he often teases and calls people "brat"), it's just that he feels older and thus, responsible for the people around him, so he tends to treat everyone else as children.

Otherwise, Shou has a somewhat open personality. He's simple and likes to tease and joke around; he especially has a soft spot for young children. Shou's easy to get along with as long as you're not a child molester or a mean-spirited person (/ v ). His temper is mild, except when you get him frustrated or seriously angry -- which happens very rarely, unless you hurt someone close to him.

Shou is very sensitive to sound, which is probably due to his hunting acumen. He often relies on this sense to help him when he is hunting and displays the same sensitivity when it comes to loud noises and chaos.

Unlike when he is hunting, he can be quite clumsy when it comes to everyday things... like his bandages for instance. He has no idea what he is doing.
Likes/Dislikes:
+ Chocolate ... he.. has a sweet tooth /)///////( but it's a manly sweet tooth h-huff
+ Taking care of others
+ Calling people "kid" or "brat"
+ His wife (even though she is dead); although he was married to a woman, it doesn't mean he isn't all for equal opportunity //chokes e/////q/////e I am totally not pimping out my son or anything ...
+ Young children (but not in the pedo way LOL)
+ Rain
+ The occasional silence - or rather, spending time alone to try to regroup himself

- Cold weather
- Thunder and loud noises in general
- Having to bandage his wounds
- Having to bandage anything
- Helplessness, especially when it pertains to being helpless when watching others in pain
- People who are disrespectful towards nature
- Unnecessary violence
Pre-Apocalyptic History: Life before Judgment Day
He had been happy.

Ever since Shou was young, his parents taught him to appreciate what life threw at him and endure all the negative things because, they reasoned, life was crafted on the basis of happiness rather than sadness and oppression. They were incredibly simple folk and lived good honest lives, but Haru lost them when he was at the age of 19.

It was dark and he was out hunting when a thunderstorm struck. He decided that it was like any other storm and camped out underneath an abandoned shed to wait out the storm. When he arrived home however, he saw to his horror that his house had collapsed and was burned to a crisp -- the thunder had struck the building and set a spontaneous fire that killed his parents who were trapped inside.

Despite all this, Shou still strove to be positive, because he felt that was the only way to honor his parents' deaths. That was when he met Luna - the light at the end of the tunnel. She was sassy but always kind, forgiving, and loyal. Laughter passed through her lips as if it were natural, something she had been born with, and it was infectious. Soon, Shou purchased a house for the both of them to live in and they were married .

And once again, he had been happy.

With a job he loved, a wife he adored, and even a baby girl coming on the way, he felt like it was all going to be okay.
Post-Apocalyptic History: Current life after Judgment Day
With a target in sight, his hand pulling tautly at the string of his bow with an arrow notched between it, Shou concentrated on his prey in front of him. A large species. Male. Just as he was about to let the arrow fly he heard a voice--

"Shou! They're here! Spirits - monsters, they've come to attack us!" The voice sounded desperate, Shou could tell, with fear laced carefully in the words. Shou glanced back to look at the owner of the voice -- and then all too late, remembered he was supposed to shoot his prey.

"Tsk -- what nonsense are you talking about?"

"I'm serious! They're here. You have to go, take your wife and run! "

Shou's eyes widened, thinking of his vulnerable wife and quickly started running back to his house. On the way, he didn't see anything particularly unusual... until he got to his own neighborhood. There were large bodies, grotesque and abundant, going about the place. As Shou looked around, he saw the destroyed torsos of people he had known, of friends and aunts and uncles and --------

No. It couldn't be...

Shou ran as hard as he could to his own house and saw the door flung wide open. At first, he was nearly relieved, thinking Luna probably escaped when she saw these hideous beasts.... until he saw the trail of blood. He quickly ran inside and had to suppress a scream.

On the floor was his wife. She was bloodied and looked as if she had been clawed at. But what destroyed Shou the most was that her stomach, once round and full with the baby inside, had been torn open, bloodied, and abused. Shou realized that the spirits had forcibly clawed out the baby from Luna, his baby .

His fists clenched as he vowed to himself to find the one beast that had destroyed his family, the one that had ripped out a part of his being.

After the horrific scene, Shou escaped from his neighborhood. He tailed the spirits sometimes, trying to find their weaknesses although there seemed to be none. After days of following them, with no food or energy, Shou became desperate and fired at the spirits with his bow and arrow, only to have them go through the spirit with no damage. The spirit, incensed, noticed Shou and attacked him, leaving him wounded. He barely escaped alive and decided to camp out at an abandoned building site that had nearly been destroyed for a while to recoup.

It was there in the dead of night, where he met his soon-to-be god, Haru.

"As the moonlight shone upon the ground, dusting everything into a ghostly silvery blue, Shou was reminded of the real ghosts living in his mind. He grunted slightly, holding the wound on his wrist, pressing down on the blood seeping through the dirty cloth he held desperately, and willed himself not to think about his wife and unborn child.

He needed to stop the spirits. He needed to. Yet he also knew he couldn't do it alone...."

He had nearly given up all hope of avenging his family when Haru found him, injured and desolate. Haru took him to safety and gave him fresh bandages for his wounds.

"I guess I owe you, brat."

"Stop calling me that. I have a proper name y'know..."

...

"-- ah... you alright? There should be some medicine somewhere in here..." - Haru

"[says gruffly.....] don't worry about me. I'm fine. [walks around] ah... is anyone else here?" - Shou

"I dont think so. You're the first person I see after all this mess-- .. or at least.. the first person alive......"

"[his gaze turns cold] ...yeah. [turns around to look] how were you able to get out alive then?"

"[freezes for a moment at his question] ... ah.. I managed.. somehow........ though I barely made it out alive. [points at his eye patch]"

"... [nods slowly and walks slightly closer] [voice becomes slightly softer] what happened?"

...

After spending a bit of time together, clinging onto the remnants of society as they knew it, they met a few hardships and endured together.

"-- my leg is fine. Don't worry about that, but you need to go. now [looks at Haru seriously] [panting a little] I... don't plan on running." - Shou

" ... ha? What are you saying... [frowns]" - Haru

"Just...go.. [glances back at the spirit]"

... this guy.... he's lost it... "[sighs as he scratches his head] ... don't go deciding things on your own. [suddenly steps out in front of Shou, getting in between him and the spirit] .. look, I don't really know what happened, but giving up now wont really change anything. So... [his body suddenly starts emitting a light] ... live. [he transforms into his god form, and unsheathes his katana]"

Through a series of events, Haru took Shou on as his servant. Shou has agreed to stay with Haru, protecting him while also staying on his personal mission of avenging the fallen.
Additional Info:
- Those metal hook things attached to a strap exist because he is maso they are useful for hanging things on, especially if he goes hunting.
- His wrist is heavily damaged because of a fight he got into with a spirit, so he has large scars underneath the bandage.
- He can be a little dense when it comes to...certain matters.
- He may or may not like to snuggle.... e///////q///////e

WAHHHH HUFF HUFF THAT TOOK FOREVER TO WRITE ALKFDJASLFDJ THANK YOU FOR READING!

Shou Oji-san (c)