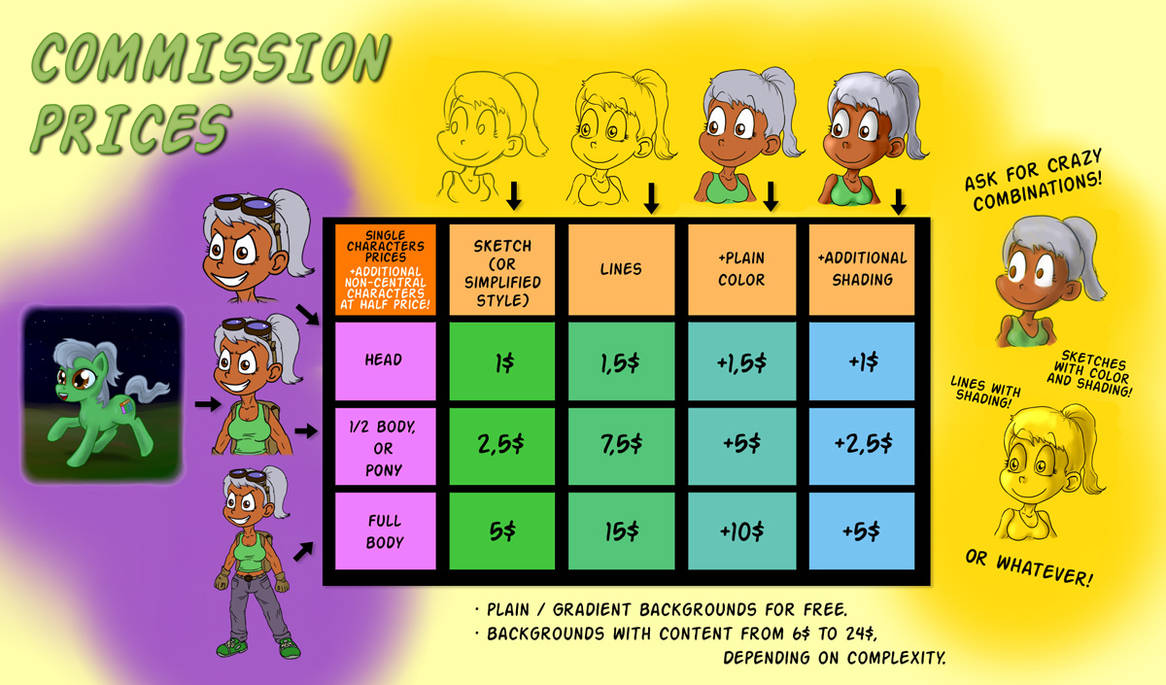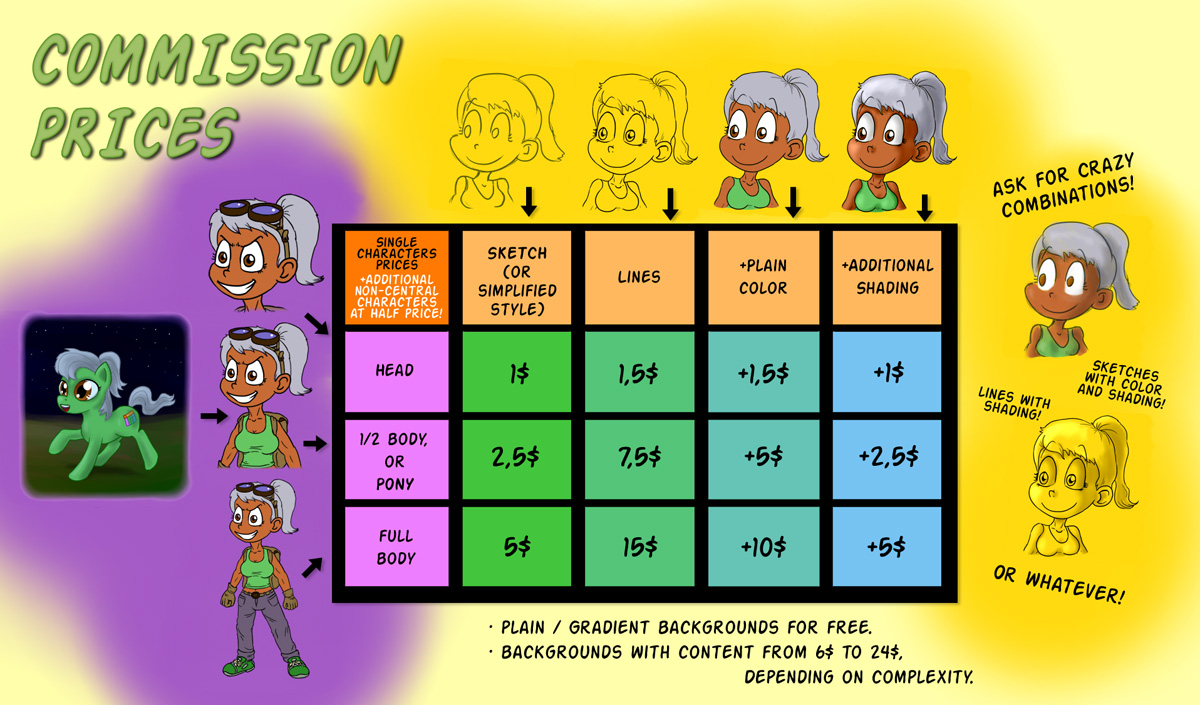 Watch
I need money, so I'm going to try opening commissions!
The worst thing that might happen is no one being interested, so why not?

---
· What do I draw?
Most of things...
Yes, that includes ponies and OCs.

· I won't draw:
- Point commissions.
- Rule 34.
-- You can ask about nudity, bloody pics or suggestive content.
I could accept to draw that kind of things or not, depending on how hardcore they seems to me.

- No comics at the moment, just pictures.
- Comics are accepted now!
COMIC PRICES
Aproximate average prices, these prices may vary acording to panel complexity, number of characters, etc...
Sketchy/Simple style comics = 3,5$ per panel.
Lineart comics = 8,5$ per panel.
+Color = +2,5$ per panel.
+Shading = +1,5$ per panel.
---
Full resolution examples:
[link]
[link]
[link]
---
CONDITIONS
- Payment will be done through Paypal only*, so you can pay using a paypal account or a credit card.
* (If you're from Spain, we can discuss other payment methods)
My paypal is
fadri.nyo@gmail.com
.
Or just enter here:
[link]
- DON'T FORGET TO ADD THE PAYPAL FEE TO THE TOTAL AMOUNT!!!
- I won't start a picture until the payment is made. I just don't want to work without knowing if I'll get the money.

- I'll send you previews of the picture, so you can see if it's what you want, and tell me to change something before it's done.
- Once done, you'll have the rights to publish your picture wherever you want. Or print it if you like.
I'll get that rights, too, I might upload it to my gallery.
---
If you're interested send me a note, or e-mail me to
fadri.nyo@gmail.com
telling me what you want.

why do you have to pay money for it?
Reply
Seriously no comics, but that's what you're known for.
Reply

¿Cuánto (en euros) por un dibujo a color (sin fondo) de mi ponysona jugando con un pompero?
Soy de Madrid, hazme descuento o algo, que soy paisano coñe xD
(Al menos si te pago con transferencia me ahorro las tasas de Paypal, ¿no?)
Reply

¿Que es eso de "medio cuerpo o ponY"? A veces dudo de que tengas alma o algo.
Reply

mmhh.. tentador

Reply

Reply