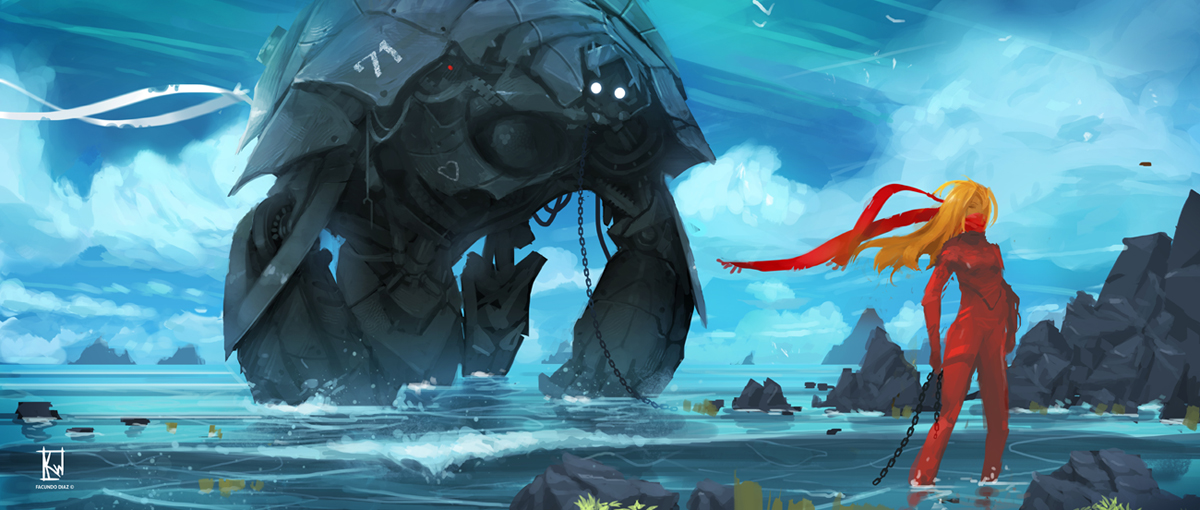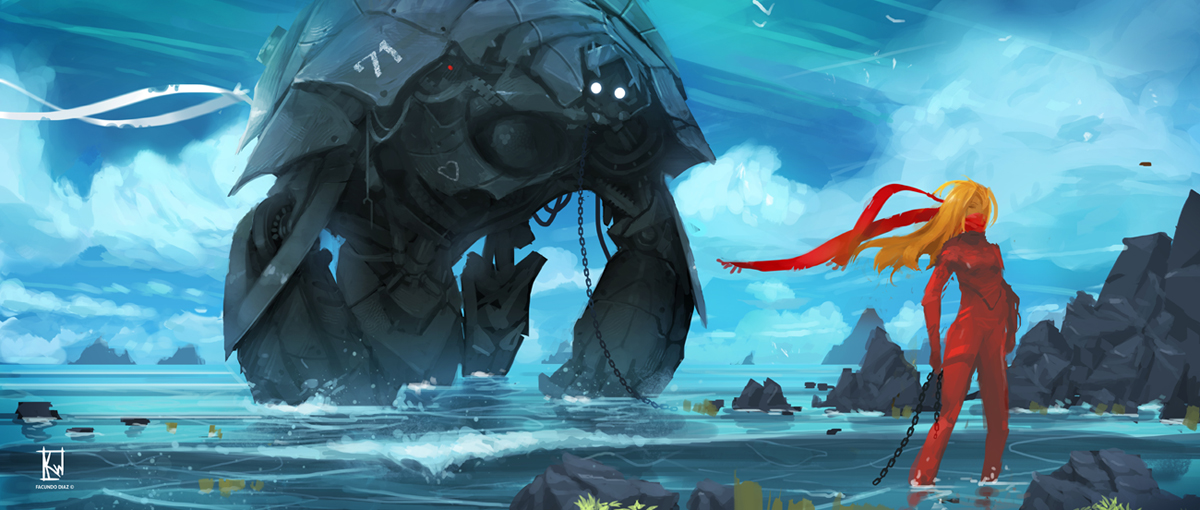 "This way whispered the girl, walking through the shores of an unknown ocean.
The mechanical behemoth crwaled blindly behind her as his thrusty companion,
like if they both shared the same past and looked for the same future..."
4th work of the drone 42 series!
I must say that this one took a lot more time than I previously estimated, but I am happy that I am finally able to share it with you guys

Hope you enjoy it!

say that ! overall I 'm illustration !
I like the color chosen , the shape of different element ( giant mechanical posture , posture and combination of the girl! )

I also appreciated the timing of the creation , is giving a great sense of spectacle and landscape format !

it says it there is some thing that could be improved I think , such as:
- The depth of the image, even contrast between the first and 2nd level ( a cloud or smoke would have increased the depth of the rocks in the foreground should have been darker !
- Lack of shade on the robot, I find it a bit monochrome
- The chain is as big at the bottom of the artwork before ! it does not restore the effect of depth !
- More details on the whole, the girl and the robot (but is not required to be a matter of time I think)


here are the some point I have to say !
in all cases it is a good job ! Bravo
The Artist thought this was FAIR
59 out of 64 deviants thought this was fair.
I enjoyed observing this piece, the colour felt clear and refreshing, and you successfully integrated the illusion of movement in the painting cleverly.

I have never observed such content in a painting before and I must say the focus (or the center piece) is complex, which I also find unique, I cannot simply focus on one character since you have made them so interestingly different, down to their colour and species.

One thing (that I don't find lacking) however I would like to see being introduced to this piece out of pure curiosity is more lining around the characters, especially the red character. Just so the seem more dimensional and increase their realistic presence.

For a 4th work of your series, I'm impressed! thank you for requesting my critique, I enjoyed writing it!
The Artist thought this was FAIR
18 out of 18 deviants thought this was fair.