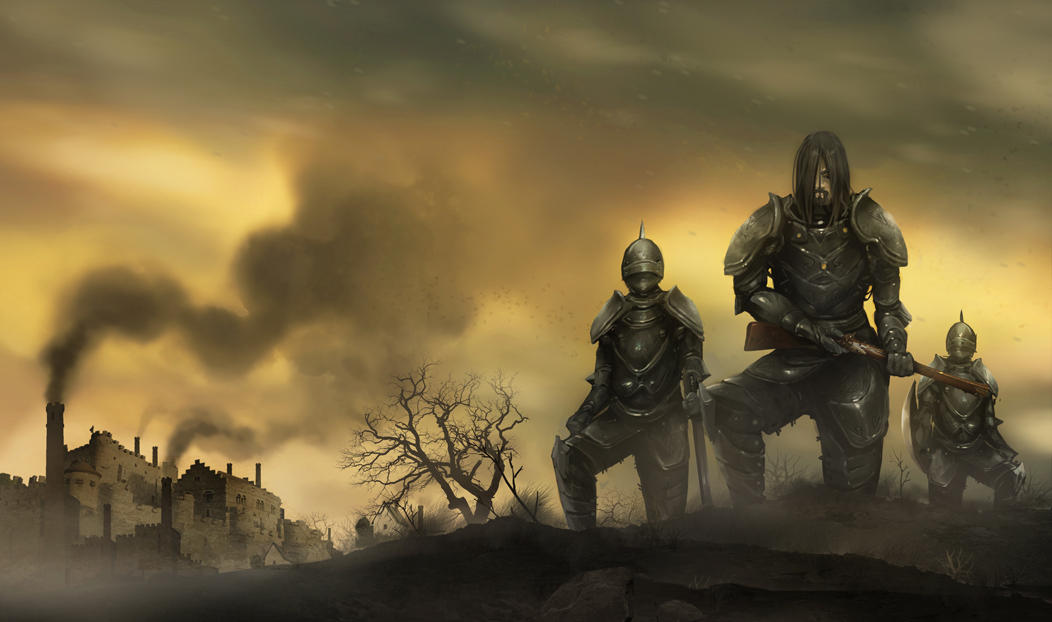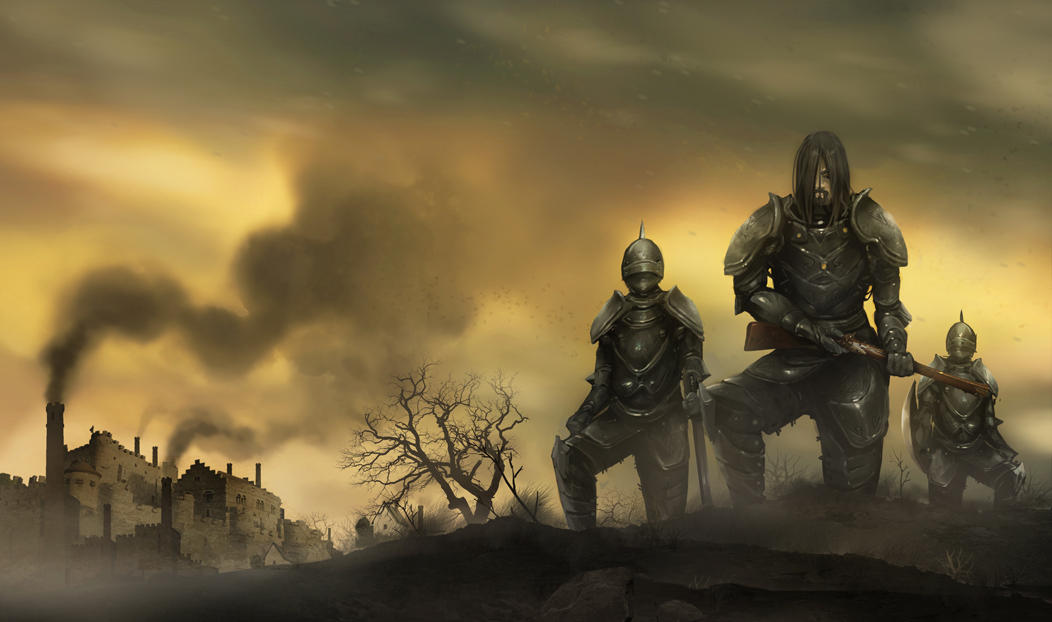 Book cover commission for Knights of Magic and Machinery by Jon Messenger
Writter's website:
[link]
Lots of fun!

Hope you guys enjoy it!
Options were becoming slimmer. With each and every passing moment of the day, soldiers were falling faster and supplies were reaching the end. In order to fortify and fulfill the growing needs of the battalion, a small search party was sent out to venture for new places to capture, a mission you yourself had volunteered to go out on. Hesitance had slowly began to creep up your back as you reached the outer walls of the city, unsure of what lied ahead for you and your group. You take a deep breath, loosen your muscles up and proceed through the dilapidated gate out towards the unknown world. Immediately the fumes of battle and construction thickened the air around the countryside. An industrial miasma floated along the once cleared currents of the air before staining the sky like a rampant infection on the world. The scent of burning coal and smelted metals burned at one's nostrils as they trekked across the battle scarred landscapes of the castle walls. Splintered remains of battle artillery and small outposts, all of which carried the faint echo of the screams of war and the sharps sounds of war and destruction. Your compatriots began to panic more and more with each and every step further away from your starting point. It was as if they too were succumbing to the very fears and anxieties that you began with during the beginning of your quest. But now your reserve was strong. Your mind was set and your goals were clear and how you would go about them. Turning around, you sternly and solemnly told your group members, "We are not going to die." Almost immediately you saw a sudden change in their appearances and stances. They straightened up; they held their heads higher and nodded toward you in agreement. Smiling inside with pride, you grabbed a hold of your weapon and gear and continued forth with your group, disappearing into the miasma of battle.
Knights of Magic and Machinery
, created by Luminarium artist *Keepwalking07, presents us with a rather different element to the classic knight in shining armor depiction, but with a slightly more modern spin to an old classic style and image.
To begin with, there's a pretty nice use of detailing and character construction here. From the gauntlets and pauldrons of their armor, to the castle in the distant background, these elements do a nice job of making their presence known in the image and almost seem to light up the rest of the composition in their own way I do like the overall tonal appearance of the composition. There's a dreary and bleak use of damp color tones and dim contrast upon the piece that really does a pretty slick job of drawing the viewer into the small world that lies before them. Lighting presents a similar effect on the tonal effects, building onto the compositional element of atmosphere and presenting it before the viewer more smoothly. There really is a nice show of the landscape as well as the overall structure of the piece.
However, there are a few things that I feel could be worked on to make this whole thing shine a bit brighter. For one thing, the landscape detailing is really lacking in comparison to the character models you've drawn for this piece and sort of carry the appearance of a stock image. It clashes with the appearance of the setting and really distracts from everything as a whole. Try working a bit more on the design of the landscape and give it a more hand drawn appearance to remove the over-layed look of everything else in the landscape. Speaking of the characters, I feel they should carry a slightly more battle worn look to their armor and weaponry. It would really do a better job of assimilating them in their own element and really do wonders for the overall appearance of this composition. A smaller suggestion would be for you to add a border around the entire image to give a more cinematic, if not more professional look to its overall setup and composition. Keep experimenting with what you have and think more on the possibilities of where your talents can take this piece and how much further it can go.
I will never stop being impressed with what our minds can help us create in the world of artwork. This piece being no exception to that rule.
Knights of Magic and Machinery
carries forth its own particular style and beauty within it, however it would be a little nicer if this beauty was a bit more refined in its execution and design. However, that shouldn't distract one from checking it out for what it is, a nicely placed together piece with sturdy compositional elements and style behind it. Nice job, F.D!

The Artist thought this was FAIR
8 out of 8 deviants thought this was fair.