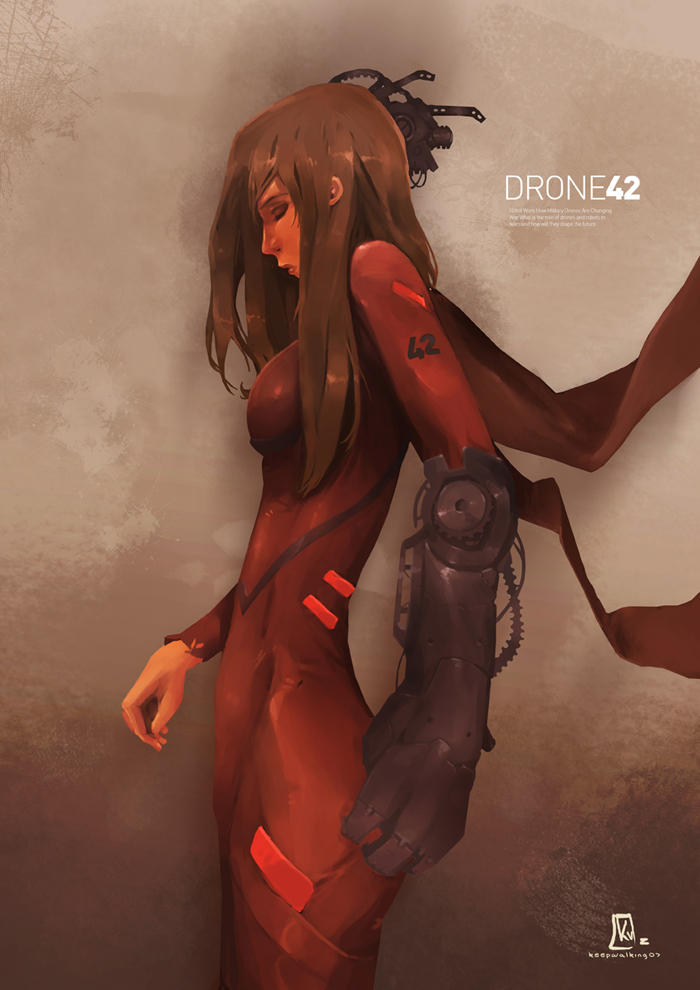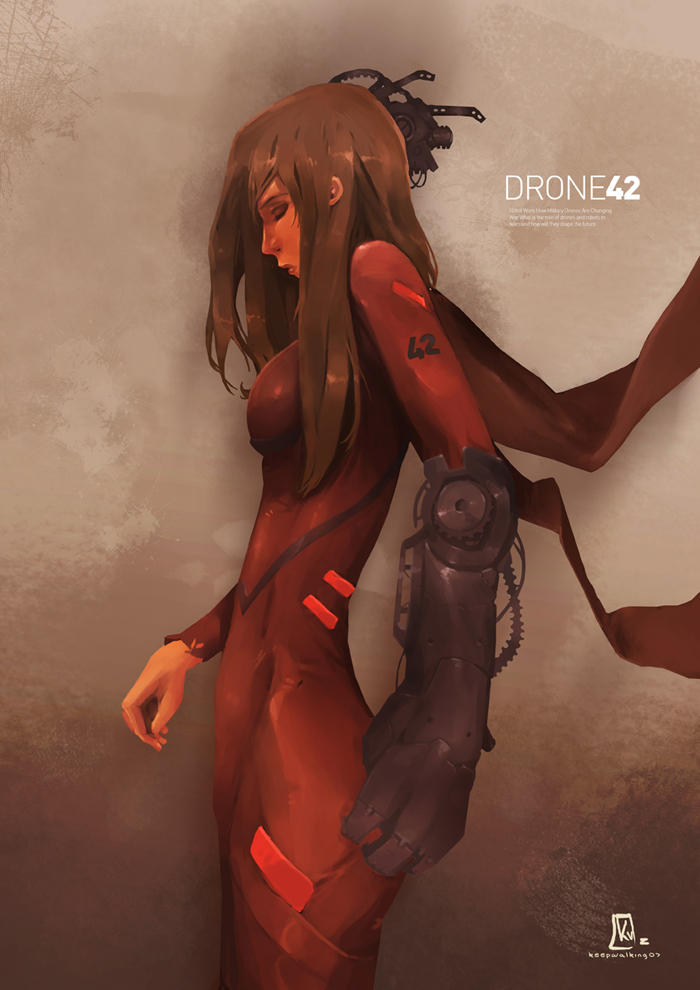 Concept character for my personal project. It's called DRONE02 and it will feature all of my paintings including brand new character ones, wich will be similar to this one, all in a single book.
Entirely painted in photoshop.
12hs
Hope you guys enjoy it!

EDIT: project name changed to DRONE42 because of similarities with asuka from Evangelion.
Your color scheme, shading and lighting are great. The skin tones are very realistic and I love how you colored the hair. The simple background works with the piece and the colors all work well together. I like how you made the mechanical parts as well.

However, her torso is far too elongated and thin. It's almost as it she doesn't have a rib cage. Her hips however, ever thought it's a side view, seem too wide. The whole lower of of her body is not proportioned to the top. Her thigh is thicker than her waist. Her breast, while the size is fine, the shape and the way it convexes looks a little unnatural.

As for the head, the chin and forehead typically should line up. Her nostril is set a little too far from the tip of her nose. The ear is a little strangely shaped too, I'm not sure if it's how much it curves or if it's the placement of it. I really like how you drew and colored the hand though, very nice and accurate.

With the scarf coming off her back, I'm a little unsure where it's coming from. It's a very wide piece of fabric, so if it was wrapped around her neck we should be able to see it more under her chin.
The Artist thought this was FAIR
24 out of 26 deviants thought this was fair.
While I already stated how similar it is to a pr-existing work due to the color pallet and the number on her arm being identical to Evangeline Character Asuka. I'll take into account the peace as a work in it's self.

The overall shape has a wonderfully stylized proportion to it the slim frame and melancholy face add a wonderful emotional tone to the character, the mechanical parts add intriguing and make me inquire the story behind them. The functionality and aspect of them reminds me a lot of Bubblegum Crisis androids, but in a good way (liked that style of work), taking into account that you painted it digitally I must say it turned out quite well in tone shadowing and overall appeal. While I question the likeness to above stated, in that had it a different color pallet I would have given it higher marks in originality, overall the peace strikes a good tone, and is impressive in those respects.
The Artist thought this was FAIR
16 out of 18 deviants thought this was fair.