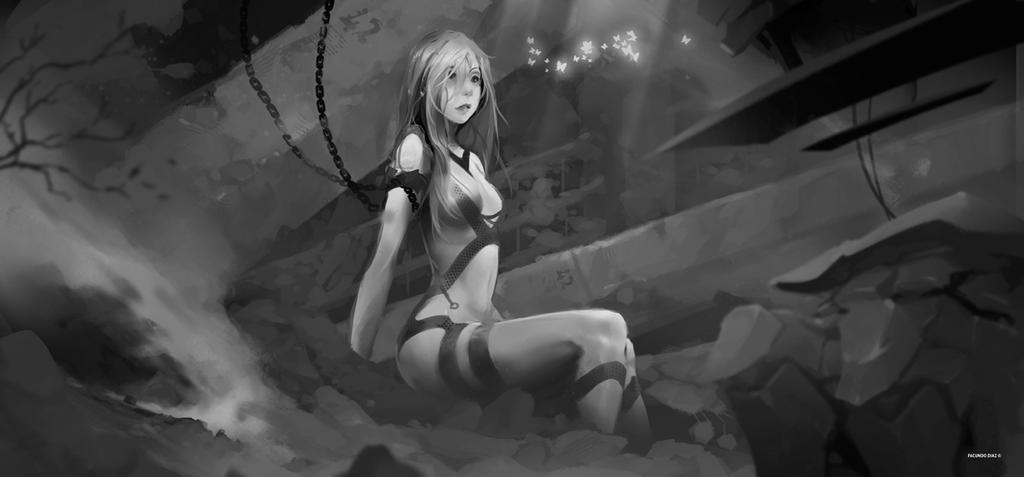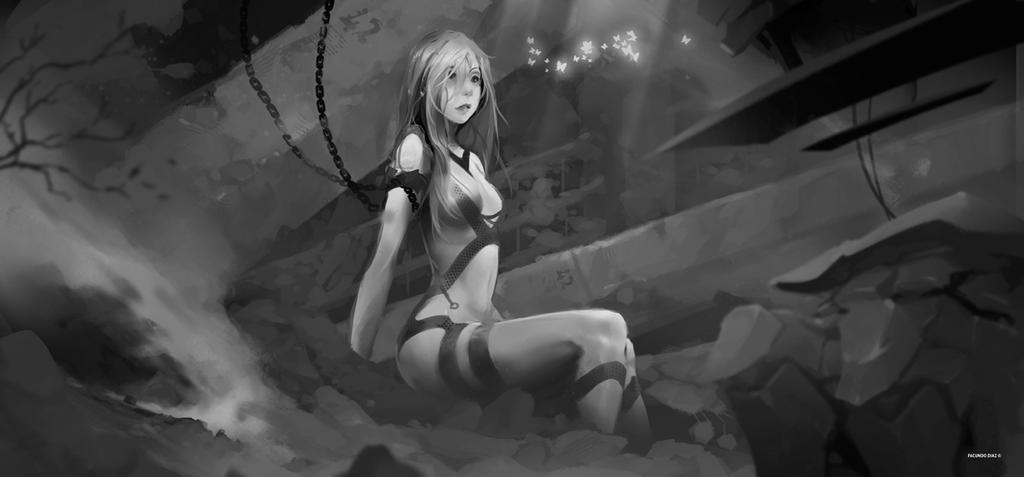 "if human destiny would hang from a teardrop everyone would simply stop crying from the pain and worries of the past, just looking at the sky and moving forward is the only way to move on and overcome your worst enemies and yourself."
5th artwork from Drone 42 series.
Quite an excitement to me is to be able to continue this series and share with you this new artwork. Our character awakes in front of her death and in between a godray of life. A machine designed to kill, a machine designed to live.
Color version coming soon

color version here:
What I really like about your artwork is how effectively you have used the elements and principles to draw the attention of the viewer to the girl. The shapes used help break the girl and background apart from each other, so the girl stands out from the background since the lines used on the girl are soft and mostly vertical, on the other hand the background mainly consists of diagonal lines and objects with hard edges.
The strong straight lines used in the background and foreground point towards the girl, creating a strong focal point and easy to view; which I think is the main strength of your artwork.

However the only thing that needs improvement in your artwork is the tone; in your artwork you have not shown much tonal contrast.
Despite the light source from the butterflies highlighting the girl and the lines to lead the viewer's eye to the girl, the overall artwork is quite faded and lacking in depth. A few more darker areas would help bring out the depth of this artwork, as well as make the girl stand out more.
The Artist thought this was FAIR
8 out of 8 deviants thought this was fair.

Beautiful.

Reply

10000 años sin entrar al dA, y cuando lo hago bum! tremenda obra de arte me aparece en el feed.
Excelente laburo che!!! *-*
Un abrazo!

Reply

Beautiful and moody

Reply

oOOOOOOOOOOooooooh... me likey!
Reply

Reply

Reply

Beautiful. Cannot wait to see the colour version.

-Story sounds interesting, where do I find more?
Reply