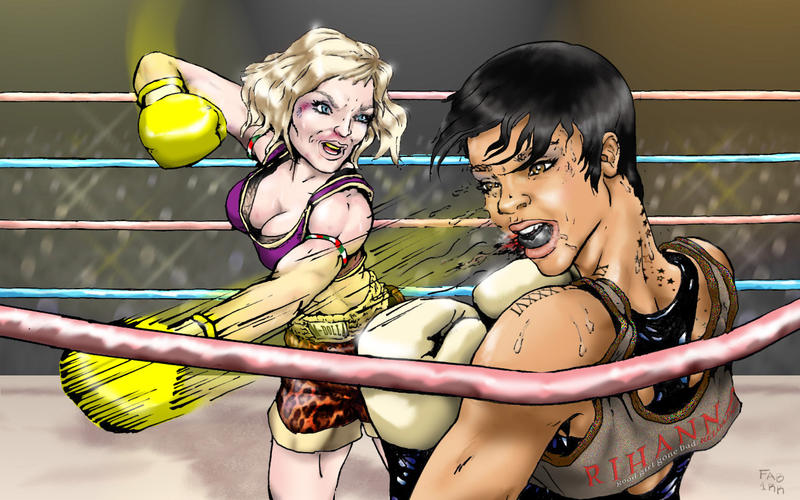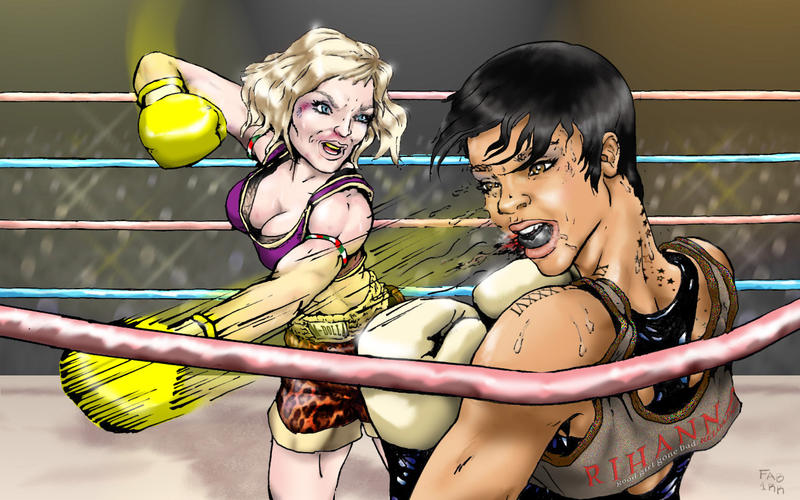 Watch
I sketched this drawing at a long time, thinking about a fight among a young boxing star in ascension and a veteran fighter.
The fight would be for the young to improve her record, winning for knockout a former-champion, with age to be her mother, situation that happens in the boxing with some frequency.
During several rounds the young gives a boxing lesson, their fast moves and improved technique leave her mark in the opponent's body. But suddenly the veteran gets right a heavy left, that it makes her opponent to feel the taste of the own blood, and in sequence a direct ends the fight.
Initially the two fighters would be generic characters. The veteran would have an Italian appearance and the young star would be a beautiful girl with beautiful almond-shaped eyes and brown skin.
In December/2008, Madonna (50) was in Rio de Janeiro and I could see pictures of her face without the whole make-up and production of the promotional photos,… a veteran one still in combat. I had already seen promotional images of her dressed with a boxer costume, and there the idea was born. Therefore Rihanna (22) appeared in my mind. I adapted the sketch and I began to color.
Although musically they are not inside of my preference, I have to emphasize that they are two cats, well succeed and in the dispute for the top of their world.
--
Eu esbocei este desenho a muito tempo, pensando em uma luta entre uma jovem estrela do boxe em ascensão e uma lutadora veterana.
A luta serviria para a jovem melhorar seu cartel, vencendo por nocaute uma ex-campeã, com idade para ser sua mãe, situação que acontece no boxe com alguma freqüência.
Durante vários assaltos a jovem dá uma aula de boxe, seus golpes velozes e técnica apurada deixam sua marca no corpo da adversária. Mas repentinamente a veterana acerta uma esquerda pesadíssima, que faz sua adversária sentir o gosto do pró

rio sangue, e em seqüência um direto de direita encerra a luta.
Inicialmente as duas lutadoras seriam personagens genéricos. A veterana teria uma aparência italiana e a jovem estrela seria uma bela menina com lindos olhos amendoados e pele mulata.
Em dezembro/2008, a Madonna (50) esteve no Rio de Janeiro e pude ver fotos de seu rosto sem toda a maquiagem e produção das fotos promocionais,...uma veterana ainda em combate. Eu já tinha visto imagens promocionais dela vestida com um figurino de boxeadora, e aí a idéia nasceu. Logo Rihanna (22) surgiu em minha mente. Adaptei o esboço e comecei a colorir.
Embora musicalmente elas não estejam dentro da minha preferência, tenho que destacar que são duas gatas, bem sucedias e na disputa pelo topo do seu mundo.